22 Freakish Facts About Giraffes
I hope you'll have as much fun learning these 22 freakish facts about giraffes as I had putting them together for you.  I'm sure you already know that giraffes are the tallest land animals. But did you know…???
1.  A giraffe's 6-foot (1.8-meter) neck weighs about 600 pounds (272 kilograms).
2.  The legs of a giraffe are also 6 feet (1.8 meters) long.
3.  The back legs look shorter than the front legs, but they are about the same length.
4.  A giraffe's heart is 2 feet (0.6 meters) long and weighs about 25 pounds (11 kilograms).
5.  A giraffe's lungs can hold 12 gallons (55 liters) of air!
6. The average length of a giraffe's tongue is 20 inches, and they can grab things with it.
7.  Their tongues are black in color to prevent them from getting sunburned. They stick their tongues out that much.
8.  Male giraffes will use their extraordinarily long tongues to taste the pee of female giraffes to determine if they're ovulating.
9.  Female giraffes are pregnant for 15 months.
10.  Giraffes sleep a maximum of two hours a day, and usually for under 10 minutes at a time.
11.  Giraffes have been recorded KICKING LIONS.
Via channel.nationalgeographic.com
12.  Who's the king of the jungle now?
13.  Giraffes give birth standing up, which means the first thing a baby giraffe experiences is a six-foot-drop onto the cold, hard ground.
14.  Giraffes are the only animals born with their horns, which are called ossicones.
15.  Giraffes fight by whipping their heads at each other.
16.  They can sprint up to 35 miles per hour.
17.  Giraffes walk at ten mph without even trying because their legs are so long.
18.  But giraffes can live without water longer than a camel can.
19.  A giraffe's blood pressure is twice that of humans and is necessary to keep blood flowing all the way up to their heads.
20.  No two giraffes have the same pattern of spots, but giraffes that live in the same area tend to have similar coats.
21.  Giraffe herds have almost no defined social structure or hierarchy.
22.  The giraffe's closest relative is the okapi.
*
I hope you have enjoyed, "22 Freakish Facts About Giraffes You Will be Glad You Know."
You might also like to read, Meerkats Using Photographer to Get a Better View, How cute is that?
♥♥♥
MY QUESTION FOR YOU TODAY: Are there any animals you know of that you would like to see featured here on my blog? Is there any creature that you would like to learn about? Or, do you have a story you would like to submit about a pet you have? I would love to hear from you in the comment section below, or please email me directly at jeanne@animalbliss.com
*** Please leave a comment below and remember to share. ***
It's just sexy!
*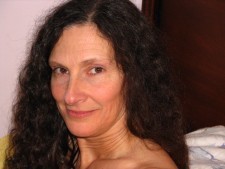 ♥ PEACE ♥
*
Disclosure: Animal Bliss is a Walmart affiliate and will earn a (very small) commission from purchases made through links on this website.
(Coffee money – thank you!)
😀
Born in Nova Scotia, I moved to the United States 20+ years ago.I am a dedicated lover of animals and fight for their rights and protection.I love people too, of course, and enjoy meeting folks from all walks of life.I enjoy philosophical discussion, laughing, and really odd ball stuff.I hope you enjoy my site.Leave me a comment to let me know you were here!Peace out.
Latest posts by Jeanne Melanson (see all)