Laughing Buddha on the Train
~ Can you watch this without laughing? ~
Laughing Buddha on the Train
There's just something about laughter that's quite contagious. Scientists have studied the brain to see why this happens.  It appears that when the brain is exposed to human emotions, negative or positive, it triggers a particular part of the brain called the premontor cortical region.  This region prepares the muscles in the face to respond accordingly.
But the re­sponse was great­er for positive sounds, suggesting that these were more contagious than neg­a­tive sounds, ac­cord­ing to the group.
The re­search­ers be­lieve this ex­plains why we re­spond to laugh­ter or cheer­ing with an involuntary smile, which often turns into laughter.
There you have it!  It's proven science.  I love this, don't you?
~~~~~~~~~
MY QUESTION FOR YOU TODAY:
Did this video make you laugh?  What kind of mood were you in before / after?  Did you resist at all?
~~
I hope you have enjoyed, "Laughing Buddha on the Train".
** Please leave a comment below and remember to share. **
(It's just sexy!)

As always, thank you for taking the time to visit my blog!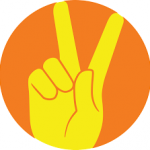 ♥ PEACE ♥

*
Disclosure: Animal Bliss is a Natural Wonder Pets affiliate and will earn a (very small) commission from purchases made through links on this website.
(Coffee money – thank you!)
😀
PLEASE SHARE – Thank you!
Scoop.it
Add to Flipboard Magazine.
Born in Nova Scotia, I moved to the United States 20+ years ago.I am a dedicated lover of animals and fight for their rights and protection.I love people too, of course, and enjoy meeting folks from all walks of life.I enjoy philosophical discussion, laughing, and really odd ball stuff.I hope you enjoy my site.Leave me a comment to let me know you were here!Peace out.
Latest posts by Jeanne Melanson (see all)