Happy Healthy Cat Month
Did you know September is Happy Healthy Cat Month? (Sorry, I'm a week late in letting you know.) But it's not too late to have a little fun.
Recently, the cat lovers at Meow Mix ran the Purrfect Together Survey, which asked cat lovers from all around about their special bond with their furry little people.  (Cats are people too, you know.)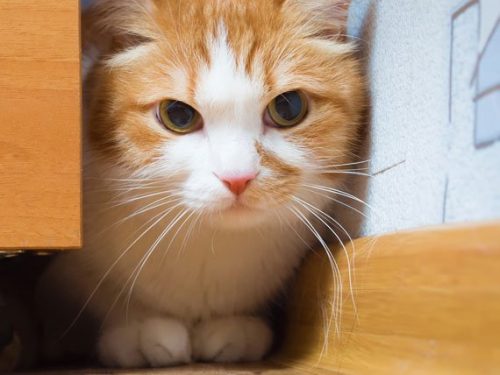 Here are some of the meow-nificent results:
83% of cats take naps with their humans
Isn't this sad? I'm not referring to the fact that 83% of people love taking naps with their cats.  I'm talking about that 17% who are missing out on the joy of napping with their cats. So sad.
80% of cat parents believe they can interpret their kitty's meows
People and cats speak a different language, but a purr is a purr is a purr, right? It can only mean peace, happiness and content. And most of us understand what our cats' meows mean: it has to be either food, treats, cat nip, or just to cuddle up with you on the couch.
72% of cat parents love to surprise their kitties with treats
Speaking of treats, nothing makes a cat happier than some spontaneous, unexpected goodies from the person who cares for them the most.
55% of cats love chicken-flavored nibbles
Who wouldn't? But we have some exciting news! Meow Mix has just released a brand new cat food made with real chicken or salmon. It's called Bistro Recipes—a classy meal for a classy cat!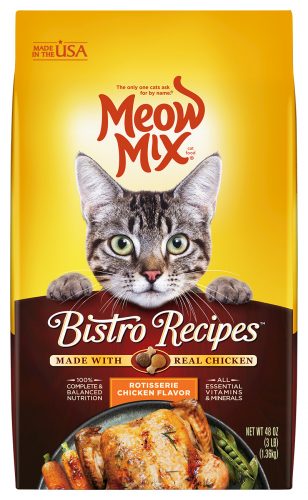 Now for something fun: Head on over and check out Meow Mix's new Purrfect Together web portal right meow, where you can download a coupon for $2.50 off any bag of Meow Mix Bistro Recipes.
And that's not all!
How about a classy painting to go with that classy meal? Take a picture of you and your cat, and while you're at the Purrfect Together portal, you can convert that photo into a magnificent Meowsterpiece!  You'll get a digital "oil" painting that helps express and immortalize your cat-love on canvas. I did it, and you should too! Check it out!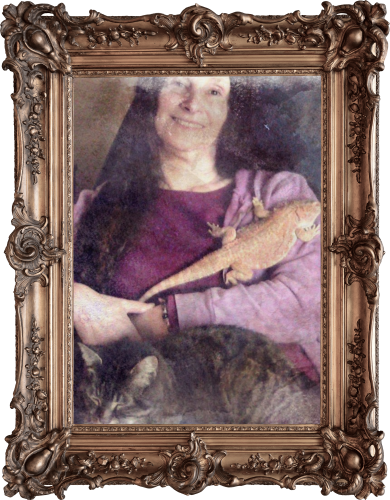 (This is me with my Jessie Cat on my lap, and Shirley the Bearded Dragon on my shoulder.)
Now it's time to show me how special your human-cat bond is! Post your Meowsterpiece on Facebook, Twitter, and Instagram with the hashtag #PurrfectTogether. Be sure to share your thoughts in the comments below.
Wishing a fantastic Happy Healthy Cat Month to you and your feline friend!
*
Happy Healthy Cat Month: Show the World That You Love Your Cat #PurrfectTogether @Meow Mix Click To Tweet
*
A QUESTION FOR YOU: Will you do it? Will you go over to Meow Mix and get a picture done of you and your cat(s)? And don't forget to download your coupon!

*** Leave a comment below and remember to share. ***
*
It's just sexy!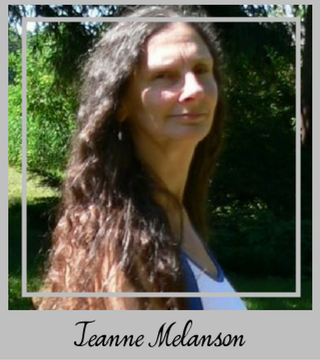 As always, thank you for taking the time to visit my blog!
♥ PEACE ♥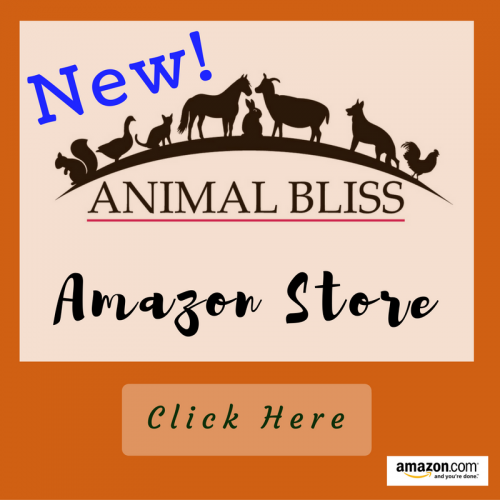 Disclosure: Animal Bliss is an affiliate of Amazon and will earn a (very small) commission from purchases made through links on this website.
(Coffee money – thank you!)

😀
Save
Latest posts by Jeanne Melanson
(see all)