If You Love Them Like Family …
Disclaimer: This post is sponsored by Blue Buffalo™ and the BlogPaws® Pet Influencer Network™. I am being compensated for helping spread the word about Blue Buffalo's extensive product offering for cats and dogs available at PetSmart®, but Animal Bliss only shares information we feel is relevant to our readers. You should know that I am a PetSmart® affiliate. Blue Buffalo or PetSmart are not responsible for the content of this article.
Love Them Like Family, Feed Them Like Family
I'm referring to our pets, of course. We do love them as if they're one of us, don't we? That's why we should feed them like family too. I'm not talking about sharing our lunches with them. I'm talking about real, high quality pet food, like Blue Buffalo Food & Treats.
We have 6 cats in our household.  Two of them are house cats, and always have been. The other 4 felines are feral cats that we trapped in the spring and had them spayed and neutered. We started feeding them and now they're quickly becoming tame and friendly, especially now that the colder weather settles in. The result is 4 extra furry bodies lying around my living room.
That's a lot of mouths to feed and it's important to us to feed them with high end, protein rich cat food. Love them like family, feed them like family.

Animal Bliss was recently contacted and asked if we would help spread the word about the extensive BLUE Life Protection Formula® and BLUE Wilderness® Food available at PetSmart®. I quickly agreed because I love to try new brands of high protein cat food with real meat, instead of mysterious, undesirable by-products you find in so many pet foods these days.
So off I went to PetSmart® to do some quality shopping and to check out their Blue Buffalo cat food products.

I was surprised and impressed, if not overwhelmed, at the large selection of BLUE Brand Cat (and dog) Food. In fact, there was so much I had a hard time deciding what to buy. I was on a budget, so I had to choose smartly.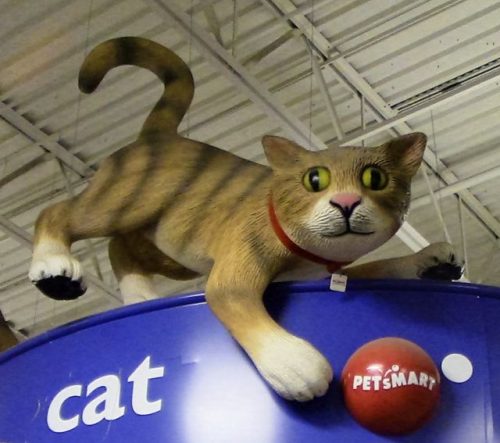 I was particularly intrigued by their BLUE Wilderness line, grain free, meat rich, natural nutrition. Touted as "Healthy Holistic Pet Food," I just had to buy some.
BLUE Wilderness has this to say about their recipe:
Inspired by the diet of wolves for dogs and the wild lynx for cats, true omnivores whose endurance is legendary, BLUE Wilderness is a protein-rich, grain-free food that contains more of the delicious meat your pets love. This line of food is ideal for active pets and pet parents who want a high concentration of meat with no grains.
I like that! This line makes sense for our cats. The formulas are made to satisfy the spirit of the wild that lives in your dogs and cats with a higher concentration of real meat, and none of the grains that contain gluten. With 4 feral cats sitting around the dining table, so to speak, this really appeals to this household.
I couldn't pass by the BLUE Life Protection Formula® that is created by selecting only the finest natural ingredients.
It always starts with high-quality chicken, lamb or fish
Contains wholesome whole grains, healthy garden veggies & fruits
No Chicken (or poultry) by-product meals, no artificial preservatives, and no corn, wheat, or soy
Includes their exclusive LifeSource Bits enhanced with their Super 7 antioxidant package. LifeSource Bits contain a precise blend of vitamins, minerals and antioxidants selected by holistic veterinarians and animal nutritionists.
*
Here's what my shopping cart looked like, after long deliberation in the cat food section. I decided to buy a 10 different flavors soft, moist cat food, a couple bags of Blue Wilderness® Grain Free Soft Moist Cat Treats
, and 2 bags of hard kibble: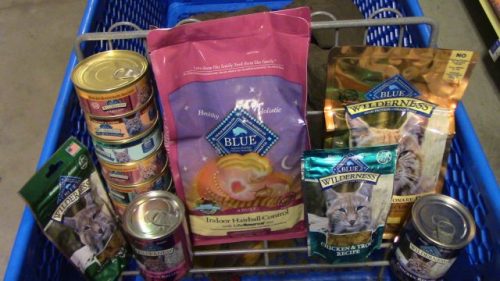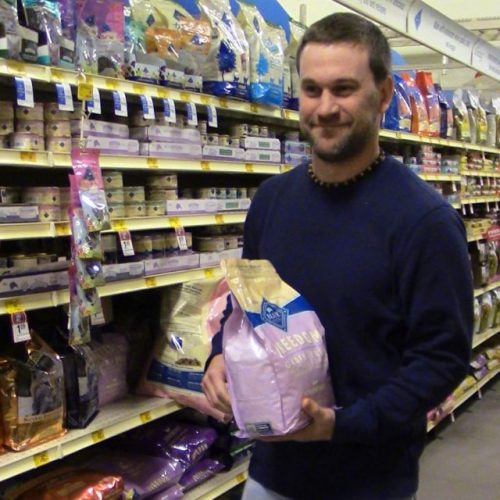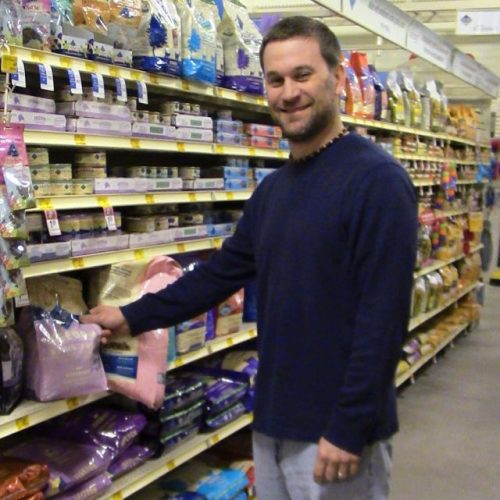 While in the cat food section, I met another shopper who was buying some hard food for his cat. I asked permission to take his photo for the purpose of writing this post, and he gave the okay. I didn't catch his name, but he left, smiling, with his choice bag of Blue Freedom® Indoor Cat Food – Grain Free, Chicken
. Good choice! Now there's a guy who cares about his cat.You can see all the Blue Buffalo cat food selection on the shelves behind him. Wow!

We no longer have dogs here. Sadly, our  last senior died a couple of years ago. But I went to PetSmart's dog food section anyway to check it out, and that's where I met Sarah and Kade. He's such a beautiful dog, isn't he? And Sarah was kind enough to let me take their photo too! It was a good day.
Sarah and Kade were at PetSmart representing The Humane Society and Animal Rescue of Muskegon County and were part of Adoption Day at PetSmart. What a good cause.
Next a quick, friendly checkout, and it was time to go home and feed the cats.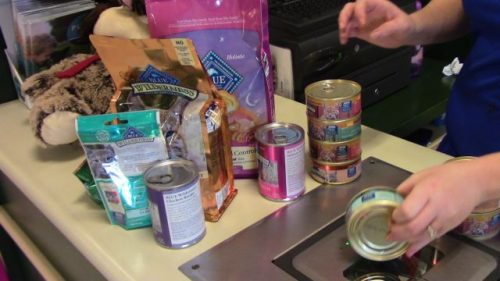 Love Them Like Family Feed Them Like Family
When I got home, with the cats circling my legs, I had fun deciding which bag or can I should open up first. I went for the chicken-flavored hard food, and Wild Salmon moist food. Yum!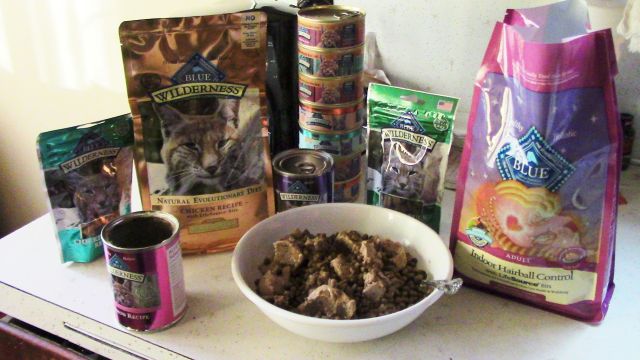 Now Meet the Cats: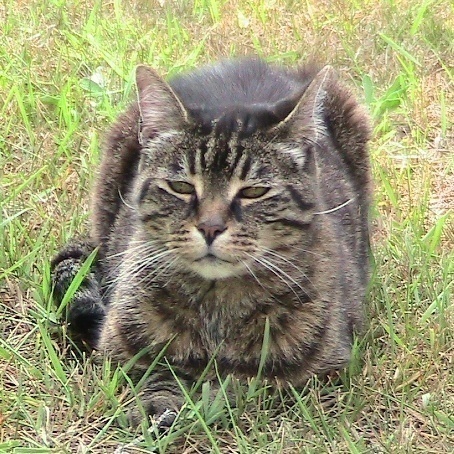 Jessie (my father's name), who is 20 years old,
and Maisy (my mother's nickname) have always been our house cats.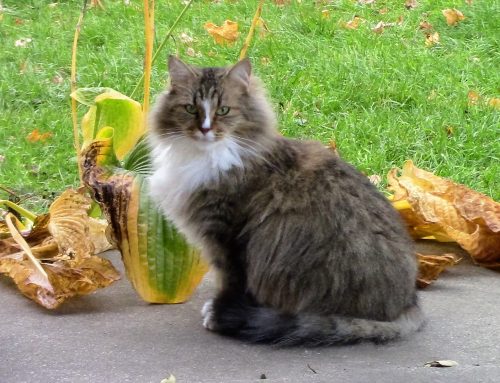 These four are the feral cats. You notice the Siamese cat (Sam) is waiting patiently for his turn. Not able to wait any longer, he reaches out with his paw and grabs some food, and feeds himself, one bite at a time. He's so clever.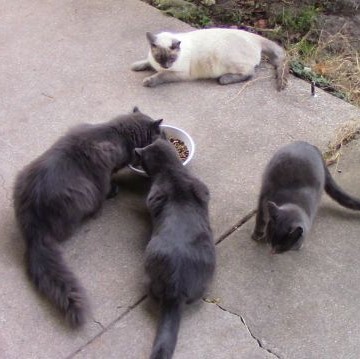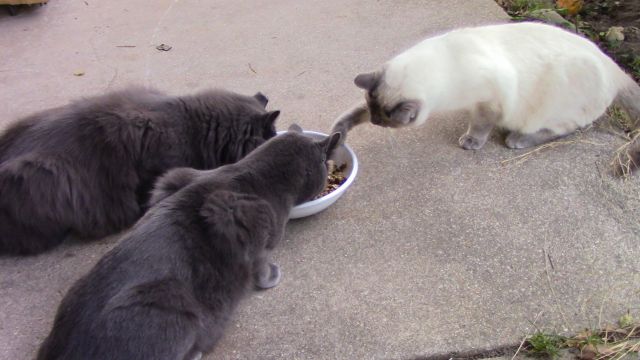 If Love Them Like Family, Feed Them Like Family
My cats love all the different varieties of BLUE Brand cat food I bought for them. I can tell by the way they beg, and I haven't heard any complaints. The bowls always end up empty. So that's a big thumbs up for Blue Buffalo Cat Food products!

BLUE Brand offers so much. They have wet food, dry food, treats, and rolls, dental products, and Holiday Limited Edition products too!
BLUE Wilderness® Pet Food is available at PetSmart.
If you love your pets (and we know you do), check out the extensive line of Blue Buffalo products for your cats and dogs. Not sure which product is right for you? Every weekend BLUE sends their Pet Detectives to your local store to help you make the best decision for your family. How about that?
Oh, hey! You should buy Blue Buffalo's Limited Edition Santa Snacks or Blue Buffalo Santa Stew Dog Food
, before they're all gone. Hurry!
Look for Blue Buffalo on Facebook ~ Instagram ~ Twitter

If You Love Them Like Family, Feed Them Well #BestofBLUE @BlueBuffalo @PetSmart #ad Click To Tweet

A QUESTION FOR YOU: Do you love your pets like family? I'll bet your do.

*** Leave your comment below. ***
(It's just sexy!)


As always, thank you for taking the time to visit my blog!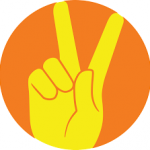 ♥ PEACE ♥

*

Disclosure: Animal Bliss is a PetSmart affiliate and will earn a (very small) commission from purchases made through links on this website.
(Coffee money – thank you!)
😀
This is a sponsored conversation written by me on behalf of BLUE. The opinions and text are all mine.
Latest posts by Jeanne Melanson
(see all)