Only Natural Pet Feline PowerFood REVIEW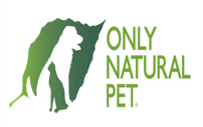 This post is sponsored by Only Natural Pet®, and the BlogPaws Professional Pet Blogger Network. I am being compensated for helping spread the word about "Only Natural Pet Feline PowerFood" , but ANIMAL BLISS only shares information we feel is relevant to our readers. Only Natural Pet is not responsible for the content of this article.
Only Natural Pet® is about to launch a new natural cat food in April — a grain-free kibble called Feline PowerFood™.  Of course, I am honored and excited to review this new product for them before it even hits the shelves. Consider this your 'heads-up'!
The new Only Natural Pet Feline PowerFood™ comes in two flavors:  Fish & Fowl Dinner, and Poultry Dinner.  We were sent the Fish & Fowl Dinner to sample, a product formulated by Dr. Jean Hofve, a holistic vet, and made in the good old USA.
*
Only Natural Pet Feline PowerFood Fish &Fowl Dinner 10lb Bag
Only Natural Pet Feline PowerFood Poultry Dinner 10 lb Bag
*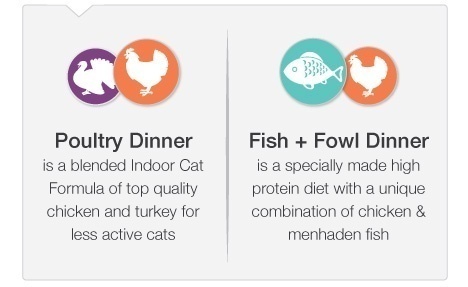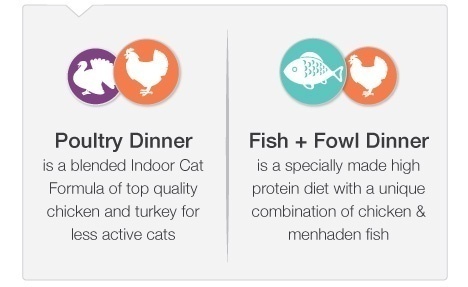 Only Natural Pet Feline PowerFood™ uses fresh meat as its #1 ingredient, which includes cage-free chicken and turkey raised naturally without antibiotics or hormones.  You can't get any better than that.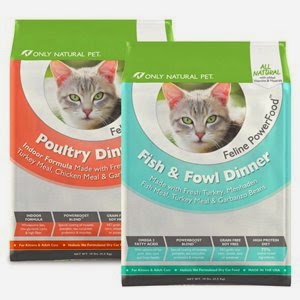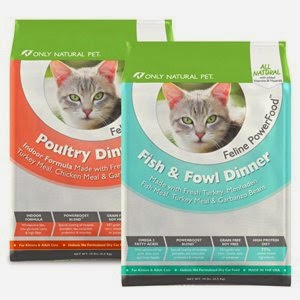 This is what Only Natural Pet has to say about their product:
Packed with protein, amino acids and essential fatty acids, the PowerFood™ is formulated using the whole prey model of our cats ancestors. Feline PowerFood™ comes in two formulas, Fish & Fowl Dinner and Poultry Dinner (an indoor cat formula), rich with the nutritional benefits of fresh meat, wholesome fats and balanced calories. Kittens and adult cats will benefit from the grain free, highly digestible diets designed for a cat's optimal health.

Each piece of kibble is infused with our proprietary PowerBoost™, a raw, freeze-dried blend of superfoods like green lipped mussels, sea cucumbers, probiotics and pumpkin.

The kibble is grain, corn, wheat, oat and soy free and made with gluten-free ingredients.


Why do I care?
My Jessie cat is 16 years old.  She has no known diseases.  She doesn't appear to have achy joints.  She seems vibrant and healthy, and will still play like a kitten and run around the house like she doesn't have a care in the world.  The reason for this is that I care about what she eats.  I care about what goes into her system, and try to feed her natural ingredients, free from chemicals, pesticides and the like.  I think it's paid off, and that's why you should care too.
Here's Jessie with her Only Natural Pet Feline PowerFood™.  She's generally a fussy eater, like most cats.  If she doesn't like something, she won't eat it.  She's very clear about that and makes it known!  But she accepted this kibble the very first time and seems to be crazy about it.  That's good enough for me.
All Natural, Premium Cat Food at Only Natural Pet
Do you know what else Jessie loves?
Only Natural Pets was kind enough to send us samples of their new PowerPate Canned Cat Food too!  Jessie LOVES this soft cat food.  She couldn't wait for me to put some of this Chicken Dinner into her bowl and she ate it right out of the can!  Most of the pictures I took of her eating are blurry because she was hurrying to eat it all, thinking I might take it away, I guess.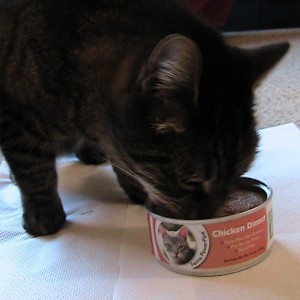 The other flavors that were sent are Turkey Dinner, and Seafood Dinner, which she also loves.  She says they are "Purr-fect!"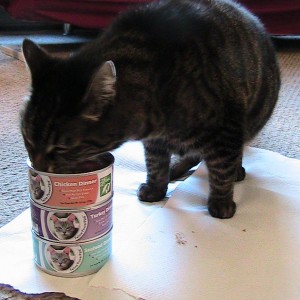 ***
~ Only Natural Pet Feline PowerFood Fish &Fowl Dinner 10lb Bag ~
~ Only Natural Pet Feline PowerFood Poultry Dinner 10 lb Bag ~
***
Visit Only Natural Pet at the following Social Media sites for the latest updates:  Facebook, Twitter, Pinterest, YouTube and Google+. 
Visit the Only Natural Pet – Everything Natural for Dogs & Cats
 *
Thank you for reading, "Only Natural Pet Feline PowerFood REVIEW"
***
A QUESTION FOR YOU:
Are you careful about what you feed your pets?
***Leave a comment below and remember to share. ***
♥♥♥
It's just sexy!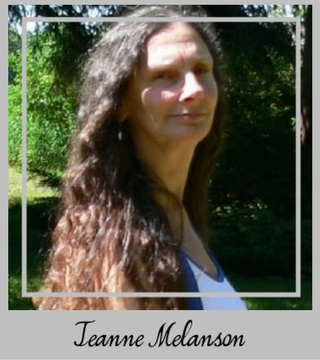 As always, thank you for taking the time to visit my blog!
♥ PEACE ♥
*
Disclosure: Animal Bliss is an Only Natural Pet affiliate and will earn a (very small) commission from purchases made through links on this website.
(Coffee money – thank you!)
😀
Born in Nova Scotia, I moved to the United States 20+ years ago.I am a dedicated lover of animals and fight for their rights and protection.I love people too, of course, and enjoy meeting folks from all walks of life.I enjoy philosophical discussion, laughing, and really odd ball stuff.I hope you enjoy my site.Leave me a comment to let me know you were here!Peace out.
Latest posts by Jeanne Melanson (see all)