Roadtripping with Two Dogs
Guest Blogger: Lindsey Banks
Our two dogs, Story and Linkin, have now seen more of the United States than most people have.
They had never left the Southeastern United States until this trip, when my husband and I embarked on our 16-day cross-country roadtrip as we moved from Florida to Oregon.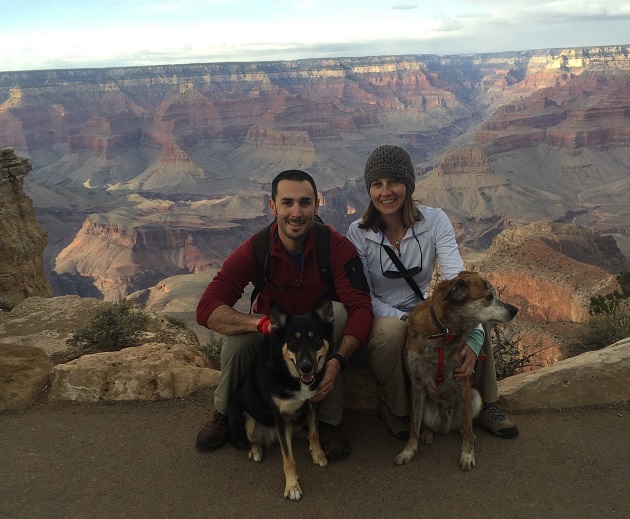 I admit that I was a little hesitant about the whole thing before we left. I thought, "Would the dogs be Ok in the car for that long?", "How would we find places to stay?", "How bad was the car going to smell"?
But, what choice did we really have? We were moving, and of course our fur-babies were coming with us!
We also wanted to make the trip fun! Not just a way to get from one place to another, but an adventure to see parts of the United States we had never seen before.
With this being our first long roadtrip together AND our first roadtrip with our two dogs, we had some good experiences and some not-so-good ones.
The Good
The air freshener we bought for the car worked wonders. Before leaving, we bought two air fresheners called Citrus Magic from Target. One was the Fresh Citrus scent and one was the Pure Linen scent. We ended up only needing to use one of them because it worked so well.
I opened up the pure linen first and put it under the seat before we left. The fresh smell lasted the entire trip and is still going! Instead of getting into a smelly car every day, that air freshener made the car smell so good! I would recommend it even if you don't have two 50-pound dogs in the car!
La Quinta hotels became our saving grace. When looking for hotel options with the dogs, I came across the La Quinta pet policy and found out that the La Quinta hotel chain allows 2 dogs (or cats) in each room for NO pet fee! This was a huge help for us! The La Quintas we stayed at in Edmond, OK, Moab, UT, Glagstaff, AZ, Bakersfield, CA, and Berkeley, CA were all very affordable and clean. They also had laundry facilities, another great thing on a long roadtrip.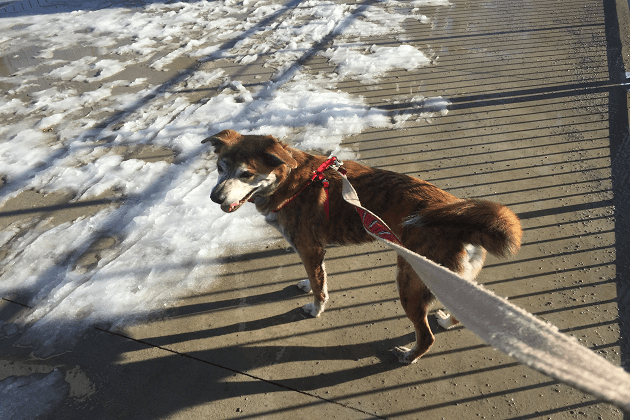 The only La Quinta hotel that I would not recommend staying at with dogs was the La Quinta in Berkeley, CA. The hotel did not appear to be in the safest area and there was absolutely no grass area to walk to dog to without having to walk down the street.
We liked the La Quinta hotels so much that we even signed up for their rewards program (La Quinta Returns) after our first stay! This made the check-in process at each new La Quinta super quick, and we are on our way to earning a free night's stay! I love free stuff, don't you?
Our dogs bonded with each other and even more with us.
Our dogs have always gotten along, but they tend to enjoy our company a lot more than each other's. However, after being forced in tight corners together for 16 days, I could tell that as the trip went on, they seemed to enjoy each other's company more.
I would spy them resting their heads on one another in the car, or being more cordial about sharing their treats or water during breaks. At first I thought it was my imagination, but this change in behavior is still going.
The Not-So-Good
We ended up eating a lot more fast food than we would have liked.
Except for when we were able to leave the dogs in the hotel room (such as when we were staying at the La Quintas) and head out on our own to explore a city, we were forced to stop for a lot of fast food.
Needless to say, my waistline grew a bit and I was ready for a food detox at the end of the trip!
For the next trip I will plan on packing more healthy snacks to grab in the car.
We didn't get to hike as many trails as we thought we would.
The National Parks generally do not allow dogs, unless they are on paved trails or in designated campgrounds. We visited Arches National Park, Grand Canyon National Park, Sequoia National Park, Yosemite National Park, and Redwood National Park on this one trip.
We were originally planning on hiking a lot of the trails with the dogs in each park, until I did a little research about the pet policy.
We ended up having to drive through (versus hike through) a lot more of the parks than we would have liked. We were able to leave the dogs in the hotel room so that we could hike the "Giant Trees" trail in Sequoia National Park and the "Delicate Arch" trail at Arches National Park. I just wish the dogs could have come too!
Two trails that we were able to hike with the dogs were the "Bridalveil Falls" trail in Yosemite and the Grand Canyon south rim. These were both paved trails where the dogs were allowed! The views at these two trails were gorgeous. You can read more about our roadtrip adventures on The Beaches to Mountains Roadtrip Series.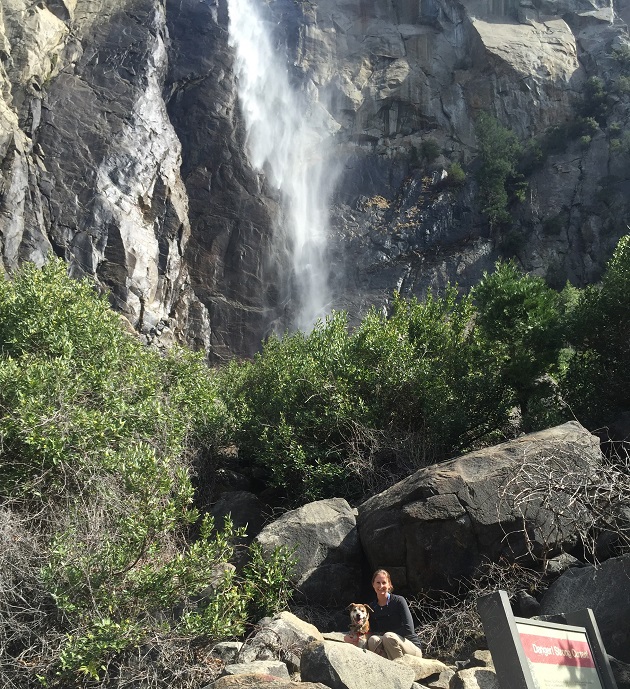 The dogs stuff took up too much room in the car.
Not only did we pack too much for ourselves, but we packed too much stuff for the dogs too. We ended up having to haul a bunch of stuff in and out of the hotel every night, including the dog food, dog bowls, poop bags, and dog treats.
Regardless of all the hair and the extra stuff, the trip ended up being an amazing experience overall, and I don't think it would have been any better if we didn't have our dogs with us.
Even the not-so-good experiences were a huge learning experience for our next roadtrip adventure, which we will definitely be taking!
***

Author Bio: I'm Lindsey Banks, founder and blogger at fitlifepursuits.com where I challenge and encourage women to create the healthy and happy lifestyle they want…while working a full-time job, or running a business, or raising a family, or traveling the world. I discuss all the things I love…adventure, traveling, fitness, and living a healthy lifestyle.
Look for Lindsey on Facebook, Twitter, Instagram, and Pinterest.
***
Roadtripping with Two Dogs: A Newbie's Experience, by Lindsey Banks @FitLifePursuits Click To Tweet
***
A QUESTION FOR YOU:
Tell me what animals you would like to learn more about.
Do you have a story you'd like to share?
♥♥♥
♥♥♥
***Leave a comment below and remember to share. ***
It's just sexy!
As always, thank you for taking the time to visit my blog!

♥ PEACE ♥

Latest posts by Guest Blogger for Animal Bliss
(see all)