5 Health Care Tips
For Your German Shepherd Dog
A German Shepherd Dog (GSD) is typically a healthy breed of dog with an average lifespan of 12 to 16 years. A well-bred German Shepherd will usually not have any serious health problems; however, all GSDs are susceptible to a few health conditions. Health conditions may include canine hip dysplasia, Von Willebrand's Disease or skin allergies. What follows are a few health care tips for your German Shepherd Dog's optimum health.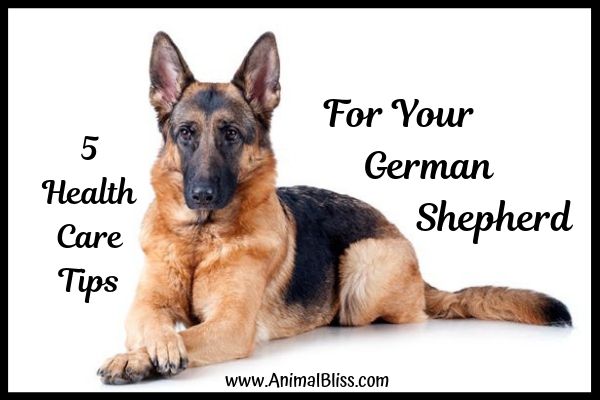 Balanced Diet
One of the most important things you can do for the health of your German Shepherd is feeding him a healthy, well-balanced diet. German Shepherds are very active, so they require plenty of protein in their diet. Fresh meats such as chicken, beef, and turkey are excellent sources of protein; however, they also need a balance of vegetables, eggs, and rice included in the diet. It is best to avoid wheat, corn, or rice, as these foods may be delicate on his digestive system. The amount of food your dog eats depends on his activity level, but the average is about three total cups of food per day, and any uneaten food should be removed after about thirty minutes. Avoid feeding your German Shepherd any foods that contain additives as they are difficult to digest and will only produce unhealthy calories.
Daily Exercise
German Shepherds require regular exercise to prevent boredom as well as to help reduce symptoms of arthritis or hip dysplasia. You should take your German Shepherd for daily walks and let him play outside at least twice each day. If you notice he is having difficulties walking or moving, it is essential to take him in for an examination by a vet to make sure he is not experiencing hip dysplasia. Over time, without the proper treatment, hip dysplasia can lead to muscle waste, especially in the leg of the affected hip.
Related:
Canine Hip Dysplasia in Dogs: Your Questions Answered
General Health Checks
It is vital to routinely spend a few minutes checking the German Shepherd for any signs of a potentially dangerous health problem. Some of the signs you should look for in his overall general health include lack of coordination, increased aggression, loss of appetite, loss of water consumption, weight change, bloated abdomen, gagging, coughing, and change in muscle tone. The feet should be checked daily for abrasions, damaged pads, and nail problems, and check the skin daily for hair loss, red spots, parasites, and sores.
Eyes, Ears, and Nose
The eyes, ears, and nose of your German Shepherd should be checked on a routine basis too, and if you notice anything unusual, it is important to have him examined by the vet.
The eyes should be checked for discolored whites, discharge, squinting, cloudiness, or pupils that are unequal or unresponsive.
His ears should be checked for redness, excessive scratching, and bad odor.
Your GSDs nose should not have any discharge, change in color, or crusted top.
Oral Hygiene
Good oral hygiene is critical in preventing other serious health problems in your dog. Check the mouth for red, swollen or bleeding gums, bad breath, sores on the tongue, and loose or dirty teeth. Brush his teeth regularly and have them checked by a veterinarian about every six months (at least yearly). It is also beneficial to talk to the vet for recommendations on treats that will help to keep his teeth and gums clean and healthy.
One of the most important things you can do for the health of your German Shepherd Dog is to make sure he is up to date on all of his shots and vaccinations. Schedule yearly health checks with the veterinarian, and if you notice any changes in your dog's behavior or activity take him in as soon as possible.
~~~~~
5 Health Care Tips For Your German Shepherd Dog
Guest Writer: +Neil Kilgore is a dog lover and the Jack (Russell) of all trades at Greenfield Puppies in Lancaster Pa. He regularly blogs about breeders and dog care tips on the Greenfield Puppies website.

5 Health Care Tips For Your German Shepherd Dog #GermanShepherd #GSD #GermanShepherdDog #PetBlogShare #DogCare #BreedHealth Click To Tweet
*
MY QUESTION FOR YOU TODAY:
What is your favorite breed of dog? If you could have just one breed, what would it be?
Leave your comment below. Remember to share. 

Latest posts by Guest Blogger for Animal Bliss
(see all)