Blue Green Algae Presents a Danger to Dogs
A dangerous threat to our pets has emerged in our local water sources this summer season. Across the United Kingdom, a group of bacteria known as blue green algae presents a danger to dogs. Since the algae have been plaguing many of our water sources, dog owners have been urged to keep on guard this summer as this hazard can even prove fatal to your pooch.  So far presence of the bacteria has been confirmed in Scotland, Wales, Lake District, North Lincolnshire, East Northamptonshire, the River Yeo near Sherborne, North Dorset and Windsor Great Park.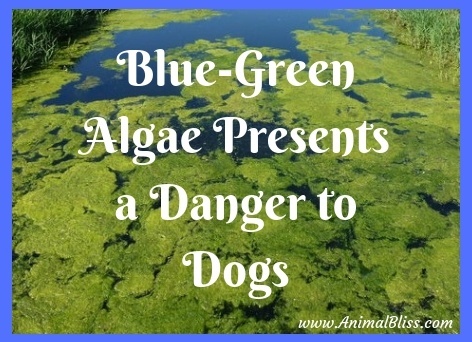 What is Blue-Green Algae?
While not actually algae, these bacterial organisms get their name "Blue-Green Algae" due to their appearance as they clump together in the water. Not ordinarily able to be seen by the naked eye, when together suddenly the blue-green algae are visible as a kind of greenish, brown bundle of dots in ponds, lakes or streams.  It is most common in freshwater that is stagnant and during warm weather.
To protect your pets from this threat ensure they do not go into or near any affected lakes, rivers or ponds.  Even a quick dip in infected water can be dangerous if your dog licks off the water afterward.  If left untreated infection by this bacteria can be fatal within days.
How do I know if my dog is infected?
If your dog has been near a water source that may be infected there are symptoms you can look out for to tell if they are infected.  While these symptoms could also suggest many other illnesses, they are symptoms that should always lead to a veterinary visit.  If these symptoms occur after exposure to water infected with blue-green algae, however, they will present themselves within a few minutes, to a few hours. Symptoms include vomiting, diarrhea, seizures, weakness, collapse, blood in feces, disorientation, drooling and breathing difficulties.
What can we do to protect our dogs?
To avoid infection by blue-green algae first make sure to look out for any signs put up by local councils near water bodies.  Water sources that are infected should have clear signage around them to warn visitors.  If a sign is not present, this does not mean that the water source is safe.
When around any water source make sure to keep your dog on its leash and be attentive.  Even if you cannot see any signs suggesting the water body is infected if it does not look clear do not risk letting your dog go near it.
If you know your dog has gone into water you think could be infected, make sure to wash your dog as soon as possible and do not let them lick themselves.  The bacteria is only dangerous if ingested so if you can remove all traces your dog may be okay.
Conclusion
As the colder weather starts to come in blue-green algae blooms will subside as the conditions are no longer optimal.  But this does not mean that dog owners should not continue to be vigilant.  Even as blooms start to dissipate smaller amounts of bacteria will still be present in the water and can still be a risk to your dog.
It is essential that we stay vigilant and take extra care of our furry friends on their daily walks. As the autumn season is upon us, hopefully, these bacterial baddies will depart along with the demise of the warmer weather.
~~~~~
GUEST POST: Blue Green Algae Presents a Danger to Dogs in the UK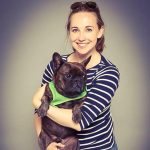 GUEST AUTHOR: Danielle Moraviec is a freelance writer and founder of brachyblog.org where she writes about brachycephalic dog breeds. Prior to her current path, she worked as a researcher in animal conservation at Imperial College, London. After receiving her undergraduate and postgraduate degrees in animal science she devoted herself to making a difference in the lives of animals. Danielle has always been passionate about animal welfare and conservation and enjoys being able to share her knowledge to provide valuable information to her readers.

Blue Green Algae Presents a Danger to Dogs in the UK
Click To Tweet
MY QUESTION FOR YOU:
Have you heard of the dangers of blue-green algae?
*** Leave your comment below. ***
(It's just sexy!)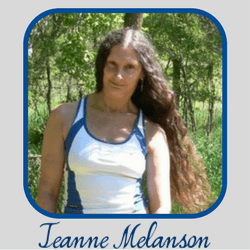 Peace
DISCLOSURE: Animal Bliss is a participant in the Amazon Services LLC Associates Program, an affiliate advertising program designed to provide a means for us to earn fees by linking to Amazon.com and affiliated sites.
(In other words, we'll get a very small (teeny tiny) commission from purchases made through links on this website.)
So, go on … Don't be shy!
Buy Something BIG and Expensive!
Thank you!
😀
[amazon_link asins='B01GEW27DA,B00JDQM4U6,B00ZV9RDKK,B00R20MPW2,B01DFKC2SO,B071ZTJWM7′ template='ProductCarousel' store='animblis-20′ marketplace='US' link_id='b9de94b2-bae1-11e8-a059-950fd4de3f93′]
😀

Latest posts by Guest Blogger for Animal Bliss
(see all)