This deeply personal book by Dr. Aysha Akhtar, the first by a physician to explore the impact animal health has on human health, and how our lives are ultimately connected, offers a window into the lives of a variety of people and how their relationship with animals has changed their lives.
Who is Dr. Aysha Akhtar?
Dr. Akhtar is a neurologist and animal advocate who traveled the country to speak to many different people and organizations on her journey to bring a human light to the science behind our connection with animals. When animals suffer, humanity suffers along with them, but by bringing animals into our lives and harnessing our natural empathy for animals, the lives of both animals and humans can be improved.

This book is perfect for animal lovers, vegans, and anyone curious about a little-explored aspect of public health woven through an overarching memoir. Inspiring stories include a harrowing ride-along with the NYPD's Animal Cruelty Investigation Squad, a Marine veteran with PTSD and his service dog Axel, a former cattle rancher turned animal sanctuary host, a hurricane Katrina survivor, a chicken farmer, and a former mobster who now dedicates his life to rescuing and caring for animals. Dr. Akhtar weaves in her own personal journey towards animal empathy, from her first moments with family dog Sylvester to how this relationship made her stronger in order to protect not only Sylvester from abuse but herself as well.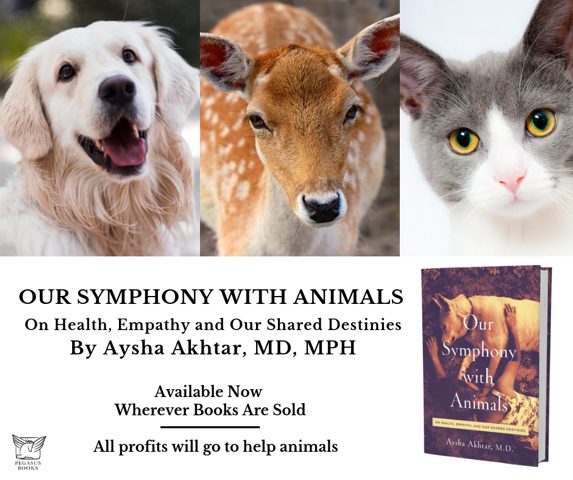 With Our Symphony with Animals: On Health, Empathy, and Our Shared Destinies, this book by Dr. Aysha Akhtar invites us to reexamine our relationship with all animals, and hold our animal loved ones even closer. All profits for the book will go to help nonprofit animal organizations and charities.
The book is available from Pegasus Books and Amazon and is available in audio through Audible. To connect with Dr. Akhtar, you can visit her website, or find her on Twitter @DrAyshaAkhtar and Facebook.
Latest posts by Jeanne Melanson
(see all)