Horse Fencing Options
~ What To Consider When Buying ~
Horse fencing comes in a variety of different options. Each type has its own set of pros and cons. There are no hard-and-fast rules as to which is the best choice because many factors need to be considered when purchasing a horse fence. The ideal 'horse fence' is one that will be safe, no-climb, and strong enough to withstand the impact of horses pushing against it. It will need minimal maintenance with proper installation and an aesthetically pleasing appearance.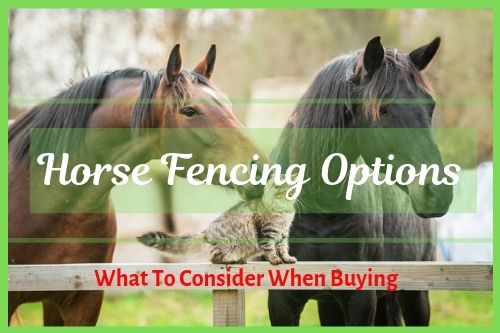 Six of the most popular horse fencing options:
1. Post and Rail
This classic horse fence is made of wooden boards nailed into upright wooden posts. Many horse owners still like this fence because it gives off a picturesque appearance; it blends well with the natural landscape and is entirely safe. It also creates a solid barrier between fields and the surrounding area.
On the flip side, wooden fences are expensive and require ongoing maintenance. The fencing must be regularly checked for loose nails and broken or splintered boards.
2. Electric fence
The electric fence comes in different sizes and types. Electric fencing is made of tape with wooden or plastic posts. Wooden posts are used for "permanent" electric fencing while plastic ones tend to be for temporary usage.
Electric fence is quite secure but the ones made with thick-width tape can suffer damage from heavy winds.
3. Bare Wire
Bare wire is a single-strand wire that offers the protection of an electric fence. It is not easily visible due to its thin construction and color.
It is inexpensive, installation is easy, requires simple maintenance, and has excellent strength and durability. However, the bare wire fence is inconspicuous, and horses can easily become tangled and endure severe injuries.
4. Barbed Wire
Just like the bare wire, barbed wire has limited visibility. It is made of a single or dual strand of wire with sharp barbs spaced every 4 to 5 inches (ca. 13 cm). A barbed wire fence does, however, provide a reliable barrier and is an inexpensive option.
However, barbed wire is not safe for horses, as it can quickly tear into a horse's skin and can cause serious injuries if a horse becomes tangled in it.
5. PVC Fence
A relatively new type of fencing, PVC fence comes in a wide variety. It is a good-looking fence and occasional washing is the only maintenance it needs.
However, extreme temperatures can cause damage to PVC fencing, or if horses kick too hard against it. This fence is on the expensive side, but the installation is quite easy.
6. Wire Mesh
There are two types of wire mesh suited for horse fencing: no-climb which consists of steel wire knotted together into two-by-four-inch openings and v-mesh which consists of two wires that are twisted together in a two-by-four inch diamond formation to create small openings.
The No-climb wire is rigid yet flexible to prevent injury, while the V-mesh is referred by many as one of the best equine fences on the market. V-mesh fencing has linear strength and springy texture to protect horses from injury. It is typically more expensive than no-climb.
Both types of wire mech fencing are strong, durable, safe, and secure when installed correctly. They keep out small predators, unwanted neighborhood dogs, and other undesirable visitors. You will need expert guidance for the installation of both options.
RELATED:
Regular Horse Grooming for a Healthy and Fit Horse
Before buying a fence, consider the following:
Durability – Fencing should be able to last a couple of years with very low maintenance.
Installation -It is important to consider the cost, skill, and labor required here. If you can't install the fence yourself, hire a professional installer but remember that this can significantly add to the overall cost.
Warranty – Before purchasing the fence check the duration of your warranty and let a salesperson explain it in full for clarity.
Strength – Check the strength of the fence before purchase. Fencing should be impenetrable so horses cannot escape.
Know your herd – The energy of your horses plays a significant role in the type of fence you need. Be mindful of your herd's composition. You want to purchase a fence system that will be able to withstand the lightest to the toughest blow with ease.
Keep predators out– Depending on where you live, you will need a fence that will not only keep your horses in but also keep out predatory animals such as wolves and coyotes, or stray and domestic dogs.
Maintenance – The amount of upkeep a fence will need is important but often overlooked, sometimes fencing can be cheap, but the cost of maintenance makes them expensive in the long run.  Choose wisely.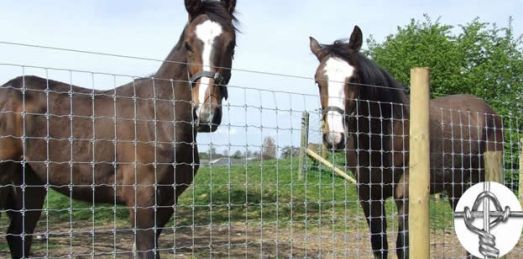 Conclusion
When choosing any horse fencing system, be sure to 'do your homework' and ask questions. Understand that what works for one farm may not work for another. Find a trusted fence expert to help you look at all angles of your project and only then make a decision.
~~~~~
"Horse Fencing Options and What To Consider When Buying"
Guest Writer: Sistine Capoy works as a content specialist in Horse Fence Direct and a pet owner.
*** Please Share ***
Horse Fencing Options and What To Consider When Buying #horses #horseFencing #petBlogShare #horseCare
Click To Tweet

Try Amazon Prime 30-Day Free Trial



MY QUESTION FOR YOU:
What type of horse fencing would you recommend?
*** Leave your comment below. ***
(It's just sexy!)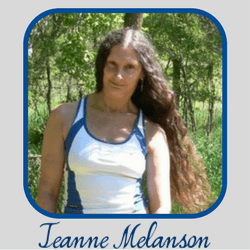 Peace
DISCLOSURE: Animal Bliss is a participant in the Amazon Services LLC Associates Program, an affiliate advertising program designed to provide a means for us to earn fees by linking to Amazon.com and affiliated sites.
(In other words, we'll get a very small (teeny tiny) commission from purchases made through links on this website.)
So, go on … Don't be shy!
Buy Something BIG and Expensive!
Buy a Jaguar. Or a Ferrari.
Thank you!
😀
[amazon_link asins='B01N0NXG3W,1580176992,B001FK47HQ,0756671604,B01K92N1TU,B01MSK4Z8I' template='ProductGrid' store='animblis-20′ marketplace='US' link_id='fece2aa5-0430-4e45-a286-8c4c7f345755′]
😆

Latest posts by Guest Blogger for Animal Bliss
(see all)