7 Enrichment Ideas For Your Senior Dog
Once our dogs start to age, it can become hard to keep on doing the same activities that we used to do with them. Aching legs are not able to hike anymore, worn-down teeth cannot catch balls and frisbees as well as they used to do. While our dogs used to romp in the park for hours in their younger days, they may now only be able to stroll along the path for a half hour slowly.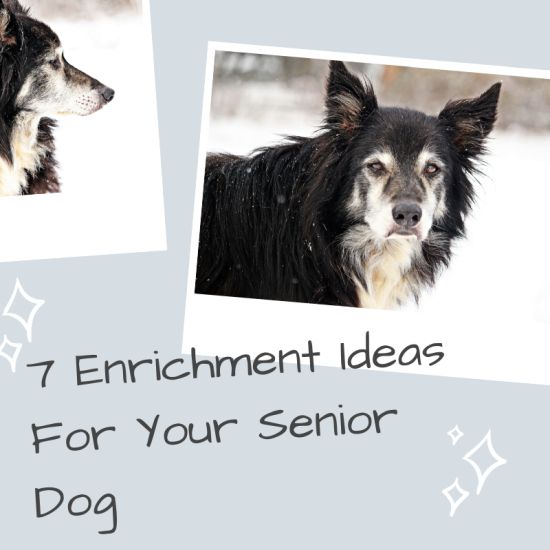 Here are some ideas to keep your old dog happy and engaged, while being gentle on their body!
1. Pupsicles
All dogs love chewing and licking. Your dog has probably enjoyed many bones and filled Kongs during his life. But has he ever tried a doggy popsicle?
Take some thin, reduced-sodium chicken broth and fill it into an empty yogurt container. Add some delicious treats: pieces of string cheese, hotdogs, and chicken. Now freeze it until solid!
Your old dog will be thrilled about this yummy and novel pupsicle and especially enjoy it during hot summer days.
2. New Ground
Bring some new experiences into your senior dog's life by introducing him to surfaces that he has never known before. Build a little obstacle parkour in your living room with some parchment paper, blankets, aluminum foil, or packing peanuts and have your dog walk over all of them. Of course, give him many treats! It will sharpen his mind to navigate new grounds and help to keep his coordination and balance up to par.
RELATED:
Pet Stairs and Ramps for Injured and Senior Dogs
3. Cafe Dog
Your dog may not be able to walk for long distances anymore, but that doesn't mean he cannot go places! Take him to the city center and find a dog-friendly patio. Coffee shops and restaurants often allow dogs in their outside seating areas. Take a blanket or a mat so he can lay on soft ground while he enjoys the company of you and everyone else.
4. Senior Club
Do you have friends that also have older dogs? Your aging dog may not be up for the wild play that the youngsters at the dog park enjoy, but he will sure like hanging out with some fellow seniors! Plan get-togethers at which your old dogs can sniff and relax together all they want. They will appreciate the company of other dogs who are laid-back and don't want to wrestle or chase. Maybe they will even all lie down to take a nap together!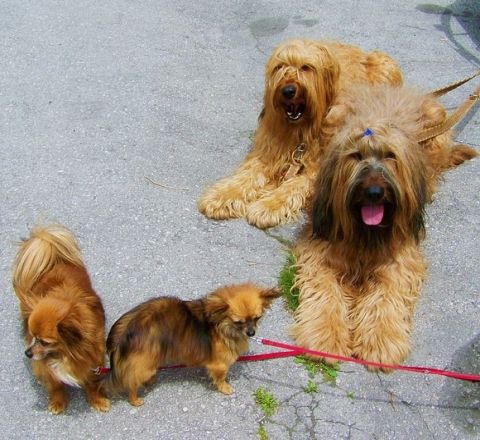 5. Sun Spot
Old dogs spend their days mostly doing one thing: Sleep! Build your senior dog a sleeping area that is as comfortable and cozy as it gets. Many dogs love to lie in the sun. You can easily build your senior a raised bed in front of a sunny window by using some wooden pallets. Make sure to include steps so he can get on and off safely.
6. Sniff Walks
While senior dogs cannot walk very far anymore, they still enjoy to take in all the scents that come with being out and about. Take your older dog on a slow sniff walk at least a few times a week. It does not have to be far – less walking, more sniffing will be easier on your dog's body. Even just going up and down the road in front of your house and letting your dog check out every bush on the way will make him very happy.
7. Massage Time
Just like we appreciate a good massage when our muscles are tense, our dogs will as well! When you settle in front of the TV in the evening, gently massage your dog's back, legs, and neck. Use his reactions to guide you in how much pressure you apply and how long to linger on each spot. Dogs that enjoy regular massages are far more agile in their older years.
~~~~~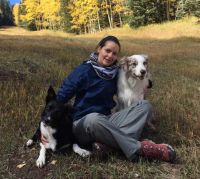 GUEST WRITER: Steffi Trott is a full-time dog trainer from Albuquerque, NM, and owner of SpiritDog Training. She specializes in play-based training techniques that foster the relationship between dog and owner and lets them become a team that works together. SpiritDog Training offers online classes for everyone who wants to join their games.
My website is www.spiritdogtraining.com
my Facebook is https://www.facebook.com/SpiritDogTrain/
*** Please Share ***
Try some of these 7 enrichment ideas for your senior dog to keep him happy and gently engaged. #DogCare #SeniorDogs #PetBlogShare
Click To Tweet

Try Amazon Prime 30-Day Free Trial



MY QUESTION FOR YOU:
Do you have a senior dog? Have you tried any of these enrichment ideas?
*** Leave your comment below. ***
(It's just sexy!)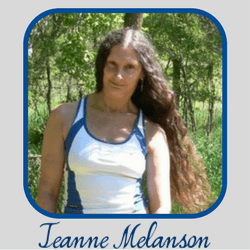 Peace
DISCLOSURE: Animal Bliss is a participant in the Amazon Services LLC Associates Program, an affiliate advertising program designed to provide a means for us to earn fees by linking to Amazon.com and affiliated sites.
(In other words, we'll get a very small (teeny tiny) commission from purchases made through links on this website.)
So, go on … Don't be shy!
Buy Something BIG and Expensive!
Buy a Jaguar. Or a Ferrari.
Thank you!
😀
[amazon_link asins='B0049B29S2,B079X44DB8,B07C3KBRLF,B000MD57OO,B003IWYPXK,B008HRKQWA' template='ProductGrid' store='animblis-20′ marketplace='US' link_id='2457fba7-d1a5-46df-b5e6-4b6cdf6bfa9d']
😆

Latest posts by Guest Blogger for Animal Bliss
(see all)