Therapy Dogs Have Many Uses
Dogs have proven over and over that they are truly man's best friend. Dogs provide unconditional love to their families and joy to animal lovers everywhere. They are also smart and hard working, so it's only natural that dogs would be an obvious choice for working in therapy. Animal Assisted Therapy is becoming more and more common, and therapy dogs have many uses, helping and healing in many health fields.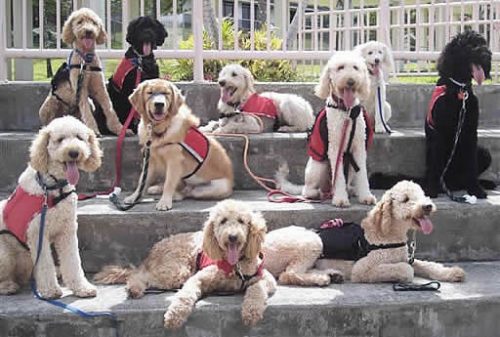 Mental Disabilities
For people with mental disorders and disabilities, animal-assisted therapy can have such a huge impact on their lives. Dogs who have naturally calm demeanors typically do the best as therapy dogs and can be trained to recognize and help calm down their person in the case of an emotional episode. Veterans with [amazon_textlink asin='1609180658′ text='Post Traumatic Stress Disorder' template='ProductLink' store='animalbliss-blog-20′ marketplace='US' link_id='34a7f88d-0508-11e7-8e3d-9751799b3852′] can suffer from insomnia, depression, anxiety, and intense flashbacks. Having a dog can help comfort veterans with PTSD by being a constant loving companion and provide a calm environment.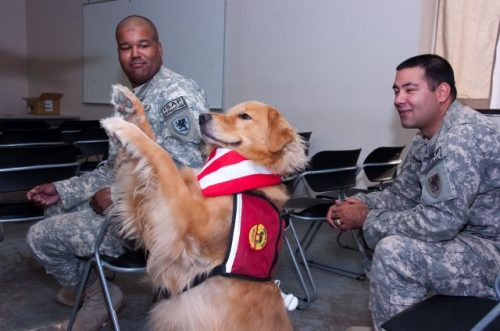 Staff Sgt. Anthony Houston, of Detroit, and Staff Sgt. Travis Gilbert, of Rockford, Mich., both from the Michigan Army National Guard's 1225th Corps Support Battalion, after returning from Afghanistan, watch 3-year-old therapy dog, Lugnut, do a trick.
Dogs can be a great asset for [amazon_textlink asin='1935274066′ text='children with Autism' template='ProductLink' store='animalbliss-blog-20′ marketplace='US' link_id='62531a72-0508-11e7-a9d8-233c23de3a21′]. Autistic children often have developmental delays, physical delays, and have trouble connecting with other people. Owning a pet has been shown to help children with autism with social skills, communication, coordination, and physical abilities. Having a dog can also help autistic children connect with their peers by relaxing them and giving them a companion that everyone wants to play with together.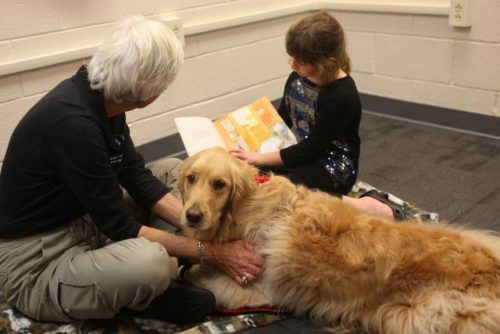 Mental Health
The mental health field has often been one that is misunderstood. There has always been a stigma surrounding people seeking counsel, but recently using animals along with therapy has been helping people come to terms with it. Many psychiatrists have been recognizing the benefits of pets for their patients, saying that research is showing that, alongside medication and counseling, pets are providing better outcomes for patients with serious mental health issues, such as bipolar disorder, schizophrenia, and schizoaffective disorder.
Related:
12 Common Misconceptions about Service Dogs Clarified
Pets are also highly recommended as therapy for people with depression and anxiety. Often people with depression and anxiety feel stressed, alone, unloved, and cut off from the world, and bonding with a dog can help alleviate these feelings. Dogs love unconditionally, so when someone is feeling unloved and rejected by their peers, their dog is there to love them no matter what. There is also the element of responsibility when owning a pet, which can help keep people grounded. Knowing that there is a companion that relies on them completely for their well-being can give a person a senses of purpose.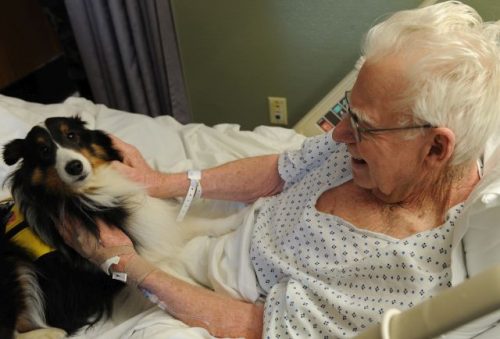 LANGLEY AIR FORCE BASE, Va. — Gene Mohr, a retired Tech. Sergeant, pets Mollie, a three-year-old Sheltie at Langley Hospital Jan. 30. Mollie does about 10 visits throughout the Hampton Roads Area. (U.S. Air Force photo/Airman 1st Class Zachary Wolf)
Animal Assisted Activities
Dogs and other animals can be of service to the community even when not assisting their owners directly. Dogs that have a certain personality and behavior trait can be trained and certified as therapy dogs. Therapy dogs and their owners volunteer in animal-assisted activities, where they visit and participate in different facilities and programs.
One common volunteer activity is for therapy dogs to visit patients in hospitals. Patients can receive a visit from a therapy dog and the positive interaction can help the patient with fear, anxiety, and pain with the positive energy the dog can bring. Therapy dogs that volunteer are required to be fully vaccinated and thoroughly bathed before arriving at the hospital to prevent the spread of infections within the hospital.
Another common activity for therapy dogs is working with children in a variety of settings. Schools and education programs will sometimes use therapy dogs to ease the anxieties some students feel when learning. One speech-language pathologist in a Minnesota high school brings her trained therapy dog with her to school once a week. She said
"I have some kids who are pretty low-functioning, but when I bring Murphy in, they smile and move their hands to pet him. My fluency kids are more fluent when they speak with him."
Libraries across the country also have reading programs where kids can read to therapy dogs. The dog's presence creates a nonjudgmental and calming atmosphere where kids who are struggling with learning to read can practice without worry.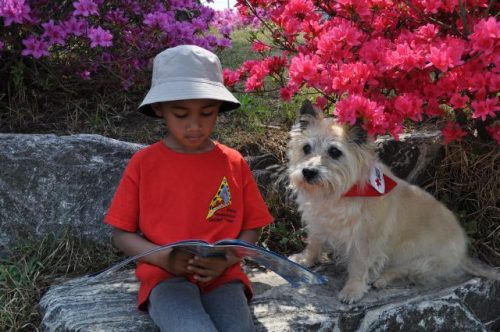 Dogs and other pets make our lives so much better just by their very presence, and every day we are learning more and more how much they can benefit our lives. Research is proving that having pets can make us healthier and happier, and be a great asset for people who need a little extra love.

Latest posts by Mila Sanchez
(see all)