Tips for Moving Your Pets to a New Home
Written by Brian Wilson
When it comes to moving, there will be many aspects that you find challenging, stressful, or just downright chaotic. It's no mystery—most rank moving to a new location as one of the most taxing experiences of their life.
However, this stress can be even more amplified when coordinating the successful moving of your pets. Handling every detail from packing to pit stops is difficult enough on its own, but when you combine that with keeping your pet happy and calm during the big transition, you can have a stress-filled disaster on your hands.
Luckily, moving your entire family from fur to fins doesn't have to be a negative experience. With the proper amount of planning (and a little pre-game know-how), you and your pet will have the propensity to arrive safely and comfortably in your new home and be ready to take on life's new challenges together.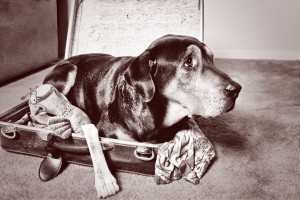 Supplies
One of the most important things for you to prepare in advance will be the right supplies—this can include everything from a good crate or carrier to transport dogs and cats, to a carry-on bag of essentials needed for your trip –meals, treats, water, bathroom pads, walking leashes, etc.
Unlike yourself, it's important to note that you should keep everything your pet may need on-hand during the trip. Packing away required pet care materials and hoping to simply unload them once you're moved in is just asking for disaster!
Veterinary Care
Similarly, you're going to want to consult with your current vet as soon as possible to let them know of the upcoming transition. Moving to your new town will mean the necessity for a new regular vet, so ensuring that this transition goes smoothly in regards to your pet's vaccination needs, etc. will go a long way.
This can generally also spur the discussion onto researching new veterinary offices in your hometown-to-be. Your current vet may have insight into the quality of various locations at your new location, or simply give you solid pointers on researching and comparing vet offices on your own.
Quality Time
Perhaps most importantly, keeping your pet healthy and happy during the move will largely come down to the amount of special care and attention you remember to pay them during the process. It can be easy to skim over things that you normally wouldn't while caught up in the rush of moving, but it's important to make it a point to regularly reassure your pet and make sure all of their needs are being adequately met.
Your pet will feel more at ease during the confusing transition, and will feel much better all-around due to the increased peace of mind. Remember that it's just as much a move for them as it is for you.
3 Tips for Moving Your Pets to a New Home Successfully
ABOUT THE AUTHOR:
Brian Wilson is a contributing writer and media specialist for the North American Moving Blog. He regularly produces content for a variety of lifestyle blogs, based around the transitional challenges that come with migrating and traveling long-distance.
********
3 Tips for Moving Your #Pets to a New Home Successfully. Please retweet. Click To Tweet
***************
You may also enjoy:  "How to Make Car Rides Less Stressful for Pets"
MY QUESTION FOR YOU TODAY:
Do you have an animal-related story you would like to submit for publication? Let me know if you do! Funny, sad, educational, trivia, common or uncommon in nature … the choice is yours.
Email me directly at jeanne@animalbliss.com
*************************
*** Please leave a comment below and remember to share. ***
It's just sexy!
As always, thank you for taking the time to visit my blog!

♥ PEACE ♥

Latest posts by Guest Blogger for Animal Bliss
(see all)