Being a first-time dog owner is exciting. I couldn't wait to have my little bundle of joy join our home, and I started shopping way before he came home (much to my partner's dismay). Toys, beds, blankets, you name it. My pup had to have them all!
Hugo is now ten weeks old, and in the short two weeks of owning him, I've already made several more unexpected trips to the pet store. Below are several things that I never even considered before my new pup came home!
5 Things to add to Your First Time Dog Owner Checklist
1. Ear cleaner
Hugo is a Sprocker Spaniel, which means he has floppy (but adorable!) ears. Naively, I thought a dog's ears wouldn't get too dirty, and that they didn't need cleaning–similar to human ears.
However, it's really easy for Hugo to get things caught both inside his ear and on the wavy fur outside. That meant a trip to the pet shop to buy some ear cleaner that would keep him in top condition.
2. Pet odor neutralizer
We've tried to house train Hugo, and although he is incredibly intelligent, he still sometimes pees in the house.
It mainly happens when he's over-excited and allowed into a new room with carpet that feels like grass.
We didn't expect him to pee as much, or only pee on laminate floor, so we needed to buy some pet odor neutralizer to prevent him using the same spot as a toilet!
3. Snuffle mats
A recent revelation to me is snuffle mats, which are similar to blankets, but smaller in size and with lots of tufts.
A snuffle mat aims to hide your puppy's treats inside and allow your pup to sniff them out.
Because Hugo is a Sprocker, he needs lots of mental stimulation. The snuffle mat is a great way to add enrichment to his routine. Plus, he loves the satisfaction of using his nose to find a tasty snack!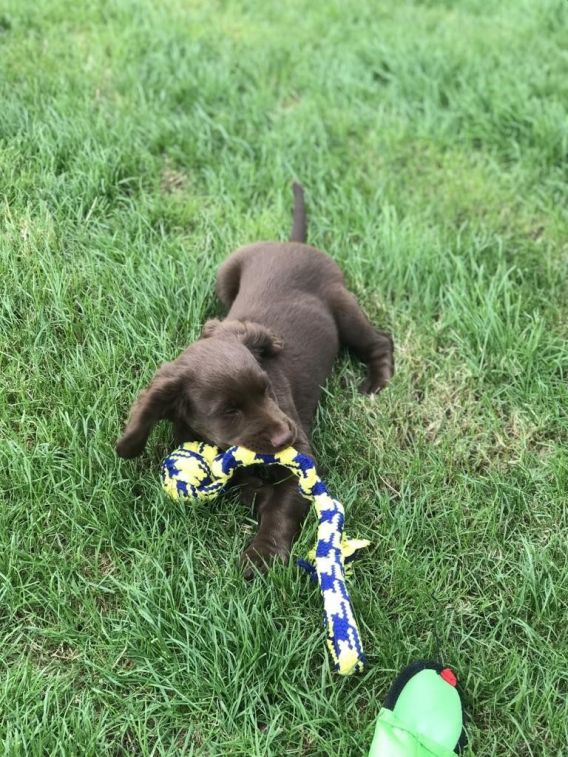 4. Fluffy toys
When puppies are teething, all of the advice comes in the form of "get them hard toys to chew"–so I did. Hugo had several toys specifically designed for teething puppies–like cool rings, Kong toys, and even ice cubes.
However, Hugo prefers soft, cuddly toys to chew on, as we found out when he played with my fluffy slippers!
We got a few more soft toys, and he loves to use them to soothe his gums.
5. Long-line leads
When Hugo is allowed outside after his vaccinations, we plan to walk him off-lead because we live in the countryside. But I'm terrified of him being let loose and never coming back again!
After scanning some Facebook Groups for ideas to teach recall, I bought a long-line lead and have been practicing in the garden.
I allow him to walk to the back of our yard (on his lead), call him back, and praise him when he does.
I plan to practice this when we're on our adventures, but the long-line lead does wonders for my "he's never coming back!" off-lead anxiety.
Conclusion
Now that Hugo is settled in, I do not doubt that he will need a lot more things as he grows older.
If you're also a first-time dog owner, I recommend getting these things in advance. That way, they're always there when you're ready to start training.
~~~~~
Guest Writer: Elise is a dog enthusiast and mum to a 10-week-old Sprocker pup, Hugo. Find her over at the Sprocker Lovers blog; a website run for people who love Sprocker Spaniels as much as she does! Follow her and Hugo on Instagram @SprockerLovers
*** Please Share ***
5 Things I Never Expected to Need as a First-Time Dog Owner #Sprockers #SprockerDogBreed #PetProducts #PetBlogShare
Click To Tweet

MY QUESTION FOR YOU:
Are you bringing a new pup home anytime soon? Do you think you have all that you need?
*** Leave your comment below. ***
DISCLOSURE: Animal Bliss is a participant in the Amazon Services LLC Associates Program, an affiliate advertising program designed to provide a means for us to earn fees by linking to Amazon.com and affiliated sites.
(In other words, we'll get a very small (teeny tiny) commission from purchases made through links on this website.)

Latest posts by Guest Blogger for Animal Bliss
(see all)