Dogs are wonderful pets and they help to make a home feel like a home. Apart from the constant yelps and jumping that they make when they greet you at the door, they are excellent companions that can help to comfort you even during the most difficult times.
Regardless of the reason, the territorial nature of pet dogs when it comes to furniture can be quite a nuisance. Not only will they shed pet hair all over the furniture or bed but they will cause other inconveniences too. When it comes to this, it's time to teach your pet how to stay off the furniture. Here are 5 ways to keep your dog off the couch.
How to Keep Dogs Off Furniture
1. Keep Food Away from the Couch
It is a common thing to find pet owners snacking on the couch. This is especially so when watching their favorite movie or TV shows. During this time, a few snack pieces or even crumbs will fall on the couch and probably lodge themselves on the sides. As a pet owner, you may assume that your dog will not notice it since they have not reacted. What pet owners seem to forget is that dogs do have great sense of smell.
If you find that your pet dog associates with a particular furniture, especially one you use when watching movies and snacking, the probability is that he or she is not missing you. Your pet dog is after the food crumbs located in the cushions or the sides. To prevent this habit, you need to keep food away from the furniture. After snacking, clean all the crumbs out and wipe your furniture with a cleaning agent. This will eliminate the smell of food.
2. Get Your Dog a Comfortable Bed
It is quite difficult to keep your pet off the furniture, especially since they see you sitting on it. It provides them an excuse of snuggling close to you. To prevent the behavior of your pet climbing on the furniture when you are away, it's high time to invest in a comfortable bed for your dog.
You can decide to shop for a new dog bed which can be located in a part of the home that marks it as the dog's territory. While you have decided to provide your dog with his or her own furniture, remember to keep your pet from climbing on other pieces of furniture. If you are not sure what kind of bed, or which bed to buy, you can check out some of the best dog beds reviewed here with a detailed buying guide.
3. Restrict Access to the Couch
If your dog is new to the home, the best time to restrict access to the furniture is from day one. Yes, you would love your pooch to snuggle close to you, especially when you are home alone, but if you don't restrict access to the couch right away, you will have a bigger problem down the road. One way of doing so is by making the furniture to be uncomfortable. This calls for some cheap place mats and double sided scotch tape.
Cover your furniture with the place mats and apply the double sided scotch tape. The sticky feeling will deter them from the word go. You can, also use aluminum foil. The noise made when your dog tries to climb on the furniture will prevent the behavior from going on any further.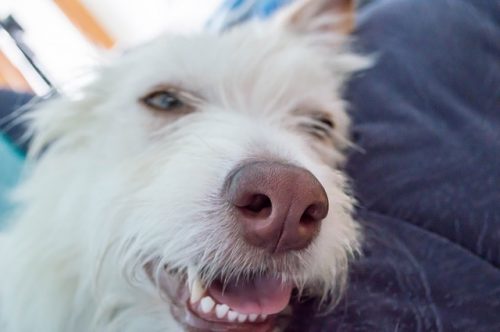 4. Teach the "off" command
Dogs are known to work well with verbal commands, and teaching them the "off" command will work well, even when you are not around. If you notice that your pet is climbing onto restricted furniture when you are home, instead of physically removing them, teach them the "off" command. Physically removing them will result in aggressive behavior and will make your efforts fruitless.
To train your pet dog the "off" command, you need to have his or her favorite snacks close by. When your dog climbs onto the couch, use a calm, yet stern, voice and say, "off." To make your command elicit the right reaction, have a treat close to his face. Start pulling it away, off the couch. Repeat until your dog is able to follow the command.
5. Try Treats As a Reward
If you want to stick with positive reinforcement only, then your dog's favorite snack or treat is an ideal reward. Give your dog his or her favorite reward only when he is on his own bed. It may take a whole case of doggy biscuits to reinforce this behavior, but it works.
Do not try to lead your pet off the couch and onto its bed by dangling a treat in your hand; rather, bring the treats out randomly anytime your dog is in its bed. After a couple of weeks the dog will start to think it's own bed is a great place for a random snack.
It is important to keep your dog off the couch, as this will ensure no pet hair or other inconveniences. There are a few ways to prevent this behavior. Teaching your pet dog the "off" command, keeping food away from furniture, exercising your pet, buying a dog bed, and restricting access to the furniture are a few ways to keep your dog off the couch.
Source: Dog Bed Zone
Do you allow your dogs to get up on the furniture? If not, how did you train them not to?

Save
Latest posts by Jeanne Melanson
(see all)