The 9 Most Important Animal Rights Videos of 2013, PETA
Some of you may know that animals are my passion and I am an advocate for animal rights.  Following are the 9 most important Animal Rights videos of 2013.  These videos helped a lot of animals this year.  Watch the ones that look most interesting to you, or watch them all, like I did, then go and make the world a better place for animals.
WARNING:  All of these videos may have graphic components, so be aware.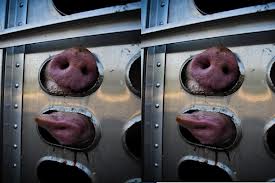 9. "Fur Hurts—Art and Activism Collide."
An inspiring video showing how 550,386 stickpins got people to stop wearing fur. Required viewing for anyone interested in effective advocacy.
8. "98% Human."
This is a groundbreaking (and award-winning) public service announcement (PSA), created in tandem with BBDO and The Mill, is computer-generated proof that animals don't belong in movies.
Watch how this video was made.
7.   "James Cromwell Arrested Protesting UW Cat Experiments."
The Emmy-winner took celebrity activism to the next level when he interrupted a University of Wisconsin–Madison Regents meeting on behalf of cats abused in cruel brain experiments at the school.  Members of the University of Wisconsin (UW) System Board of Regents sat stunned as he entered their meeting to challenge them over experiments on cats.
6.   "Olivia Munn Exposes Never Before Seen Footage on Chinese Fur Farms."
Olivia Munn narrates this shocking exposé showing the horrors that animals endure on Chinese fur farms (NSFW).  Animals on fur farms spend their entire lives confined to cramped, filthy wire cages. Fur farmers use the cheapest and cruelest killing methods available, including suffocation, electrocution, gassing, and poisoning. Join Olivia Munn in boycotting fur and fur trim.
5.   "Joaquin Phoenix Is Drowning."
Joaquin Phoenix lent his considerable acting talents to this PSA, which shows what fish endure when they are pulled from the water.  Joaquin thrashes underwater in a video that asks people to try to relate to scared and panicked fish who die a painful death after being pulled from the water. Fish don't want to suffocate on land any more than we want to drown in water.
4.   "Exposé: Live Lobsters, Crabs Torn Apart."
This video revealed to hundreds of thousands of people how millions of lobsters and crabs are dismembered alive each year (NSFW).
3.   "Miss USA Winners Bare All and Say NO to Fur."
This video featuring nearly naked beauty queens spread the anti-fur message far and wide (NSFW).
2.   "Official 'Glass Walls' Video by Paul McCartney."
If you've ever wondered, "What's wrong with eating animals?" this is the video to watch. One of the most important videos you'll ever see (NSFW).  Music legend and activist Paul McCartney delivers a compelling narration of this must-see video. Watch now to discover why everyone would be vegetarian if slaughterhouses had glass walls
1.   "The Truth Behind Angora Fur"
This beyond-shocking video revealed the horrific truth behind angora fur (NSFW).
The 9 Most Important Animal Rights Videos of 2013
Subscribe to PETA's YouTube channel for more groundbreaking videos in 2014.
MY QUESTION FOR YOU TODAY:  What is your opinion?  Were you able to watch any of these videos?  Do they affect you?  Do they make you want to stop eating meat?  Are you already a vegetarian or vegan?  Or do they not interest you at all and have no effect on you.  (No judgment here. I'm just curious.)
I would appreciate it if you would share this post, "The 9 Most Important Animal Rights Videos of 2013."
Thank you so much!
You might also enjoy: STOP Canadian Seal Slaughter | Animals Killed for Fur Industry | PETA
** Please leave a comment below and remember to share. **
It's just sexy!
As always, thank you for taking the time to visit my blog.

Latest posts by Jeanne Melanson
(see all)