If you aren't a professional dog groomer, you probably want to avoid wasting large amounts of money on your grooming kit. There is no point buying a grooming table, the very best dog clippers, grooming scissors, thinning shears, conditioner, a bathtub, a dog dryer, and so on.
You get my point. If you are only going to groom your dog a handful of times a year, you don't necessarily need to have all the best grooming equipment.
So what do you need? Let's start by clarifying how these common items should be used!
Dog Clippers vs Shears
Dog Clippers Are For Coat Trimming
Dog clippers are used to trim excess hair all over the dog's coat; it's a quick and easy way to get the grooming session started. Make sure you wash and dry your dog first.
The best grooming clippers for dogs are from brands such as Wahl, Oster, and Andis, and they are most definitely not like the clippers you can find at a barbershop — these would end up hurting your dog's sensitive skin.
What The Best Dog Clippers Should Have
Men's beard trimmers are too noisy and get too hot to be used on a pet — whereas professional pet grooming clippers are designed with animals in mind. Therefore, the best dog clippers should:
be much quieter
remain cool for longer
vibrate very little at low speed
Indeed, dogs are not always trained from an early age, and many of our pets can get a bit anxious at best, scared at worst, when grooming clippers approach their body or their head.
On top of being quiet and cool, the best dog clippers come in various styles depending on the type(s) of dogs you will use them on. Professional groomers usually have several clippers to be ready regardless of what dog walks in; you can only get one since you already know your dog's coat type.
On the one hand, single-speed pet clippers are the right option for new users since they tend to remain cooler for much longer thanks to a single speed setting. It's on, or off. However, they can be a little weak if you are trying to trim thick, matted and coarse coats.
On the other hand, variable-speed pet clippers are recommended for advanced groomers; they are a lot more versatile but can also be misused by inexperienced users. They are the best clippers out there since they can be used on all types of dog coats and for most of a dog's body.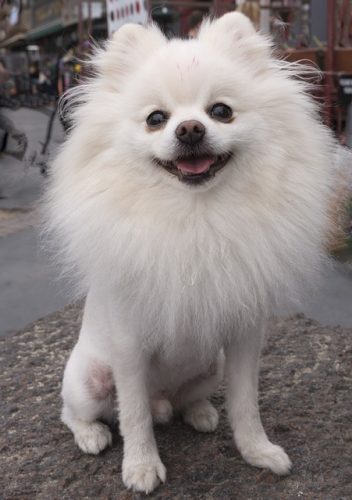 Cordless Grooming Clippers Are More Convenient, Right?
It depends on what you mean by convenience — for a grooming salon, convenience is not having to recharge the batteries every hour so for them, corded clippers are undoubtedly more convenient.
For most home groomers like you and I, cordless dog clippers are easier to carry around especially when getting started with an agitated dog. Having a cord would make things a lot more complicated.
Now, cord-free clippers have another problem: the quality of cut you will have at the start might not be the same as the quality of cut at the end, half an hour later. The battery will slowly run out, and it will have consequences for the motor's power.
As you can see, there is no binary answer, and each user will find his or her favorite grooming equipment. You have to pick what seems to be suited to your situation and adapt. For brand new users, I always recommend cordless single-speed clippers.

Avoid Sensitive Areas With Clippers
Even professional groomers tend to never work around sensitive areas with clippers — even the best ones will still overheat at times, and if the dog moves, things can get very messy!
Here are the dog's body parts I recommend you to stay away from when trimming your pet using dog clippers:
genitals and his bum
ears and eyes
head and throat
paws and pads
Everything else should be relatively safe to trim, but please, do not work on these spots with clippers.
Grooming Scissors Are For Finishing Touches
Now that we know when not to use clippers, we can deduct when to use grooming scissors and thinning shears on a dog:
sensitive areas — genitals, head, and paws
finishing touches — to perfect the entire look
If you have never groomed any dog and if your dog isn't a show dog, you will mostly use grooming shears to trim your pet's sensitive areas — therefore requiring round-tipped scissors.

If you want to work on a lush look, you will need to invest a little more money into some professional grooming scissors such as the Kenchii shears. These shears are the most popular brand but also one of the most expensive ones out there; each pair of scissors is made of a particular metal alloy that is rare and ultra-resistant.
We often recommend newbies to visit a nearby pet grooming salon where they can ask a bunch of questions, study the groomer's movements and technique, and then come back home to try and replicate. Monkey see monkey do!
Thanks to Lazhar for his collaboration on this article!
Best Dog Clippers and Scissors for Grooming Your Pup Click To Tweet

MY QUESTION FOR YOU TODAY:
Do you groom your own dog or have a professional groomer do it?
Latest posts by Jeanne Melanson
(see all)