30 Fun Facts About Dogs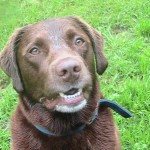 For those of us who know and love dogs, there is always something new to learn about them.  Enjoy this cool infographic I came across that shares  some fun facts about dogs you might not have been aware of.
If you enjoyed reading, "30 Fun Facts About Dogs You Should Know"
PLEASE SHARE
😆 
***
30 Fun Facts About Dogs You Should Know, #dogs Click To Tweet
***
A QUESTION FOR YOU:
Do you have any more dog facts to add to this list?
***
***
*** Leave a comment below and remember to share. ***
It's just sexy!
As always, thank you for taking the time to visit my blog!
♥ PEACE ♥

Born in Nova Scotia, I moved to the United States 20+ years ago.I am a dedicated lover of animals and fight for their rights and protection.I love people too, of course, and enjoy meeting folks from all walks of life.I enjoy philosophical discussion, laughing, and really odd ball stuff.I hope you enjoy my site.Leave me a comment to let me know you were here!Peace out.
Latest posts by Jeanne Melanson (see all)