Affectionate and relatively easy to care for, bearded dragons make great reptile pets. But one of the biggest challenges when it comes to raising a beardie is to get their diet right.
How often should you be feeding your bearded dragon for optimal health, and what exactly should (and should not) be on their menu?
This article will examine these questions in detail, looking at how often and when you should be feeding your bearded dragon based on their life stage and the balance of nutritional material that should be in their bowl.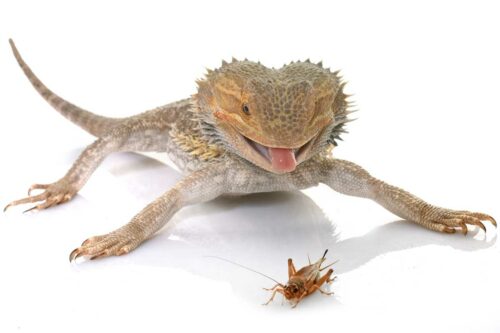 We'll also look at how long you should leave their food out for them and what you should do about hydration.
After this, we will look at what exactly should be in your beardie's bowl including the balance of insect protein and vegetables they should have at each life stage, the best raw ingredients to feed your beardie, and the foods that should be avoided.
Finally, we will also look briefly at supplements, especially calcium supplements, for your beardie and how to ensure they're getting enough calcium to thrive and not suffer any of the nutritional deficiencies common to bearded dragons in captivity.
How Often To Feed A Bearded Dragon
How frequently you should feed your bearded dragon, and the balance of insect protein vs vegetables that they need, depends mainly on how old your beardie is.
Baby Beardies
If you have adopted a baby beardie aged up to four months, they need to eat a lot and often to fuel their rapid growth at this stage. You should observe their growth, and if it seems to be slow, this is probably a sign that they aren't getting enough to eat.
Try to feed baby bearded dragons around five times a day. Since they need lots of food, there is no strict limit on how much they should eat. Give them as much as they can consume in between five and 10 minutes, and then take everything away.
They should be getting most of their nutrition from animal-based proteins, so that means crickets and other insects.
This should make up about 80 percent of their diet, with vegetables making up the other 20 percent%. While there is no strict limit on how many insects they should eat, a good estimate is between 30-50 per day.
Juvenile Beardies
Bearded dragons are considered juveniles between the ages of four and 12 months. At this point, you can reduce them to three feeds per day, as their growth rate has slowed down.
They still need lots of protein, though, so insects should make up about 70 percent of their diet, with approved vegetables closing the other 30 percent.
At this point, you can put their food out and leave it for 20-30 minutes. After that window, you should remove anything that your bearded dragon has not eaten. They should not be allowed to graze whenever they wish.
Sub-Adult Beardies
While bearded dragons reach their full size at around 12 months of age, they aren't full adults just yet. They still have some developing to do, so they benefit from more regular feeding. Twice a day is ideal.
At this point in their development, the balance of their diet should change quite dramatically. They should move away from a protein-heavy diet to a vegetable-heavy diet.
Vegetables should be about 70 percent of what they eat at this point, with insect protein making up the other 30 percent.
Adult Beardies
Bearded dragons are considered full adults from about the age of 18 months, so this is when you can start them on a regular feeding schedule that they will maintain throughout their lives.
Your adult bearded dragon only needs to eat once a day. It also won't be a problem if you miss a day here or there, but try not to make a habit of it as your beardie appreciates regularity in their diet.
At this point, they should only be getting about 20 percent of their nutrition from insect protein, and the remaining 80 percent from vegetables. It's best to feed them insects only every other day.
This is important because, as adults, it's easy for beardies to gain too much weight and tip into obesity. Monitor their weight to ensure they aren't eating too much and never let them graze.
You can probably expect an adult bearded dragon to eat around 10 crickets per day. But since they should only be eating insects every other day, that's 20 insects in a single sitting.
Again, they should eat their fill within 20-30 minutes of when you put the food out, at which time it should be taken out of the tank.
At all age stages, cut their food into small pieces about the size of the space between your beardie's eyes. This is the perfect size for digestion and is small enough that there will be a minimal chance of any choking.
What About Fluids?
Bearded dragons evolved in an arid environment, so they don't need a lot of liquid to keep hydrated. It's estimated that they only need between 10-30 ml per kilo of their body weight per day. To put that in perspective, for an adult beardie that is about 5 ml, or less than two teaspoons.
Some pet parents prefer to mist their bearded dragon's veggies with water and let their beardie drink off that rather than put out a water bowl.
They might also absorb the water they need when taking a bath. If it doesn't feel like your beardie is drinking much water, this is nothing to worry about.
Again, it's probably best not to leave drinking water out all the time, just because it's likely to become dirty pretty quickly.
Read about bearded dragon hydration during brumation here.
What To Feed Your Bearded Dragon
As should be clear from what we have covered above, your bearded dragon needs to eat a mix of vegetables and animal-based proteins from insects. But, getting their dietary balance right is a little more complicated than that.
Proteins
In the wild, bearded dragons get their protein from eating small insects, so that's what they should be eating in the tank. It's best to purchase your insects, unless you have breeding facilities.
Picking up insects from your garden or a local park is not a good idea as they are often contaminated with elements that can be toxic to your beardie.
Crickets are probably the easiest insect to get your hands on for reptiles and they are full of great nutrition for beardies, so feel free to make that a staple. See the option for crickets available on Amazon here.
But there are also plenty of other insects that are great for your beardie. These include Dubia roaches, Phoenix worms, super worms, butter worms, hornworms, silkworms, and waxworms.
While you will often hear of people giving their bearded dragon mealworms, this is not actually the best choice. They contain little of genuine nutritional value, and their exoskeleton can cause damage to your bearded dragon's exoskeleton.
There is no doubt that beardies love them, just as we humans often like things that aren't the best for us, bbut mealworms should be reserved for an occasional treat.
While crickets are a great staple, the more variety you can give beardies in their protein sources the better.
Also, before putting insects in for your beardie to eat, the insects should be dusted with calcium powder. There are plenty of dusting powders available from Amazon. This is because bearded dragons are prone to calcium deficiencies, but we'll talk more about that below.
Find out more about what Bearded Dragons eat here.
Vegetables
Vegetables are the other big player in your beardie's diet, and a good salad will be the main thing they should eat as an adult.
They should be having lots of vegetables in great variety, but not all vegetables are good for them.
The best greens to cut up and put in their bowl include: collard greens, kale, mustard greens, turnip greens, raw bell peppers, butternut squash, carrots, peeled cucumber, endive, raw okra, spaghetti squash, pumpkin, and parsnip.
If a vegetable is not on this list, it's probably best avoided. While a small piece probably won't do your beardie any harm, if it becomes a regular part of their diet, it can lead to major nutritional imbalance.
This is because the veggies that your bearded dragon eats need to have the right balance of calcium, which is essential for beardies, and phosphorus, which leaches calcium from their system.
So, if you give them food that is high in phosphorus, such as brussel sprouts, not only does it not give your bearded dragon the calcium they need, but calcium that they have obtained from other sources can actually be leached out of their bodies.
Other vegetables to avoid include spinach, lettuce, and onion.
Read our complete guide to the healthiest foods for your bearded dragon.
What Beardies Can't Eat
It's not only veggies that are high in phosphorus that your beardie should not be eating; there are other foods that do similar nutritional damage, or can even be toxic and cause a much more rapid deterioration in your bearded dragon's health.
You should never give you bearded dragon dairy products of any sort, meat that does not come from insects, avocado, wild caught insects, or anything with citrus.
What About Calcium And Vitamin D3
Calcium is essential for your bearded dragon's bone growth and muscle function, and to maintain their metabolism. Insufficient calcium is one of the leading causes of illness in beardies in captivity. This is why much of their diet is focused on giving them the calcium they need.
But it is not enough to deliver sufficient calcium; your bearded dragon also needs vitamin B3 in order to be able to process and use the calcium they consume. This is why many calcium supplements for reptiles also include vitamin B3.
But these are not actually the best option for your beardie. Bearded dragons can absorb vitamin D3 through their diet and also through sunlight.
But while the vitamin B3 they absorb through diet can flood their system and make them unable to use calcium if they have too much of it, vitamin D3 absorbed through sunlight does not have the same effect.
So, if possible, it's best to skip the dietary D3 supplement and focus on ensuring that your bearded dragon has the right UVB light setup to give them all the vitamin D3 they need.
Okay, so exactly how much calcium is enough? Baby beardies need about 650 mg of calcium per day. Juveniles need 1,100, and  sub-adults need 1,300 mg per day. Meanwhile, adult beardies need 1,500 mg of calcium per day.
Feeding Bearded Dragons FAQs
How much should a bearded dragon eat a day?
How much your beardie should eat a day depends on their age. Baby beardies need to eat the most. Up to the age of about four months, they need to eat the equivalent of around 50 crickets a day!
This will gradually reduce until they are adults at about the age of 18 months. From this time, they only need about 10 crickets a day. But this should only be 20 percent of their diet. The other 80 percent should come from vegetable matter.
How long can bearded dragons go without food?
While you should strive to feed your beardie daily, they won't suffer if you miss a day occasionally when you are away. They can comfortably go a week before you really have to worry.
They have adapted to live in environments with scarce food sources, so you beardie could even go a full month without food.
But while they might survive, they won't thrive, and you will have to commit to a proper re-nutrition scheme after this amount of time. The realistic maximum for a bearded dragon in captivity should be a week, and less if possible.
Can you overfeed a bearded dragon?
While it is hard to overfeed a baby beardie because they need so much energy to grow, once they hit around one year of age, they can be susceptible to overeating and putting on excess weight.
This is especially common if they have too much protein and not enough veggies as an adult.
Not only is carrying around excess weight not great for your beardie, but it can also cause constipation, which can, in extreme cases, cause a food mass in the stomach.
This places pressure on the spinal nerves and can cause paralysis in the back half of the body.
What are the best times of day to feed a Bearded Dragon?
While you can feed your bearded dragon at any time of day, some times are better than others to match their natural rhythms. Ideally, they should have their first and only feeding around two hours after the lights have been turned on in their tank.
If they are feeding multiple times, their last feeding should be no later than two hours before you turn the lights off. Always feed your bearded dragon during daylight hours and not at night.
How often should you bathe a bearded dragon?
Ideally you should bathe your bearded dragon three times a week. This will keep them both clean and hydrated. If that is not possible, once a week should be sufficient for their care and hygiene.
Create A Feeding Schedule For Your Beardie
While there is no denying that your bearded dragon needs to eat often while they are a baby, remember that this will only last a short period of time.
It won't be long until you can fall into a regular daily feeding schedule, and it won't matter much if you miss the occasional feed. Nevertheless, if you can fall into a stable routine where they eat around the same time every day, they will be happy!
More important than when you feed your beardie, however, is what you give them and how much. Beardies in captivity can easily suffer from vitamin deficiencies, especially if they eat the same thing almost every day.
While young beardies need lots of food, it is easy for adults to put on excess weight. Obesity is just as dangerous to bearded dragons as it is to other animals.
Remember, the best thing you can do is always monitor your beardie. Changes in their appearance or behavior is often a sign that something is wrong. Diet is often the first place to look for an issue.
Not sure what to read next? Check out our guide to the joys of raising a bearded dragon.
Latest posts by Animal Bliss
(see all)