I Love My Dog Shampoo

by

 Lovely Fresh 
– My Review –
I've used a lot of dog shampoo (on my dogs, of course) over the course of many years, but can't really say that I ever found one that I could call a favorite.  UNTIL NOW.  I agreed to try "I Love My Dog Shampoo" on our dog and to do an honest review.  The video speaks for itself.  As you'll see, Jake was kind enough to roll around in pig poop! for us beforehand.  Thanks a lot, Jake!
I Love My Dog Shampoo, by Lovely Fresh
As you could see in the video, it worked very well, and with very little effort on our side.  If you've ever tried to get pig poop off your dog's hair, then you'll appreciate that this took the smell and the poop out immediately.  We put it on dry, like the directions said, added a little water, and it lathered up beautifully.  Pig Poop Be Gone!  It only took that one application.  Two minutes, tops.
Jake tends to get itchy skin this time of year, and we noticed that after the shampoo he wasn't scratching nearly as much.  I think that with regular usage this shampoo would benefit him greatly.  Jake seems to like it too.  He's very relaxed when you shampoo him.
What I love most about I Love My Dog Shampoo is that it has all natural ingredients namely Oatmeal And Neem.  It contains no soap, detergent or alcohol, which are all know to dry out the skin.  Jake's hair was silky soft after his shampoo and he still smelled fresh for days afterwards. The texture of I Love My Dog Shampoo has a rich feel to it, like high quality stuff.  I've finally found my favorite shampoo!  Honestly! The manufacturer, Lovely Fresh claims:
Leaves a LASTING FRESH SMELL for days after taking a bath! No more iffy dog smell, your dog will not only be clean, but smelling amazingly fresh.

Contains NATURAL INGREDIENTS (oatmeal and neem) that soothe, moisturize, and sanitize skin; relieves irritation associated with insect bites. It also nourishes dog's coat to be thicker, shinier, and healthier looking. Soap, detergent, and alcohol FREE. The product is made of natural ingredients in the USA. It is also bio degradable and comes in a recyclable bottle. Good for the planet!

EASY TO FOAM AND RINSE making the washing process easier and faster and more enjoyable for both dogs and their owners.

TRY "I LOVE MY DOG SHAMPOO" NOW and see the difference!  100% money back guarantee.
The Oatmeal and Neem oil moisturizes and sanitizes inflamed skin and relieve skin irritation associated with flea and tick infestation. In addition, neem oil is a natural insect repellent, so it helps to keep the insects away. This product doesn't strip flea and tick topical preventatives.
"I Love My Dog Shampoo" doesn't irritate skin and is perfect for dry and sensitive skin, as well as normal skin. It washes out all dirt, dust, and grease and keeps your pet smelling fresh for days, leaving fur/hair soft and shiny and skin moisturized. It works effectively on both short and long haired dogs.
Buy "I Love My Dog Shampoo" now and show your dog you care.
Visit the Lovely Fresh website today.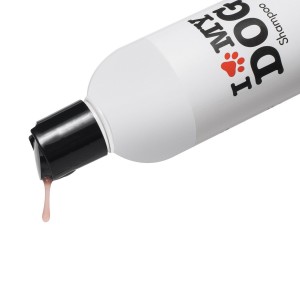 Affiliate Disclosure       
I received one or more of the products mentioned above for free using Tomoson.com. Regardless, I only recommend products or services I use personally and believe will be good for my readers.
********
I Love My Dog Shampoo REVIEW, @LovelyFresh, #Ilovemydogshampoo Click To Tweet
***************
I hope you have enjoyed, "I Love My Dog Shampoo REVIEW"
You might also like: Hot Spots on Dogs : Development, Triggers, Treatment, Prevention
♥♥♥♥♥
MY QUESTION FOR YOU TODAY: Are there any animals you know of that you would like to see featured here on my blog? Is there any creature that you would like to learn more about? Or, do you have a story you would like to submit about a pet you have? I would love to hear from you in the comment section below, or please email me directly at jeanne@animalbliss.com
*************************
*** Please leave a comment below and remember to share. ***
It's just sexy!
As always, thank you for taking the time to visit my blog!

♥ PEACE ♥
*****
*****
Latest posts by Jeanne Melanson
(see all)