Most Endangered Wildlife in Every U.S. State
Thousands of endangered species around the world are on the brink of extinction. And human beings are biodiversity's greatest enemy; we're responsible for the endangered status of 99% of at-risk species, according to The Center for Biological Diversity.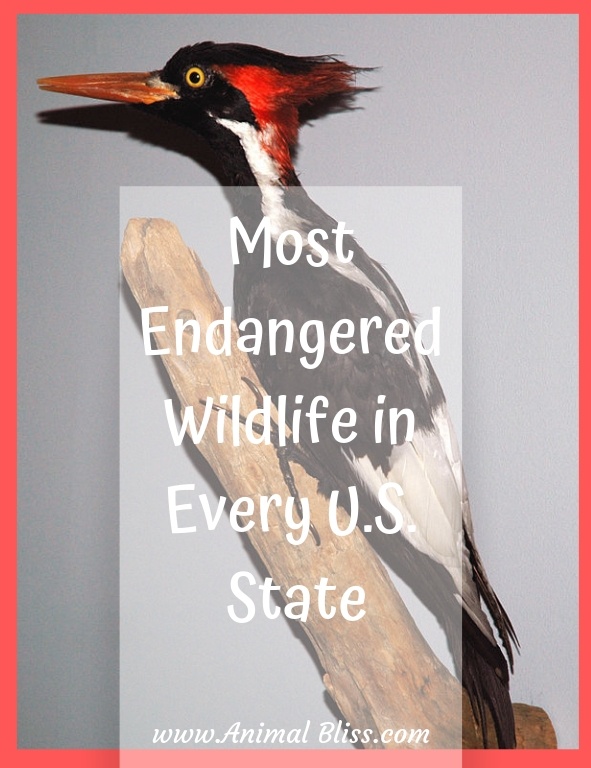 Most Endangered Wildlife in Every US State
A handful of conservationists have been hard at work changing the story for a fraction of the populations at risk of extinction. But in the United States, hundreds of species are still fighting a losing battle for survival. Don't miss out on the VIDEO at the bottom of this page. 
To raise awareness on this issue, we have identified the most endangered wildlife in every U.S. state. To read more information on each animal, visit netcredit.com.
Alabama – Alabama beach mouse
Alaska – Blue whale
Arizona – Mount Graham red squirrel
Arkansas – Ivory-billed woodpecker
California – Point Arena mountain beaver
Colorado – Uncompahgre fritillary butterfly
Connecticut – Bog turtle
Delaware – Delmarva Peninsula fox squirrel
Idaho – Woodland caribou

Image: Endangered Indiana Bat, Myotis sodalis, by Andrew King – U.S. Fish and Wildlife Service, Wiki Public Domain

Indiana – Indiana bat (see image)
Illinois – Illinois cave amphipod
Iowa – Iowa pleistocene snail
Kansas – Neosho mucket
Kentucky – Kentucky arrow darter
Louisiana – Louisiana pine snake
Maine – New England cottontail
Maryland – Maryland darter
Massachusetts – Humpback whale
Michigan – Kirtland's warbler
Minnesota – Rusty-patched bumble bee
Mississippi – Mississippi sandhill crane
Missouri – Ozark hellbender
Montana – Whooping crane
Nebraska – Salt creek tiger beetle
Nevada – Mount Charleston blue butterfly
New Hampshire – Blanding's turtle
New Jersey – Sei whale
New Mexico – New Mexico meadow jumping mouse
New York – Eastern massasauga
North Carolina – Carolina northern flying squirrel
North Dakota – Least tern
Oklahoma – American burying beetle (see image)
Oregon – Loggerhead sea turtle
Pennsylvania – Short-eared owl
Rhode Island – Hawksbill sea turtle
South Carolina – Frosted flatwoods salamander
South Dakota – Black-footed ferret
Tennessee – Nashville crayfish
Texas – Northern Aplomado falcon
Vermont – Spotted turtle
Virginia – Shenandoah salamander
Washington – Columbia Basin pygmy rabbit
West Virginia – Virginia big-eared bat
Wisconsin – Piping plover
Wyoming – Wyoming toad
RELATED:
5 of the Most Endangered Birds in the World
Our goal, as commissioned by NetCredit, is to raise awareness of lesser-known species that are under threat across the United States. We hope this will start a conversation around the fact that it's not just the iconic species we see on nature documentaries that we're at risk of losing forever.
Our research team gathered data from the U.S. Fish and Wildlife Service to build a long list of species that are flagged as 'endangered' or 'threatened' in every state of the USA. The team then shortlisted the top populations at risk of extinction in each state, making sure that there were no duplicated species as in some cases, certain states are home to the same populations. When finding a species that had been shortlisted already but was repeated in two or more states, we moved forward with the next domestic species on the list for the state we were working on.
Once the shortlist was ready, the project moved to the hands of the art director who (together with designer Nenad Radojčić) produced unique illustrations to honor each of the species in its natural habitat.
~~~~~
"Most Endangered Wildlife in Every U.S. State"
Credit: NetCredit
*** Please Share ***
Most Endangered Wildlife in Every U.S. State
Click To Tweet



MY QUESTION FOR YOU:
What state are you in and what is the most endangered species where you are?
*** Leave your comment below. ***
(It's just sexy!)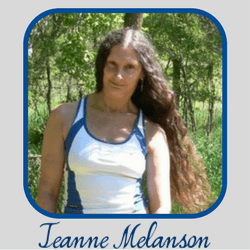 Peace
DISCLOSURE: Animal Bliss is a participant in the Amazon Services LLC Associates Program, an affiliate advertising program designed to provide a means for us to earn fees by linking to Amazon.com and affiliated sites.
(In other words, we'll get a very small (teeny tiny) commission from purchases made through links on this website.)
So, go on … Don't be shy!
Buy Something BIG and Expensive!
Buy a Jaguar. Or a Ferrari.
Thank you!
😀
[amazon_link asins='141972651X,1426217773,1426205759,1541938747,1440848998,1499426003′ template='ProductGrid' store='animblis-20′ marketplace='US' link_id='797545bb-63a8-4c78-9569-3a60b279608c']
😆
Latest posts by Jeanne Melanson
(see all)