National Guide Dog Month
 Natural Balance and Guide Dogs for the Blind Team Up
September is 
National Guide Dog Month
. To celebrate, I'm partnering with
Natural Balance
(the maker of premium-quality pet food) and
Guide Dogs for the Blind
(a non-profit charitable organization that raises and trains exceptional guide dogs to serve the blind and visually impaired) to spread awareness about the amazing bond between people who are blind and their guide dogs.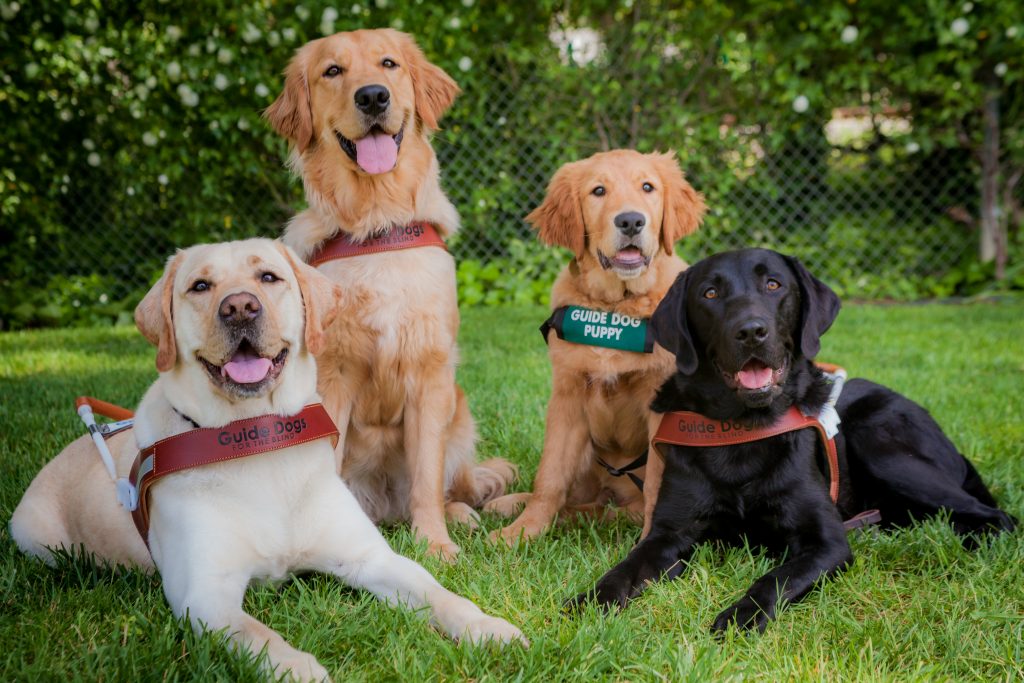 People who are blind or visually impaired and have chosen to work with guide dogs for mobility have incredible and inspiring stories to share about their adventures together. In addition to providing enhanced mobility for their handlers, these guide dogs can also be a social bridge, opening a world of possibilities for friendship and human connection, all while showcasing the incredible capabilities of man's best friend.
Over on the Natural Balance website, you will find outstanding stories from the
Top Human-Canine Teams Who Make Us Believe
. These nine teams are prime examples of the amazing partnerships possible between humans and canines. I particularly love the story of Ashleigh and her dog Yuri. I'll share it with you here, but don't forget to go over t0 the website to read the other stories too!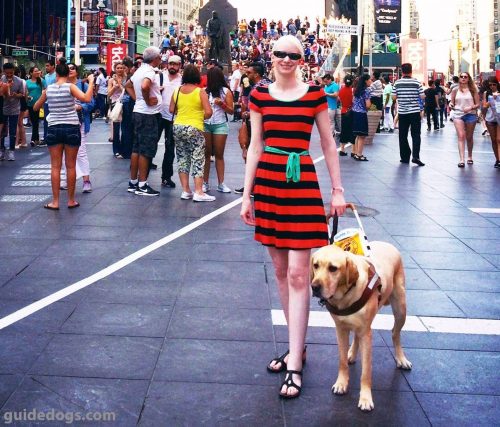 Image Credit: GuideDogs.com
Ashleigh & Yuri

Ashleigh has been visually impaired since birth and used a cane to get around for years. She found it difficult during winter though, and felt unsafe because of ice on the pavement.
With her family's encouragement, she decided to look into getting a guide dog.
Ashleigh had grown up being terrified of dogs, but as she began researching Guide Dogs for the Blind, she was surprised to discover that their positive reinforcement philosophy matched her personal beliefs and values. She decided to go for it.
The dog assigned to her was Yuri, a beautiful Guide Dogs for the Blind-trained yellow Lab. When he first entered Ashleigh's life, he was so excited that he couldn't stop sneezing. Now, over two years later, they're so connected that she can't imagine life without him.
"Being paired with Yuri has changed my life in so many ways. In addition to being my eyes, keeping me safe, and giving me independence, he has also become my best friend—and is constantly by my side," says Ashleigh.
Without Yuri, Ashleigh may have never developed the confidence and independence needed to fulfill her dream of living and working in New York City. She is now able to navigate the city's fast-paced subway system every day, feeling fully safe and cared for.
Ashleigh's story illustrates how Guide Dogs can provide enhanced mobility, as well as be a social bridge, opening a world of possibilities for friendship and human connection
To help people like Ashleigh thrive, please consider donating to
Guide Dogs to the Blind
. Once there, you can also read about the other eight amazing human-canine teams. There's no better time than
National Guide Dog Month
to show your support for these incredible people and their four-legged superheroes.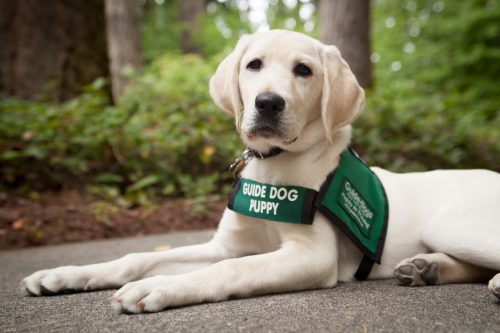 *
On a personal note, I want to share a bit of my own story.
I'm not visually impaired now, but I was born with cataracts and my vision got pretty bad for awhile. I was considered legally blind. My vision has since been corrected, thankfully. But I did partner up with a German Shepherd Dog named Star. You can see a picture of me and her below with my signature.
Star and I used to run "around the block" if you can call it that in the rural area I live in. But we used to run 3.1 mi (5k) most every day, all year round, unless the weather was particularly bad. I remember more than one day I was happy to have her with me, when another dog would come lunging out of nowhere. My Star would make them step back, keeping me safe from harm. Plus, as a female, I felt safe with running with her when there were certain men around. You know what I mean. There's nothing quite like a German Shepherd Dog for intimidation.
I loved that girl. She lived to the ripe old age of 14, when she died of bone cancer. R.I.P. Star.
We're Celebrating National Guide Dog Month This September #guidedogmonth @naturalbalance Click To Tweet
*
A QUESTION FOR YOU: Do you have a special bond with your pet? Tell me about it in the comments below.
It's just sexy!
As always, thank you for taking the time to visit my blog!
♥ PEACE ♥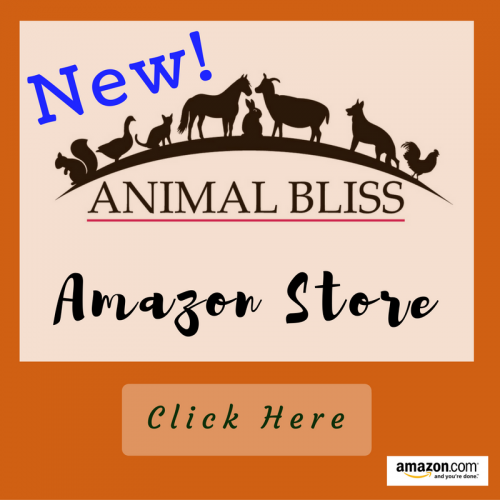 Disclosure: Animal Bliss is an affiliate of Amazon and will earn a (very small) commission from purchases made through links on this website.
(Coffee money – thank you!)

😀
Save
Born in Nova Scotia, I moved to the United States 20+ years ago.I am a dedicated lover of animals and fight for their rights and protection.I love people too, of course, and enjoy meeting folks from all walks of life.I enjoy philosophical discussion, laughing, and really odd ball stuff.I hope you enjoy my site.Leave me a comment to let me know you were here!Peace out.
Latest posts by Jeanne Melanson (see all)