Pet Home Alone Card
Taking the Safety of Your Pet to the Next Level
Illness and accidents are inescapable. Sometimes, you may be injured in accidents or fall sick, and your pets are left with no one to check on them. A pet home alone card can be handy in such circumstances. This card can be put in your wallet, glove compartment, purse or pocket and should anything happen, the person whose emergency details are on the back of the card can be contacted to provide emergency pet care until when you will be back home. It's brilliant!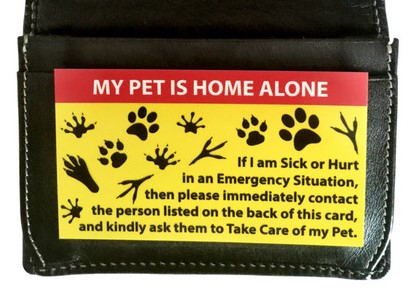 What are pet home alone cards?
These are small emergency cards that contain the name of your pet and the contact information of those around you; your neighbors or anyone close to you at home. The contact details are used by first-responders to alert them to take care of your cherished pet when you are away from home due to an emergency.
Available for purchase at www.OurPetCard.com
Why you need the pet home alone card
You will have peace of mind:  You don't have to worry about the safety of your pet when you leave them behind. In the case of an emergency, someone will be contacted to take care of your pets.
The pros:
The cards are easy to read and interpret:  The categories on these cards such as your names, telephone numbers, your pet's name, address and any information that may be required can be read quickly from the card.
It is a thick premium quality card:  The safety of the card itself should never worry you. It is made of high-quality materials that guarantee durability and won't be damaged while in the wallet. Moreover, they can be laminated to enhance their safety.
It is an inexpensive card:  Purchasing the pet home alone card is easy and affordable, even for those people who are on a tight budget.
Also available:
You can also get the soft, flexible, vinyl emergency keychain to help alert emergency responders to look at your Emergency Pet Care Card in your wallet so they can tell your emergency contact your pet needs care while you are unable to do so.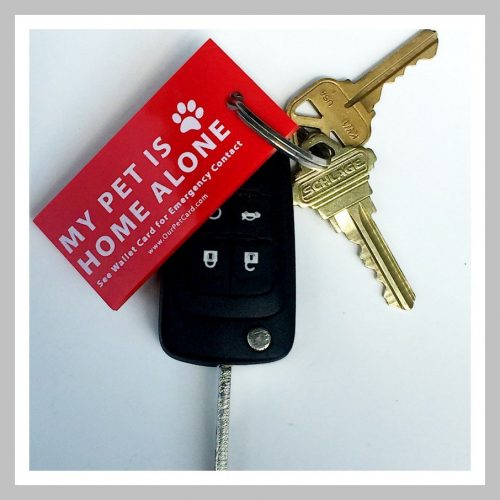 Available for purchase at www.OurPetCard.com
Final thought
If you love your pet, then you should never leave your pet home alone card behind. Whether you are driving, at work, hiking or any other place, your card should be with you always. Remember, emergency situations are unpredictable, and this may spell doom to the safety of your pet if you don't have the pet care card with you. It is recommended to encourage all members of your family to carry the cards with them. Your peace of mind in knowing your pets will be taken care of is priceless!
Purchase your Pet Home Alone Card and Emergency Keychain at www.OurPetCard.com
OurPetCard donates a portion of all purchases to D.E.L.T.A. Rescue, an animal rights organization founded in 1981 and based in Acton in California. D.E.L.T.A. stands for Dedication and Everlasting Love to Animals. The organization has two hospitals and over 150 acres of sanctuaries, making it the largest no-kill, care for life sanctuary for animals in the United States.)
Pet Home Alone Card : Taking the Safety of Your Pet to the Next Level Click To Tweet
*
A QUESTION FOR YOU: Do you have a plan in place in case something happens to you and you have a pet at home alone?

*** Leave a comment below. ***
*
It's just sexy!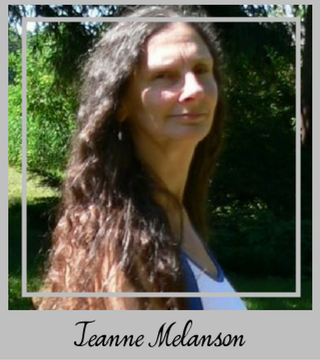 As always, thank you for taking the time to visit my blog!
♥ PEACE ♥

PLEASE SHARE – Thanks!
Save
Latest posts by Jeanne Melanson
(see all)