Petzbe App
Social Media for Your Pets
Only another pet lover would understand if you told them you knew exactly what your pet's voice would sound like, and which vocabulary he would use. A passionate pet lover appreciates that you, every day, send her multiple photos and videos of your pet is being goofy, silly, sleepy, snoring, or dressed up in a new turtleneck! And they'll certainly understand that on a gloomy stressful day, it's natural to once in a while take a look at your pet and think, "Sometimes I wish I could be you for a moment. Life would be so much easier…"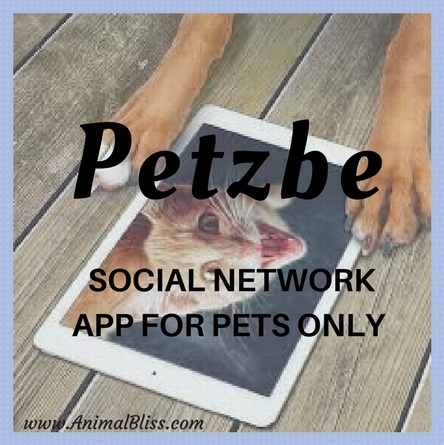 Enter Petzbe, the first social media community where stories of dog park shenanigans and cat tree escapades are told from the perspective of the cat or dog itself, not its owners. For any of us who have ever dropped into a baritone when voicing your large golden retriever or used the highest pitch voice to personify your kittens, the Petzbe app is for you.
Members of this community don't "follow" one another, they sniff. They don't "like" – they lick. They share stories with themes of, "How I met my human," "How I got my nickname," or "The naughtiest thing I've ever done."
And they discuss subject matters like snuggles, treats, toys, naps, and silly human behaviors. They ask for recommendations on how to strike the optimal begging face to get extra treats, where to hide stolen goods, and how to guilt-trip the human into not leaving them home alone. It's the perfect feel-good app to take a break from human seriousness because the Petzbe app community's strict "no humans allowed" policy means it's free from human selfies, opinions, politics, overall human complications.
"Lend a Paw" Challenge
The Petzbe app also gives you the opportunity to support animals who aren't so fortunate. Petzbe will soon add several features that facilitate mass-uploading for animal rescues to create profiles for their residents, which can then be shared among Petzbe users, reaching a far wider audience. Also, Petzbe hosts challenges such as "Lend A Paw," where users share photos of their paws, and for each paw-photo Petzbe donates $1 to an animal cause. Last week Petzbe raised $1,000 in just a few hours for ASPCA – an organization preventing animal cruelty.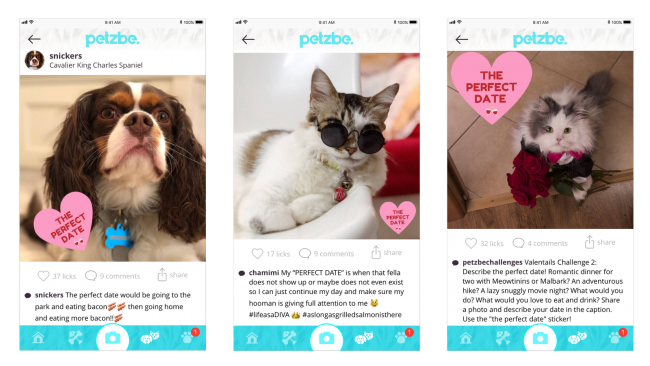 Social media is well known for its profound and lasting impacts on the human psyche. Interactions on platforms that were designed to provide humans with a good time have devolved into FOMO (the fear of missing out), jealousy, and alienation from one another. For pet lovers, the concern that they may be "oversharing" when it comes to their pet is also daunting. The Petzbe app is the solution for this huge demographic of people, the pet lovers looking for a silly and fun escape from reality.
As pet lovers, you already know you're a bit different. If you are looking for a quick reprieve from some of life's challenges, or from the social media clutter we see on Facebook and Twitter every day, ask your furry friend to join Petzbe. It will encourage your inner Buster or Felix to emerge, leaving you happy and immersed among new digital friends, and your pet as beloved as ever!
If your pets could talk, they would want Petzbe, now available in the iOS app store:
https://itunes.apple.com/us/app/petzbe/id1314000163?mt=8
(It's free!) 
*** Please Share ***
RELATED:
10 Must-Have Apps For Dog Lovers: You Need These!
Petzbe App - Social Network for Pets Only, If Pets Could Talk, #petzbe #petzbeApp
Click To Tweet

MY QUESTION FOR YOU:
Can your pets talk? What do they sound like?
*** Leave your comment below. ***
(It's just sexy!)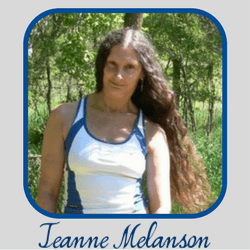 Peace
DISCLOSURE: Animal Bliss is a participant in the Amazon Services LLC Associates Program, an affiliate advertising program designed to provide a means for us to earn fees by linking to Amazon.com and affiliated sites.
(In other words, we'll get a very small (teeny tiny) commission from purchases made through links on this website.)
So, go on … Don't be shy!
Buy Something BIG and Expensive!
Thank you!
😀
[amazon_link asins='B06XCRM2FL,B01JOBAQUY,B071DDBT7M,B01F2319R2,B00MP2PW1S,B00KHUXS3O' template='ProductCarousel' store='animblis-20′ marketplace='US' link_id='b41d445f-3468-11e8-a1ad-8718baaaae36′]
😀
Latest posts by Jeanne Melanson
(see all)