Leaving your pooch at home with a dog sitter is surprisingly nerve-racking. If you've ever tried to discuss this unique stress with someone who isn't an animal person, they probably just didn't get it.
Since our dogs rely on us to keep them safe, choosing the right dog sitter feels like an intense responsibility for a reason. You're not going to be able to enjoy your well-deserved vacation if you're checking your phone every two seconds, worrying about your pup at home.
To ease the strain of this situation, here's a list of the top five questions to ask a potential dog sitter when interviewing. If you can get satisfying answers on all these topics, your dog will be in good hands.
5 Questions to Ask a Dog Sitter
1. Can you tell me about your previous dog-sitting jobs?
This question is number one for a reason. A reputable dog-sitter should be open to providing you a detailed history of their previous work. Ask about what kind of dogs they cared for and how those experiences went. Did they ever have to handle an unexpected crisis?
Don't be shy about asking for references. If they have done a good job in the past, there should be at least a few customers happy to provide testimonials.
2. What are your qualifications?
Anyone can post an ad online describing themselves as a "dog sitter." While some are more attentive to local laws and regulations than others, there are several ways a dog sitter can gain authority and trust.
Here are some examples of qualifications to look for in a sitter:
Pet training, such as pet first-aid;
Insurance and bonding;
Membership in a professional pet association;
Volunteer experience (animal shelters, veterinary offices, etc.);
A valid driver's license and a clean driving record.
Your desired credentials will depend on your individual pet's needs. For example, if you have a dog with health issues, you'll want someone with ample experience administering medication.
3. Will you have other clients at the same time?
Not all pet sitters opt to live in a client's home. If your sitter doesn't stay in your home for the duration of the care, your agreement should include a specific number of visits per day. In addition, there should be specifications on how long those visits will last. If your sitter tries to juggle too many clients at once, they might slack on the visit time.
Visits are about more than checking items off a list, such as feeding and walking. The sitter should guarantee a certain amount of quality time devoted to your dog every day. Playtime and cuddles are important!
Related:
7 Tips for Beginner Pet Sitters to Keep it Professional
4. Are you comfortable doing a visit with my dog first?
If someone refuses to do a consult and visit with your dog first, scratch them off the list of potential sitters. You should have the opportunity to observe how this person handles your dog. Do they seem comfortable and knowledgeable, or nervous and jumpy?
Another upside to a home visit is that you can explain your dog's needs in person. You can show them exactly where you keep the emergency first-aid kit, point out what neighborhood dog to watch out for, and reveal your dog's secret napping spot. There are so many little things that will be easier for a person to remember once they've seen it firsthand, instead of writing in a giant email.
5. Why did you become a dog sitter?
While this question might not seem important, it will go a long way in providing you peace of mind. Are they in it for the love of dogs, or are they just looking for an easy side-gig to pay a few bills? Remember that you are hiring this person to do a job, so you should feel no qualms about asking direct questions.
Does this all sound a little overwhelming and time-consuming? Unfortunately, sometimes it is. You might have to interview more than a couple of people to find your perfect pet sitter.
But the good news is that once you do find that person, going away will no longer be an anxiety-inducing idea. Treat your dog sitter well so you can hopefully enjoy many years of a mutually beneficial relationship!
~~~~~
"5 Questions to Ask a Potential Dog Sitter"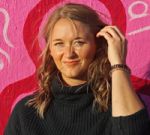 Guest Writer: Kali Nelson is a freelance content writer specializing in lifestyle, wellness, and pet care. When she's not writing, you can find her obsessing over film & television or chattering on about yet another podcast until stopped. 
Featured Image: Photo by Jack Brind on Unsplash

Latest posts by Guest Blogger for Animal Bliss
(see all)