Rubbing Noses with the Animals
I Remember a Little Girl
Written by Melody Joy
I can't remember her name or even exactly what she looked like now, but there was a little day-camper girl one day that made me laugh in her interactions with the petting farm animals. It was one of the days when we had over 20 day-campers in one group, so we had to divide them into 3 groups to rotate through 3 different barn activities. I was in charge of the petting farm part.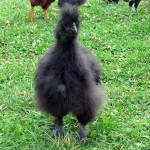 As per usual, I started them with my chickens, which were closest to the barn. I went in and caught my silkie cochin, named Princess Feather Butt and brought her out for them to pet and fuss over. She's a favorite because of her silky feathers and her afro. Most of the day-campers called her "Afro Chicken," which was also a fitting name for the funny little bird.
The little girl was especially intrigued by her, and as I held the chicken low so she could pet it, she cupped the chicken's head in her little hands, and rubbed her face on its afro. Princess Feather Butt took this in stride as she always did, but I couldn't help but to laugh at the girl rubbing her face on the chicken, no matter how soft she was.
I put her back and caught the other camper favorite, Lancelot. The big white rooster ruled the coop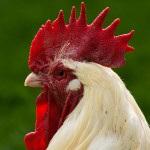 with his "Nazi" march that I suspect was a result of nerve damage and the loss of most of his toes from frostbite. Although tough with the other roosters, he was a sweetie with people, and didn't mind being handled, even by numerous hands.
The little girl, much to my surprise and amusement, did a repeat performance with Lancelot. When I held him low enough for her to see him, she gently cupped his big rooster head and rubbed her face on his beak. Lancelot is a white rooster with some yellow tints to his feathers. I don't know his exact breed, but he is a typical chicken, and not soft in anyway. Regardless, I loved seeing her being so tender with such a tough rooster.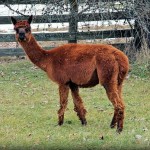 We then went to pet Dream the alpaca. Being much too short to reach her head, the girl rubbed her face on Dream's side. At that point, the alpaca had begun to lose her patience with all the kids touching her, and this little girl putting not just her hand but also her FACE on her nearly put the nervous creature over the edge. I ushered them on quickly to the goats.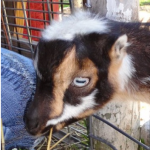 I got out baby Frankie the goat, and the little girl was absolutely delighted. She followed him around (when he wasn't following her or being picked up) and rubbed her face against his several times as we were there. He may have enjoyed it as much as she did.
It was funny to watch her interact with the animals in that way. I'd never seen a child do that before, and haven't seen any do it since.
The Lesson Learned
There's a lesson in there that I learned, about equality. Whether it's a little soft chicken, a big rooster, a baby goat, or a nervous alpaca, a tender heart has room for all of them.
This delightful post was written by Melody Joy. 
Visit her Website at 3spotblog.blogspot.com 
*** The day-camp referred to in this story is the Wildwood Ranch, which offers significant, life-changing and highly regarded summer programs each summer for children between the ages of 4 and 17.  The day-camp is owned and operated by Detroit Rescue Mission Ministries.
 ********
Rubbing Noses with the Animals, A Lesson Learned Click To Tweet
***************
I hope you have enjoyed, "Rubbing Noses with the Animals, A Lesson Learned"
You might also like: Mr G and Jellybean, Life saving reunion between Goat & Burro
♥♥♥♥♥
MY QUESTION FOR YOU TODAY: Are there any animals you know of that you would like to see featured here on my blog? Is there any creature that you would like to learn more about? Or, do you have a story you would like to submit about a pet you have? I would love to hear from you in the comment section below, or please email me directly at jeanne@animalbliss.com
*************************
*** Please leave a comment below and remember to share. ***
It's just sexy!
As always, thank you for taking the time to visit my blog!

♥ PEACE ♥

Latest posts by Guest Blogger for Animal Bliss
(see all)