Selecting a Dog Daycare for Your Pet
The mental and physical health of your dog is essential, which nobody should neglect. But in reality, many of us can't stay home with our pets due to our busy schedules. That's where a dog daycare facility comes in. These establishments provide both care and attention to your pooches. It's a place where your pet will socialize with other dogs and get plenty of exercise by playing with them. Many owners have dogs which are very energetic, and daycare would be the perfect place. But there are many things to consider before selecting a dog daycare for your pup.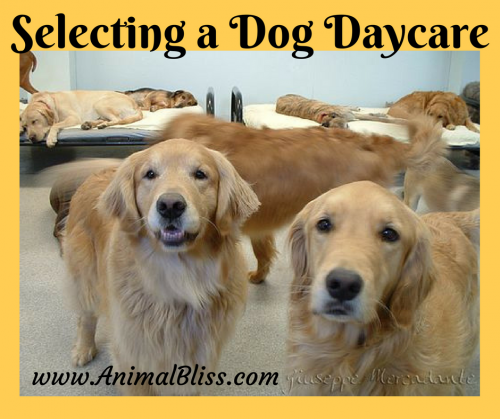 Finding the right daycare center for your dog can be both a pleasant and daunting task. How can you be sure that it's the right facility for your dog? Consider the following aspects while looking for the best daycare for your furry friend.
Ask for a tour of the daycare facility
Before selecting a dog daycare center, ask the owner of the establishment to provide you with a tour of the premises. Most dog boarding facilities will allow its customers to have a good look around. It is essential that you see for yourself where your best friend will spend his days. Check out all the places where your dog will eat, sleep, and play. Make sure to observe if the place is clean and properly sanitized. Look for proper fencing and ventilation. Beware of the daycare centers that are unwilling to provide a tour.
Related: 5 Reasons to Try Daycare – Check it Out
What about other dogs?
The other dogs your pooch will be socializing with is a critical factor to consider. Make queries about other dogs that will play and stay in proximity with your pet. Studies have shown that small dogs are not very comfortable around large dogs. Big dogs tend to be slower than energetic dogs and prefer a quieter, more leisurely lifestyle. A good dog daycare facility will understand this and consider all the necessary factors. They will divide the dogs into several play groups based on their size, energy level, and nature.
Is health their top priority?
You should give paramount importance to the safety and hygiene of the daycare. Make sure to look out for bad smells or signs that show negligence in keeping the facility clean.  Any good daycare center will have a strict protocol for preventing disease. Ask what vaccinations are required to prevent diseases of a contagious nature such as influenza, kennel cough, etc. Ask the manager what safety precautions they have taken against communicable diseases.  It's also important to understand that it's practically impossible to eradicate every bacterium in real life. Despite strict preventive measures, conditions can still happen, even in the best facilities.
What about supervision?
Even the friendliest dogs can get into a fight. That's where human supervision comes in. It is usually a standard procedure for most daycare centers to provide 1 or 2 staff members in each play area. Some facilities have strict protocols such as two employees on duty for a group of 15 dogs. But it varies from locations to location and center to center.
Selecting a dog daycare – Conclusion
Before selecting a dog daycare, make sure the facility you are interested in has the proper licenses and insurance in place. Take notice if the center is properly abiding by the law and following regulations provided by the State. For those who are also looking for boarding, most renowned daycare centers have boarding services.
~~~~~
Author Bio: George Smith is a professional blogger and a pet owner for the last seven years. He has worked at several vet clinics and daycare centers. He owns three dogs.
Latest posts by Jeanne Melanson
(see all)