Star Nosed Mole Facts
A-Z Collection of Cool Animals

True Facts About the Star Nosed Mole
A humorous but truthful look.
S is for Star Nosed Mole Facts:
The star nosed mole (Condylura cristata) lives in the bogs and wetlands of the eastern United States and Canada, extending from Atlantic Ocean west to Manitoba and North Dakota and south to Ohio and Virginia.  They can also be found along the Atlantic coast south to Georgia as well as throughout the Appalachian mountains.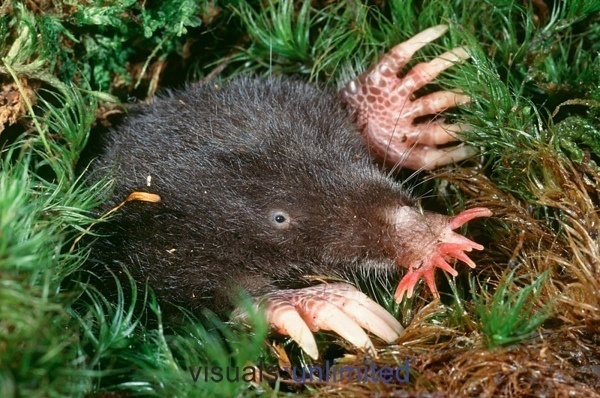 They have a stocky, cylindrical body with heavily-built forelimbs, broad, scaled feet and large claws.
They are covered in short, thick, water-repellent fur.
During the winter months, the long, thick tail swells 3 to 4 times its normal diameter, and appears to function as a fat storage reserve for the spring breeding season.
The female has one litter of typically four or five young in late spring or early summer. Females have been known to have a second litter if their first is unsuccessful.
At birth, each offspring is about 2 inches (5 cm) long, hairless, and weigh about 1.5 g. Their eyes, ears, and star are all sealed, only opening and becoming useful about 14 days after birth.
The young become independent after about 30 days, and are fully mature after 10 months.
Adults are 5.9 to 7.9 inches (15 to 20 cm) long, and weigh about 2 ounces (55 grams).
Star nosed moles eat insects, worms, crustaceans and small fish.
They are good swimmers and are the only known mammals with the ability to smell underwater.
Star nosed moles have 44 teeth.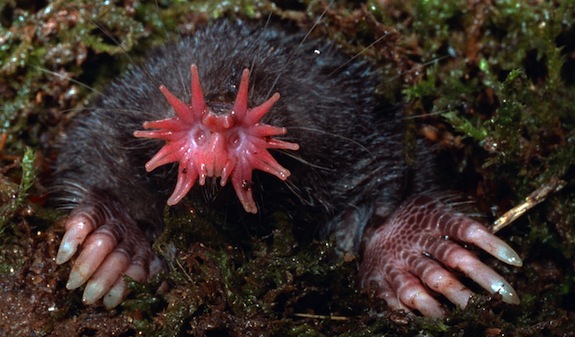 Star Nosed Mole "NOSE" Facts:
The star nosed mole gets its name from it's most distinctive feature – a circle of 22 mobile, pink, fleshy, hairless tentacles (called rays) at the end of its snout, which are used to feel, find, and identify food.
The star has 11 appendages on either side that vary in length from 1 to 4 mm, and is the mole's primary sense of touch.
The tentacles are covered by about 30,000 minute sensory receptor fibers, known as Eimer's organs to help it feel its way around.
This amazing star is smaller than a single human fingertip, yet has more than 100,000 large nerve fibers, making it one of the most sensitive touch organs in the entire animal kingdom.
Predators of the star nosed moles include the red-tailed hawk, great horned owl, various skunks and mustelids, and large fish, as well as domestic cats.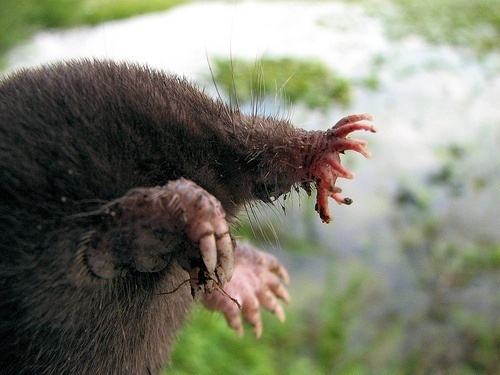 ———————————-
Sources for Star Nosed Mole Facts: Biokids.umich.edu  ♦  Smithsonian  ♦  Wikipedia
S is for Star Nosed Mole Facts : A-Z Collection of Really Cool Animals @AprilA2Z #AtoZChallenge Click To Tweet
***
Don't miss out on any A-Z challenge posts!
**A-Z Collection of Cool Animals April Challenge : MASTER LIST**
***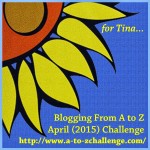 ***
A QUESTION FOR YOU:
What did you learn from Star Nosed Mole Facts today?
***
***
***Leave a comment below and remember to share. ***
It's just sexy!
As always, thank you for taking the time to visit my blog!
*** PEACE ***

Latest posts by Jeanne Melanson
(see all)