The Winter Blues
As we trudge through the worst of WNY's winter months, I can't help but dream about warm summer days picking fresh produce from my in-law's garden and spending time with family. At this point in winter we have taken deep breaths through our first snow storm, pursed our lips and shook our heads at the second, and by the third and fourth epic show of winter, we are counting down the days to spring.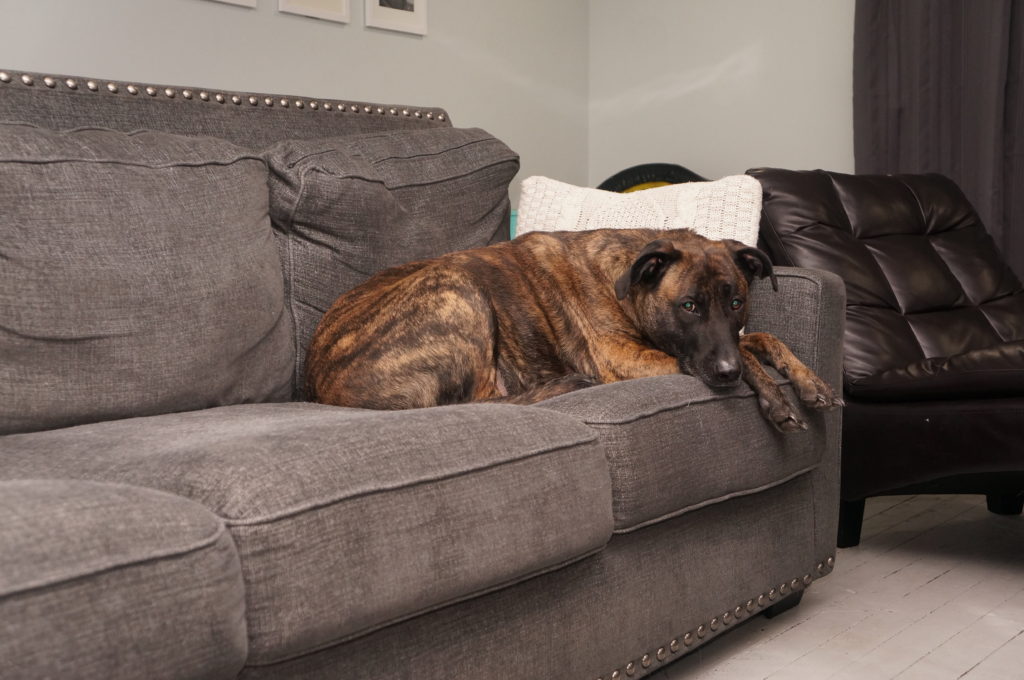 Cabin fever affects our mood, our level of activity and our quality of self-care. The same goes for our furry best friends! In the dead of winter our 90-pound German Shepherd/Pitbull mix, Rocky, can be found snoring away on the couch morning, noon and night. He is terrified of water and that includes anything to do with rain, sleet or snow.
Thankfully, Rocky was recently given the opportunity to try out The Farmer's Dog Food – in exchange for an honest review. We were thrilled – hoping to add a little pep in his step!
Click Here to Save 50% on Your First Order!
The Farmer's Dog Trial 
As I set up our shipment of The Farmer's Dog Trial, I was intrigued by the company's focus of using human-grade food for every recipe. Their website, goes into detail on the benefits of using fresh ingredients to get the most natural nutrients available. Their mission to eliminate their competition, which uses feed-grade ingredients to increase shelf life and lower price, is honorable.
Guided by science and driven by love
Certainly, a more natural food made right in the US is going to cost a bit more but the overall health benefits and lowered veterinary costs over time far outweigh the added expense. This is exactly what Rocky needs, especially during this time when his hatred for the cold prevents him from getting enough exercise and his mood seems to be lacking.
Easy to use online ordering system
The Farmer's Dog works alongside veterinarians both on the ingredients best suited for each breed of dog as well as calculating an algorithm to formulate a personalized meal plan for your dog. On the website you input your personal information for contact, your dog's name, age, neuter status, breed, body type, activity level, eating style and current typical food source. You are then directed to select the recipes your dog will have to choose from. Rocky was given a choice of the turkey, beef and pork recipes. We chose all three available recipes for Rocky to try.
When signing up for a subscription, you are also given a discount for your first shipment and free shipping. A subscription also comes with the added benefit of nutrition experts monitoring your dog's progress and adjusting serving packs accordingly!
Now the wait!
Delivery Day – The Proof is in the Product
Our shipment arrived!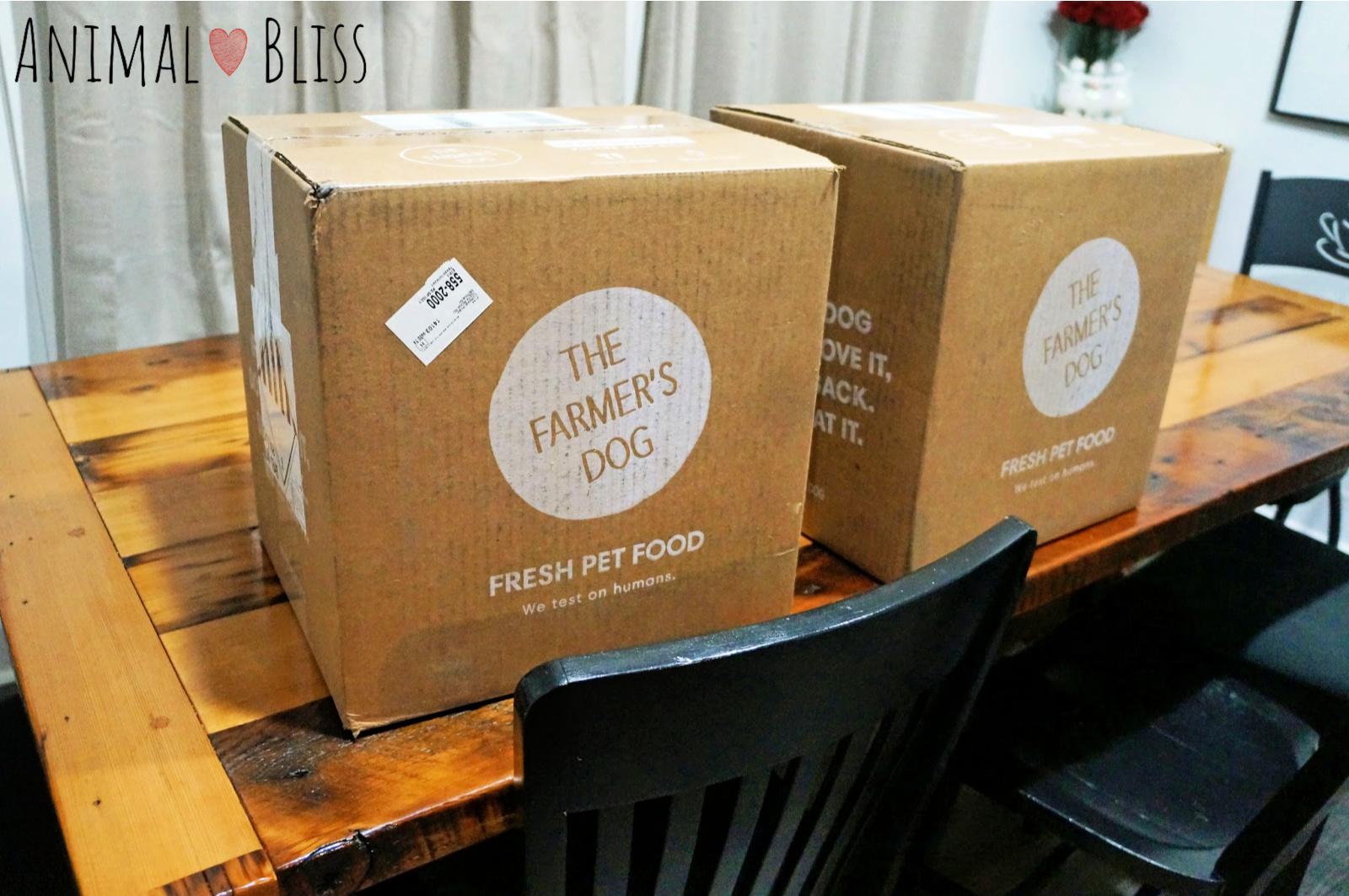 Off the couch Rocky sprung and I could hardly back him away enough to open the boxes! Once I was given that chance, I was met with neatly packed padding which I later discovered is biodegradable. I am already appreciating that The Farmer's Dog is not only health conscious, but also environmentally conscious!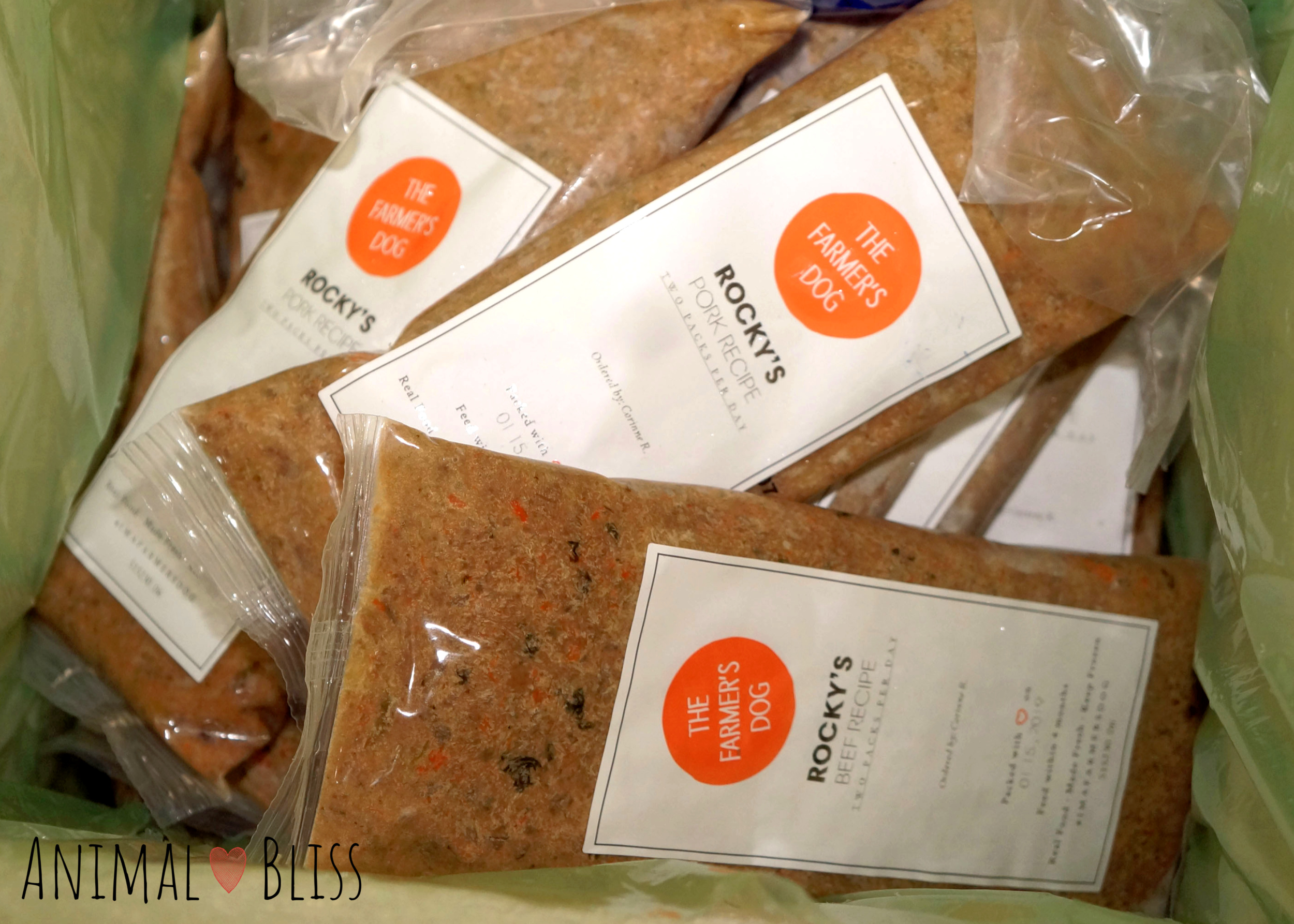 Personalized pouches with Rocky's name were packed tightly and labeled with the date 1/15/2019, the date the food was made. From kitchen to doorstep in four days and the packs were still frozen solid by dry ice to ensure safety and freshness.
I followed the one-page instructions by placing six packages in our refrigerator to thaw and the rest in the freezer. Portion instructions were also included along with a calorie break down. Rocky's recommended calorie intake allows for him to have one full pouch, twice a day.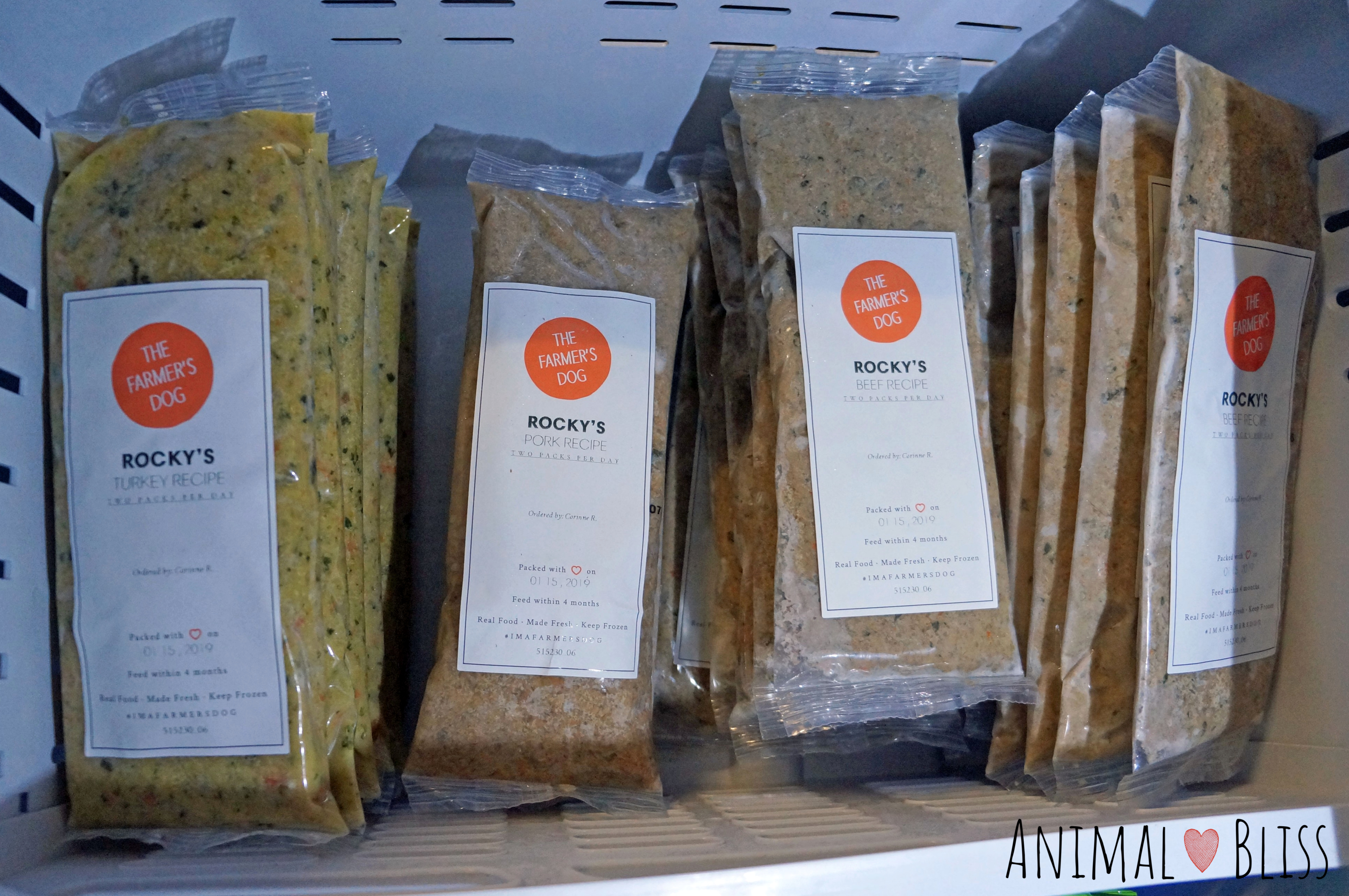 As Rocky was receiving this food strictly for review, I decided to keep him on his dry food half the day and to give him one pouch of The Farmer's Dog food rather than two full pouches each day.
Rocky is typically a very picky and sensitive dog. He loves fresh veggies and fruits such as carrots and apples, but he has a high sensitivity to anything with wheat and some of the chemicals companies use in processing their food. As Rocky has previously tried wet natural food, he knew right away that those packs were for him and his mood immediately went on the upswing.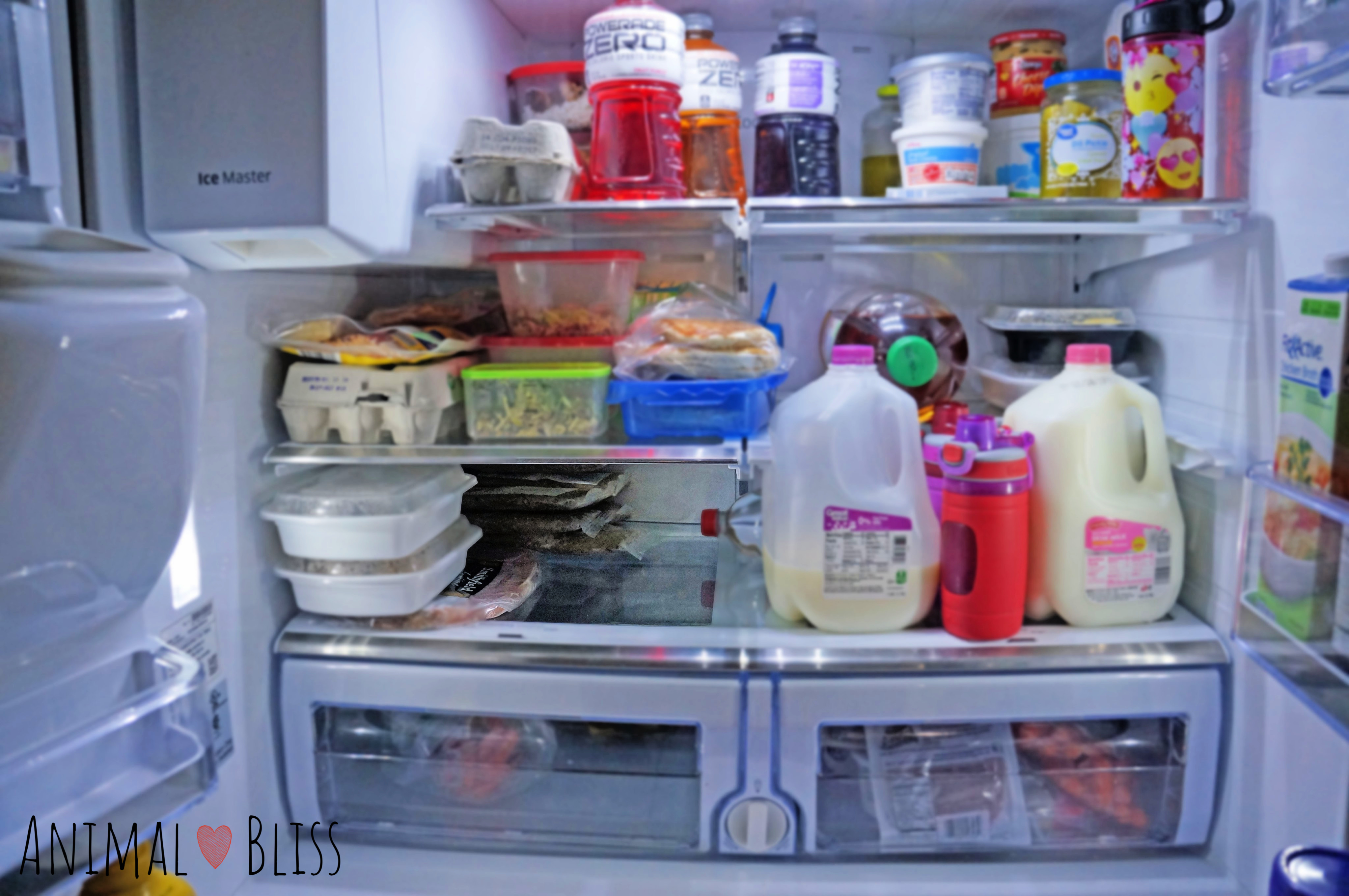 The poor guy had no idea his food needed to thaw before trying and for 24 hours he followed me with her ears perched and tail wagging just waiting for a taste of this new fresh mix!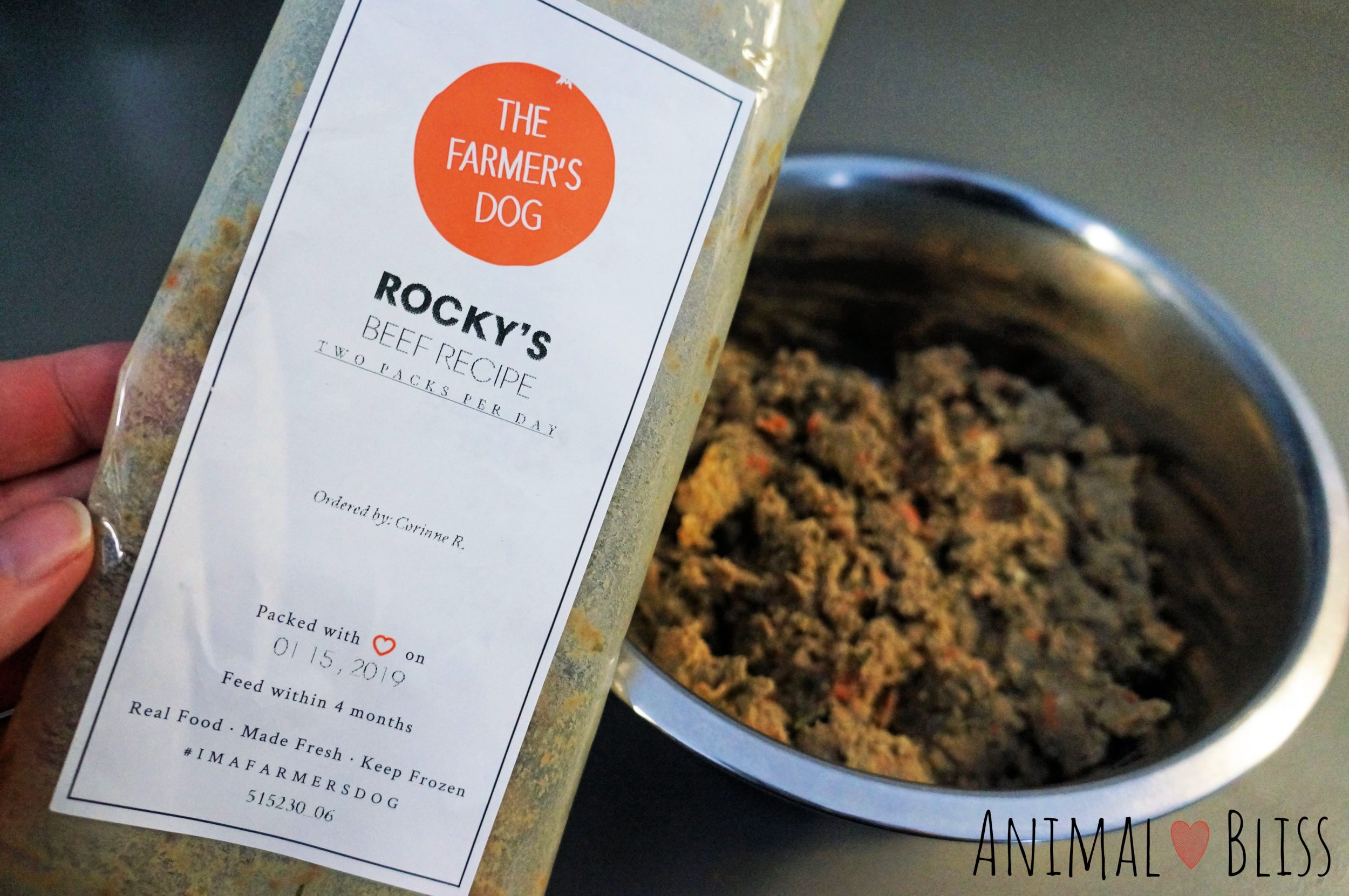 Finally, it was time to eat!
Rocky loved every single serving of The Farmer's Dog fresh food mix! I was curious if he would have a preference with the choices of beef, pork and turkey but he gulped each serving down as fast as possible, showing he absolutely loved it all!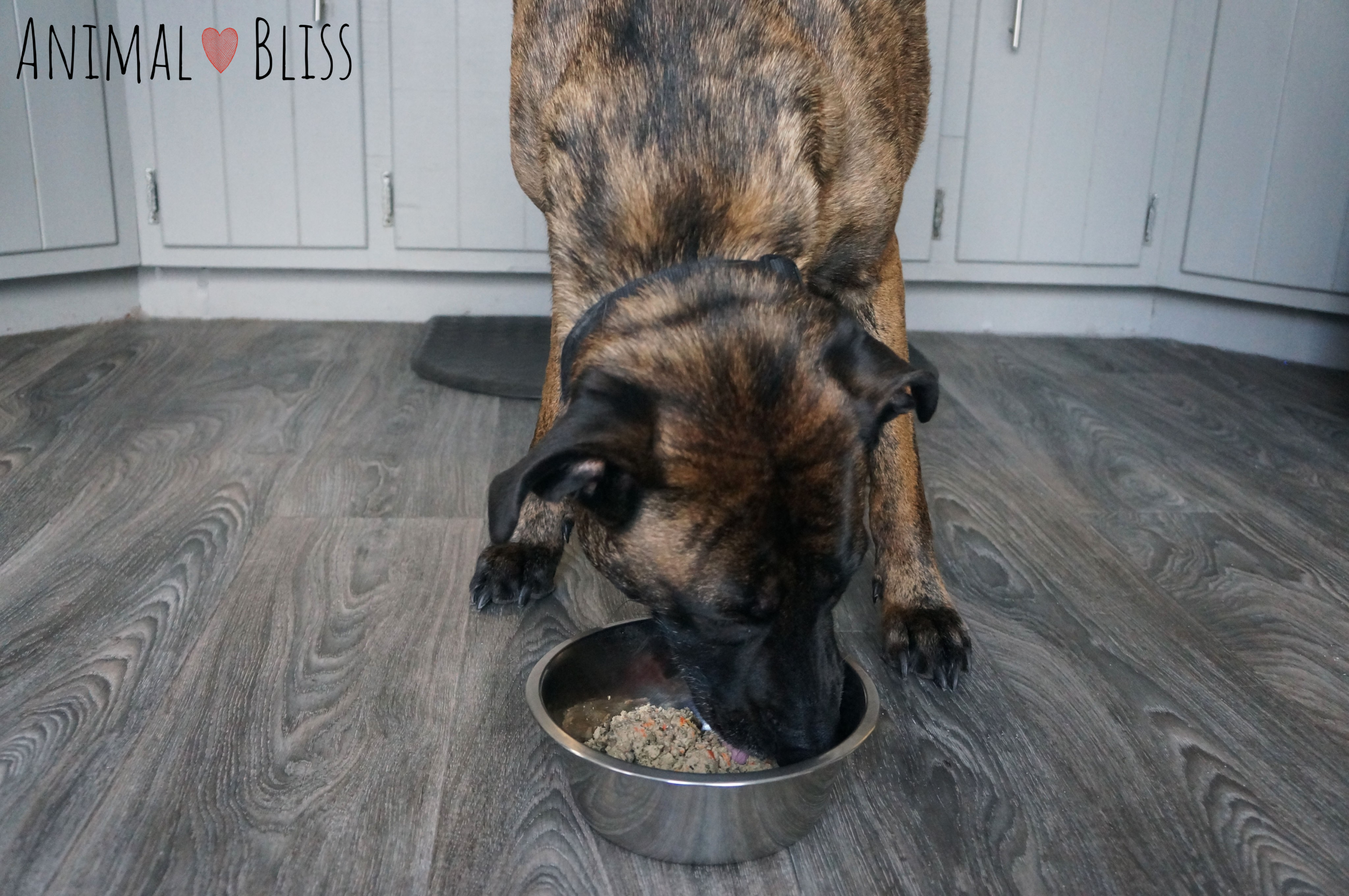 We established a routine of serving the Farmer's Dog food at lunch time and the closer it came to 11am each day, the more Rocky carefully watched my every move, waiting for me to walk into the kitchen. To see his tail wagging with excitement was truly uplifting.
Why We Love The Farmer's Dog
The experience for me again proves that when our furry friends eat better, they feel better.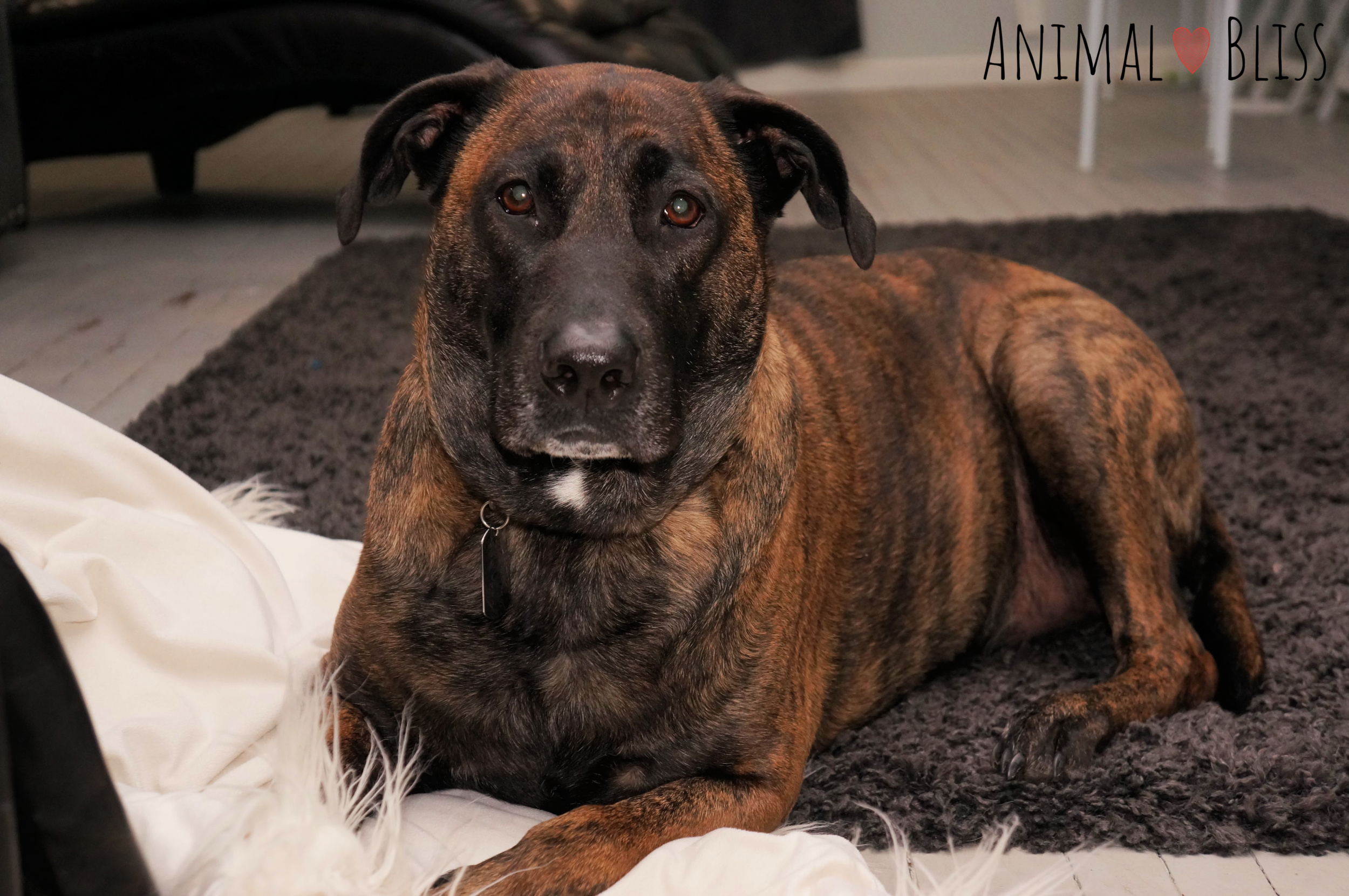 When researching The Farmer's Dog meal plans online, I could not find any type of options the customer could select if not able to or wanting to commit to the full weekly meal plan. We are a family of five living on one income and the weekly amount of $93 for Rocky's food did not fit our limited budget.
Affordable Options for Families on a Budget?
I reached out to The Farmer's Dog via Facebook messenger and was quickly assured that "topper" options are available if I wanted to opt for keeping Rocky on dry food and adding a smaller serving of their fresh wet food and that they were happy to e-mail me those options.
At this point in time that is something much more likely to fit into our lifestyle.
One might think they could simply use the ingredients listed on the recipes and create their own fresh dog food and while you could try that, I did find that The Farmer's Dog portions and recipes are unique and well calculated.
The food is also made with fresh ingredients and cooked at very low temperatures, just enough to kill any bacteria that can be found in raw food without damaging the nutrients.
I'm not sure I could replicate that at home!
Want to Set up for a Farmer's Dog Trial to see for yourself?