The Truth About Dachshunds
Recently, I had occasion to chat with Jessica Rhae Williams, owner of two beautiful miniature Dachshunds, Chester and Gretel.  Jessica writes a very fun blog called, "You Did What With Your Wiener?" You should go check it out.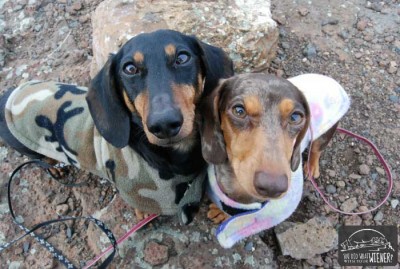 Jessica informed me that a lot of people have misconceptions about the Dachshund breed. She and her husband often take their dogs on rigorous hikes, and they often get asked if they had to carry their dogs up. No, they didn't. These small but mighty dogs are tough, and capable of so much more than people realize.
I not-so-subtly hinted to Jessica … did she want to write a guest post about Dachshunds, to set the record straight? It turns out that she's a very busy lady, with her own life, but very graciously sent me the following facts that are not commonly known about this breed, the truth about dachshunds they don't tell you in many descriptions of the dog.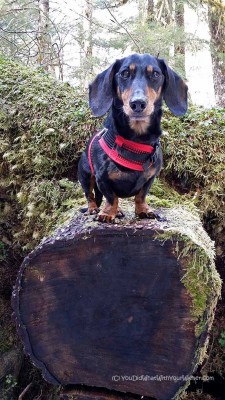 In Jessica's own words:
Dachshunds are "tenacious". They were bred to hunt badgers, and other nasty small game, so not backing down is ingrained in them. That means they will try and call the shots around the house and are often seen as stubborn. You usually have to be alert in public with them as they will follow their nose.
They may be stubborn but are very smart. They can learn quick but can also unlearn quick. You need to be consistent with routine and commands or they will decide that they want you to do it their way. That being said, there is always some element of "the dog training you" when it comes to Dachshunds. Sometimes you have to just work with their nature.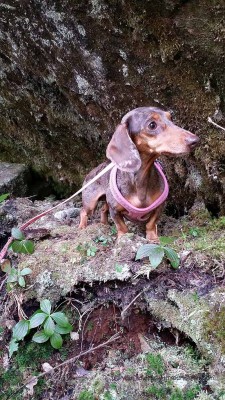 Dachshunds may be small but they have the exercise needs of big dogs (and sometimes more like in the case of a Great Dane). Also, keeping your Dachshund at a healthy weight is very important because extra weight puts undue stress on their backs. Unfortunately, the popular term "sausage dog" perpetuates the belief that Dachshunds should look stuffed like a sausage. Most veterinarians will tell you that at the ideal weight, the abdomen will be tucked and you should be able to see the last rib or two through the skin (much like a greyhound).
Many people are under the misunderstanding that you must keep your Dachshund inactive to avoid back injuries, which are very common in Dachshunds. In reality, Intervertebral Disk Disease (IVDD) – the common back problem with Dachshunds – is hereditary. What is true is that if your dog is developing IVDD, doing the wrong activity like jumping, can exacerbate it. However, I am a firm believer that, like with people, keeping your dog active keeps the muscles strong and supple to help support the back. Plenty of walking, hiking, and even agility can be great for a Dachshund (they set the jumps low for Dachshunds in agility). You can find out more about IVDD in Dachshunds here: http://www.k9backpack.com/IVDD-Information.html
From Wikipedia:
The dachshund, also lovingly known as "wiener dog," is a short-legged, long-bodied dog breed belonging to the hound family. The standard size dachshund has been developed to scent, chase, and flush out badgers and other burrow-dwelling animals, while the miniature dachshund has been bred to hunt smaller prey such as rabbits. In the American West they have also been used to hunt prairie dogs. Today, they are also bred for conformation shows and as family pets. Some dachshunds participate in earthdog trials. According to the AKC, the dachshund continues to remain one of the top 10 dog breeds in the United States of America. Wikipedia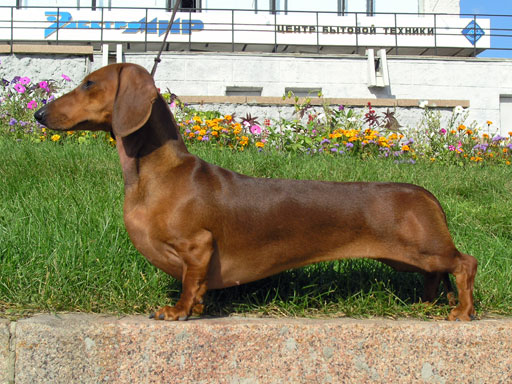 A full-grown standard dachshund averages 16 – 32 lbs (7.3 – 15 kg) while the miniature normally weighs less than 12 lb (5.4 kg).  The kaninchen weighs 8 – 11 lbs (3.6 kg – 5.0 kg).
The Truth About Dachshunds
I have been told that anyone thinking about getting a dachshund should do their research first, and talk to other dachshund owners if they can, because the dachshund may be more of a handful than one might realize. Their propensity towards stubbornness often gets them into trouble with owners who don't understand the breed, and later decide the dog is too much for them.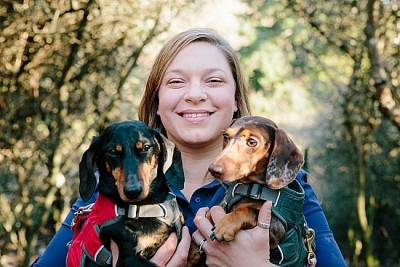 Many thanks to Jessica Rhea Williams, owner of You Did What With Your Wiener?, an active and outdoor lifestyle blog that focuses on enjoying those things with your dog.
***
The Truth About Dachshunds, AKA Wiener Dogs, #dogs, #pets @ydwwyw Click To Tweet
***
A QUESTION FOR YOU:
What other dog breeds would you like to learn about? Leave a comment below?
***
***
*** Leave a comment below and remember to share. ***
It's just sexy!
As always, thank you for taking the time to visit my blog!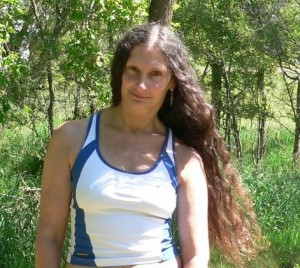 ♥ PEACE ♥


Latest posts by Guest Blogger for Animal Bliss
(see all)