World Wildlife Endangered Species Fund Center
~ 200+ Ways to Support World Wildlife Fund Conservation ~
The World Wide Fund for Nature (WWF) is an international non-governmental organization working on issues regarding the conservation, research and restoration of the environment, formerly named the World Wildlife Fund, which remains its official name in Canada and the United States. It is the world's largest independent conservation organization with over 5 million supporters worldwide, working in more than 100 countries, supporting around 1,300 conservation and environmental projects. WWF is a foundation, in 2010 deriving 57% of funding from individuals and bequests, 17% from government sources (such as the World Bank, DFID, USAID) and 11% from corporations.
The group says its mission is "to stop the degradation of the planet's natural environment and to build a future in which humans live in harmony with nature."   Currently, much of its work focuses on the conservation of three biomes that contain most of the world's biodiversity: oceans and coasts, forests, and freshwater ecosystems. Among other issues, it is also concerned with endangered species, pollution and climate change.
World Wildlife Endangered Species Fund Center
World Wildlife Endangered Species Fund Center
This holiday season, join World Wildlife Fund in celebrating WWF's global conservation work. From tropical forests and coral reefs to tundras and deserts, they work to protect the Earth's most diverse habitats. And when you make a donation to WWF, you may choose to symbolically adopt a species to the honor of the many regions where this wildlife live and where WWF is making a difference!
~~~~~~~~~~~~~~~~~~~~~~~~~~~~~~~~~~~~~~~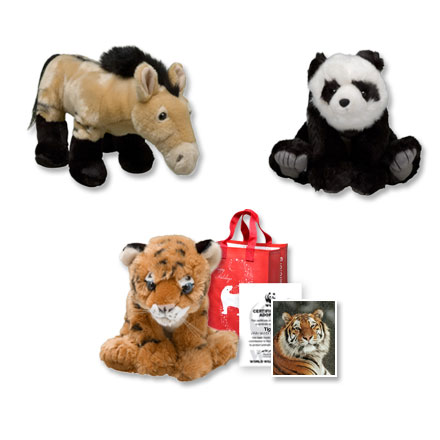 Animal Adoptions from Asia
$25 – $250 Donation
From counting giant pandas in China to reducing deforestation in tiger habitat in Sumatra, WWF works to protect many species and their habitats in Asia. Support WWF with a donation that helps our global conservation efforts, and symbolically adopt a Przewalski's horse, tiger or giant panda  as a thank you gift. 
~~~~~~~~~~~~~~~~~~~~~~~~~~~~~~~~~~~~~~~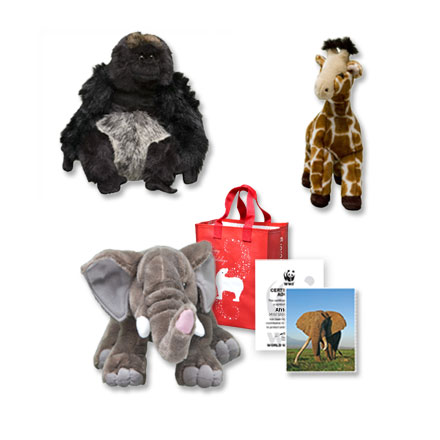 Priority Place: Africa
$25 – $250 Donation
Donate to WWF in support of our efforts to fight the illegal ivory trade, promote gorilla tourism and protect animals in Africa and elsewhere. Make a donation and choose a symbolic gorilla, African elephant or giraffe adoption as a thank-you gift.
~~~~~~~~~~~~~~~~~~~~~~~~~~~~~~~~~~~~~~~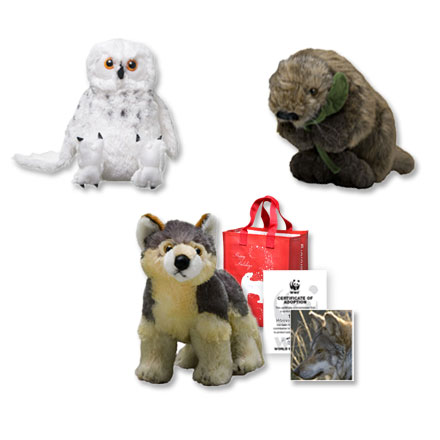 Symbolic Adoptions from North America
$25 – $250 Donation
WWF's field biologists and conservationists also protect wildlife and wild places in our own backyard, from the Northern Great Plains to Alaska to the Gulf of California. Make a donation to WWF in support of our worldwide conservation efforts and symbolically adopt a snowy owl, gray wolf or sea otter as a thank-you for your generosity.
 ~~~~~~~~~~~~~~~~~~~~~~~~~~~~~~~~~~~~~~~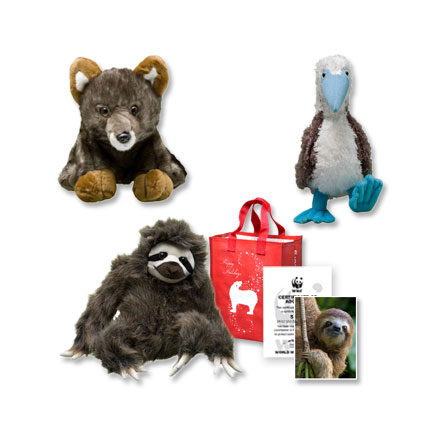 Central and South American Animal Adoptions
$25 – $250 Donation
The Amazon and the Galápagos are among our planet's greatest natural treasures, and just two of the amazing places we work to conserve. Support WWF's work around the world and select a Darwin's fox, three-toed sloth or blue-footed booby adoption.
 ~~~~~~~~~~~~~~~~~~~~~~~~~~~~~~~~~~~~~~~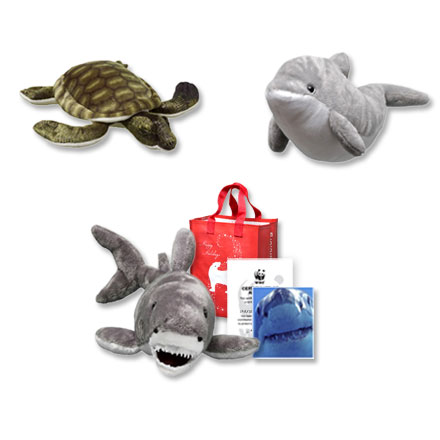 Symbolic Adoptions from the Sea
$25 – $250 Donation
Oceans contain the greatest diversity of life on Earth. WWF helps protect the marine environment from overfishing, unsustainable development and other threats. Support WWF's global conservation efforts and choose a sea turtle, great white shark or dolphin   adoption.
~~~~~~~~~~~~~~~~~~~~~~~~~~~~~~~~~~~~~~~
~~~~~~~~~~~~~~~~~~~~~~~~~~~~~~~~~~~~~~~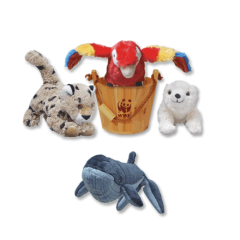 Build Your Own Global Bucket!From Namibia to the Amazon to the Arctic, WWF works to conserve threatened species and their habitats around the globe. Make a donation of $75 to support our efforts, and select three plush representing species from around the planet to Build Your Own Bucket as a thank-you gift. Donate an additional $25, and add a fourth plush.
Always Free Shipping
No matter which item you select in WWF's Gift Center, we always include free shipping to anywhere the United States Postal Service (USPS) delivers.
Making a donation for Christmas?
Give by 11:59 pm ET on Sunday, December 15, 2013, for delivery by Tuesday, December 24, 2013.++Applies to continental US addresses only. Donations that include a thank-you gift are shipped via USPS First-Class / Priority Mail and may take 6 – 10 business days to be delivered in the US. Delivery date and time cannot be guaranteed.
Siberian tiger © Jurgen & Christine Sohns/FLPA/Minden Pictures
Copyright © 2013
World Wildlife Fund, 1250 24th Street NW, Washington, DC 20037-1193
Questions or comments? Contact us
~~~~~~~~~~~~~~~~~~~~~~~~~~~~~~~~~~~~
~~~~~~~~~~~~~~~~~~~~~~~~~~~~~~~~~~~~~~~~~~~~~~~~~~~~~~~
I hope you have enjoyed, "200 Ways to Support | World Wildlife Endangered Species Fund Center".
You may also enjoy: African Lions New Endangered Species with Kevin Richardson
** Please leave a comment below and remember to share. **
It's just sexy!
~~~~~~~~~~~~~~~~~~~~
Thank you for taking the time to visit my blog.  Please come again.

♥ Peace ♥
*
Disclosure: Animal Bliss is a Walmart affiliate and will earn a (very small) commission from purchases made through links on this website.
(Coffee money – thank you!)
😀
Born in Nova Scotia, I moved to the United States 20+ years ago.I am a dedicated lover of animals and fight for their rights and protection.I love people too, of course, and enjoy meeting folks from all walks of life.I enjoy philosophical discussion, laughing, and really odd ball stuff.I hope you enjoy my site.Leave me a comment to let me know you were here!Peace out.
Latest posts by Jeanne Melanson (see all)