Worlds Tallest Dog Dies at Age 5
He will be sadly missed.
Zeus, the Great Dane who held the Guinness World Record for being the world's tallest dog, has died at the age of 5, just two months shy of his sixth birthday.
He had been with his family since he was 8 weeks old.
The dog, whom owner Kevin Doorlag of Otsego, Michigan, described as a "gentle giant," stood 44 inches tall and was 7-foot-4 when he stood on his hind legs.  Zeus weighed 150 pounds and ate a 13.6kg bag of food every two weeks.
Zeus was a certified therapy dog and frequently visited local schools and people in a nearby hospital.
"He'd sit on people's laps. I loved to see people's reactions when he'd sit down," Doorlag said. "He just seemed to want to make people smile and happy and … he was just a very sweet dog."
Zeus was named in the Guinness World Records 2013 edition as being the world's tallest dog.
Before Zeus set a new record, Guinness said the world's tallest dog was Giant George, another Great Dane. Giant George, who was one inch shorter than Zeus, died last year at age 7.
"I was surprised at how many people just, like, reached out to him and how many people's, I think, lives he's touched when we're doing pet therapy," Doorlag said. "It was just very overwhelming and I loved that about him."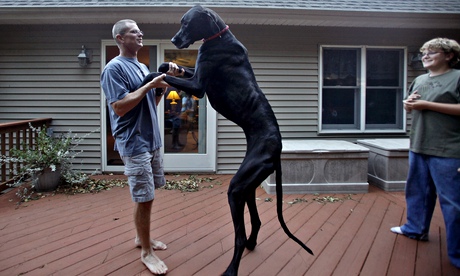 SOURCES:
***************************
Worlds Tallest Dog Dies at Age 5, Zeus Was One Big Dog! Click To Tweet
See also: Guide Dogs for Veterans With Post Traumatic Stress Disorder
♥♥♥
MY QUESTION FOR YOU TODAY: Are there any animals you know of that you would like to see featured here on my blog? Is there any creature that you would like to learn more about? Or, do you have a story you would like to submit about a pet you have? I would love to hear from you in the comment section below, or please email me directly at jeanne@animalbliss.com
* Please leave a comment below and remember to share. *
It's just sexy!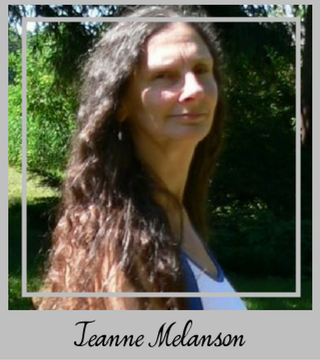 As always, thank you for taking the time to visit my blog.
♥ PEACE ♥
*
Disclosure: Animal Bliss is a PetSmart affiliate and will earn a (very small) commission from purchases made through links on this website.
(Coffee money – thank you!)
😀
Latest posts by Jeanne Melanson
(see all)