Big 3 Cat Concerns
With International Cat Day on August 8, and Happy Healthy Cat Month coming up in September, I thought this would be a good time to address the 'cat in the room'; your furry feline's diet. With five cats in my household, I can safely say that their diets aren't perfect, which brings me to the topic of the big 3 cat concerns: picky eating, cat obesity, and bladder infections. I'll get to that in a minute.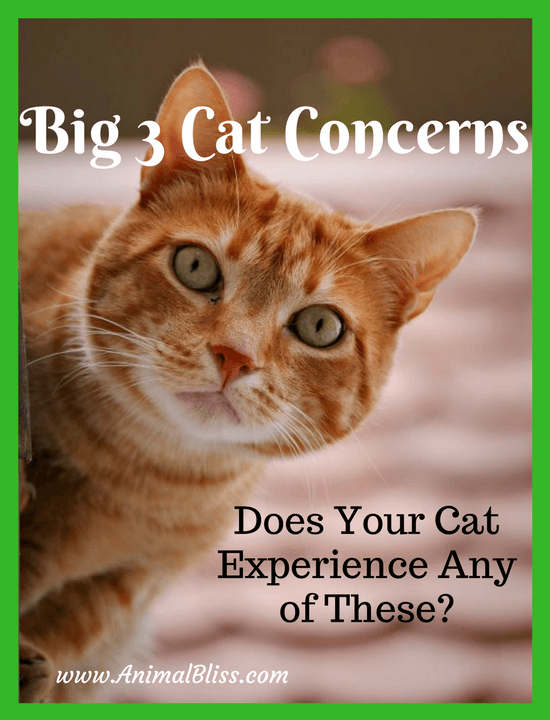 Disclosure: Animal Bliss has received compensation in the form of OMG! Cat Food and Gravy packets to review. The opinions expressed in this post are my own and not influenced in any way by Weruva. I only endorse products that I approve of and that my cats love.
Weruva BFF OMG! Oh, My Gravy!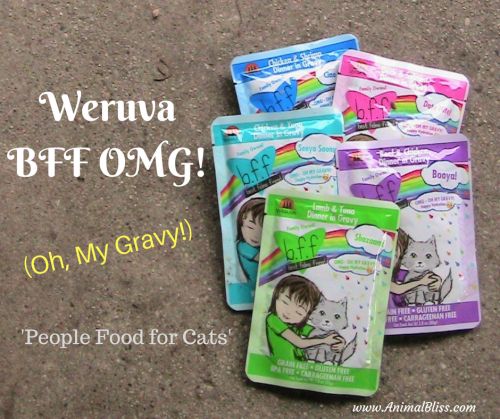 'People Food for Cats'
Weruva, creators of a new, natural pet food they dub "people food for cats," recently contacted me to partner with them, with the goal being to get the word out about their full line of grain, gluten, and carrageenan-free cat food that they've just launched to honor International Cat Day on August 8th. They call their cat food — are you ready? …. B.F.F. OMG! (Best Feline Friend, Oh, My Gravy) , developed to address and prevent the Big 3 Cat Concerns.
The Big 3 Cat Concerns
1. Is your cat a picky eater?
A lot of cats are finicky, which may point to a problem with the texture of their food. Cats are carnivores and their teeth and tongue have evolved for eating meat, which could be why some cats don't like eating cat food without real bits of meat.
The beauty of Weruva's food is that real meat is taken right off the bone in the making of their cat food.
Note: Jessie is a picky eater and will only eat if you put her dish in another room away from the other cats. She'll also ignore any water bowl I put out and will only drink out of the bathroom sink. But she's 20 years old, so she can do anything she wants. 🙂
2. Is your cat overweight?
Kibble is usually to blame for this because it's filled with unnecessary carbohydrates, which are almost impossible for cats to process since they lack the enzyme that people have to help digest food.
Weruva's B.F.F. OMG! contains no kibble and has 100% real meats in their pure form.
Related: Most Common and Expensive Pet Illnesses in Cats and Dogs
3. Urinary Tract Infection (UTI)
UTIs are often of symptoms of dehydration. Even if your cat is drinking lots of water, they're not getting the natural hydration from their food like they would get living in the wild.
Most modern wet foods just don't have enough hydration to keep your pets healthy.
Thankfully, all of the products in Weruva's B.F.F. OMG! line are over 85% hydration, which will satisfy your fine feline friend's hydration needs.
Is your cat experiencing any one of these 3 concerns?
Maybe it's time to consider changing their diet.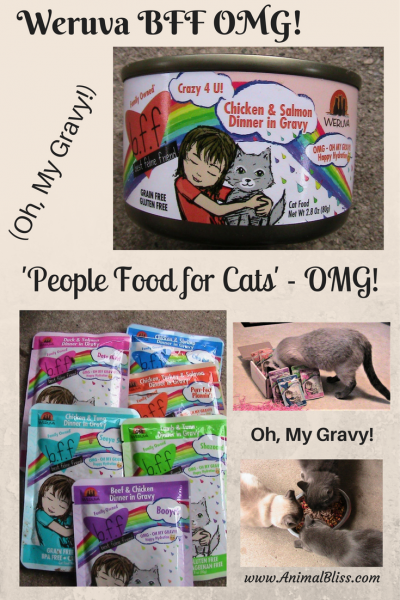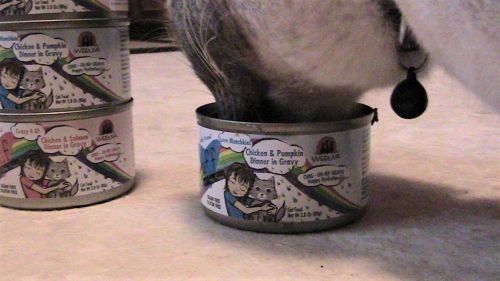 Weruva considers their products 'people food for pets.' Why? Their new line of B.F.F. OMG! cans and pouches feature natural proteins from boneless and skinless white chicken breast, salmon, beef, duck, lamb, and more. All recipes are gluten, grain, BPA-free, and carrageenan-free.
But the best part?
MY CATS LOVE IT!
B.F.F. OMG!
As you can see, Sam couldn't even wait for me to unload the box of goodies before sticking his head in there.
OMG! (Oh, My Gravy!)
OMG! (Oh, My Gravy!)
It didn't take long for my 5 cats to sniff, taste, and enjoy all the goodies that were in the box. These are the flavors we received:
Crazy 4 You (chicken & salmon) flavor BFF OMG!
Love Munchkin (chicken & pumpkin) flavor BFF OMG!
Purrfect Plannin' (chicken, turkey, & salmon) flavor BFF OMG!
SeeYa Sooner (chicken & tuna) flavor BFF OMG!
Date Night (duck & salmon) flavor BFF OMG! cat food
Ciao Baby (chicken & shrimp) flavor BFF OMG! cat food
Shazaam (lamb & tuna) flavor BFF OMG! cat food
Booya (beef & chicken) flavor BFF OMG! cat food
(My cats will obviously eat better than I do.)  😳 
Weruva was nice enough to also send 2 rainbow ball cat toys for the cats to play with. (I can't find them now because Kitty was the first cat to claim them and has hidden them in his stash somewhere.)
They even sent me a bag of Skittles. Thanks, Weruva!
It's difficult to really say which flavors were their favorites because they chowed it all down.
No left-overs! OMG!
It seems that maybe Sam's favorite is Love Munchkin (chicken & pumpkin) flavor, though, seeing as he claimed the can for himself here without waiting for me to put it in a dish. I can see why. He's the biggest love munchkin of them all.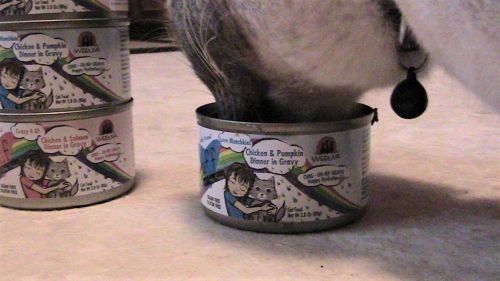 I'm glad Weruva contacted me because it gives me a chance to learn how to feed my cats better. And my cats are happy too. Thank you, Weruva!
Weruva BFF OMG! Cat Food is certainly welcome at our home.
PURCHASE Weruva OMG! Oh, My Gravy Cat Food
 for your Weruva OMG! Oh, My Gravy Cat Food feline friends.
They'll love you for it.
It's gravy-licious!
Visit: Weruva.com website
Weruva on Facebook 
WeruvaPets on Twitter
*
Big 3 Cat Concerns: Is Your Cat Experiencing One of Them? @Werufapets #Sponsored #CatNutrition #CatFood Click To Tweet

MY QUESTION FOR YOU:
Does your cat experience any one of the big 3 cat concerns?
*** Leave your comment below. ***
(It's just sexy!)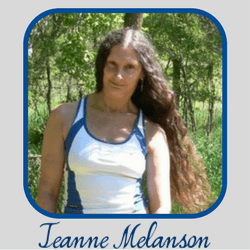 DISCLOSURE: Animal Bliss is a participant in the Amazon Services LLC Associates Program, an affiliate advertising program designed to provide a means for us to earn fees by linking to Amazon.com and affiliated sites.
(In other words, we'll get a very small, teeny tiny) commission from purchases made through links on this website.)
(Coffee money – thank you!)
😛
[amazon_link asins='B074HHP2Z5,B074HF8XM7,B073RJDFNJ,B008RP4FA6,B01CX719GG,B01BQPCHY4′ template='ProductCarousel' store='animalbliss-blog-20′ marketplace='US' link_id='d733bbce-82b6-11e7-abe0-d717d9e68c9f']
😀
Latest posts by Jeanne Melanson
(see all)