Take Good Care of Your Senior Dog
Just like humans, animals age. Unfortunately, this is especially obvious for pet owners. If your pet dog has become a senior in her own right, you may want to adjust some of your habits and take up new practices. After all, older dogs require different care compared to younger canines. To help you take good care of your senior dog, keep reading for a little guidance.
1. Change up your dog's diet
As your dog ages, she won't have as much energy as before. If you're not careful, this could easily lead to obesity in your pet. Weight gain in senior dogs can only cause more health issues. In that respect, you should adjust your dog's diet by introducing healthier dog food that's lower in fat and calories. What's more, if your pup already has some digestion issues, talk to the vet as she may need to follow a strict diet due to her specific condition.
2. Visit the vet regularly
If you want to keep your senior dog healthy longer, you'll need to take her to the vet at least every six months. It's sad, but as they age, dogs' immune systems get weaker, which can cause all sorts of health problems. And, as you can imagine, not all of these issues can be easily spotted. This is why regular visits to the vet are so important. Not only will the vet be able to treat any existing ailments, but they'll also do their best to minimize the risk of other potential problems.
3. Make sure your dog gets enough exercise
Regular exercise is another thing that you'll need to think about when it comes to caring properly for your senior dog. While it's paramount that your girl gets her daily dose of physical activity to boost her health and regulate weight, you should never push your senior dog too hard. Walks and light jogs are more than enough for an older dog. Make sure you always have water ready when you take your dog out like this – for both you and the pet. Bring along an insulated drink bottle so that you can always hydrate yourself and your pup on your walking and jogging tours.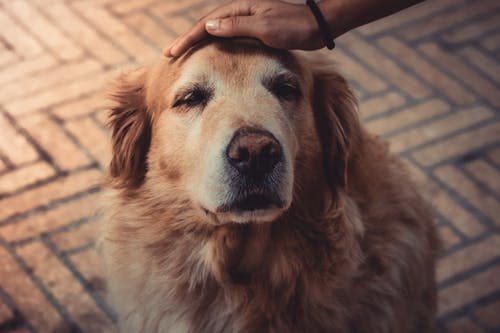 4. Protect your dog from parasites
Senior dogs have the same chances of catching a parasite as younger dogs. In that sense, you should be very meticulous and consistent when it comes to the application of parasite treatments. However, unlike parasite protection, vaccines shouldn't be administered as often in senior dogs as they are in younger canines. That said, make sure to talk about this to your vet so you can find the best possible schedule between the vaccines for your pet.
5. You should make grooming a habit
A dog's coat and fur get duller with age. What's more, it is not uncommon for senior dogs to suffer from dryness, flakiness, and skin irritation. Luckily, you can prevent or at least minimize the risk of these issues if you take the time to groom your dog correctly, which means brushing every day, so there are no tangles and bits stuck to the fur. Also, it would be best to find a great natural dog shampoo to wash your furry friend. Discuss this with the vet, too.
6. Step up the dog's dental hygiene
Dogs generally don't like having their teeth brushed, and dog owners usually don't force them to endure this. But, once your dog reaches a certain age, dental problems are bound to happen. Some dogs will even lose some teeth. Of course, you can, and should, try brushing your dog's teeth to try and improve her oral hygiene. Still, if this endeavor seems impossible and is torture for both you and your dog, try giving her some dental treats. Also, remember to schedule annual professional teeth cleaning at the vet.
Related:
CBD For Your Dog – Important Things You Should Know

7. Special accommodation may be necessary
Unfortunately, it's not uncommon for senior dogs to go blind or suffer from arthritis and joint pain. That said, there are several things you could do for your dog to help.
For starters, you may want to restrict her use of stairs. You can place a safety net around the stairs and move her bed, bowls, and other items downstairs.
On the other hand, if that is not possible, you want to make the climb up the stairs easier for your dog. You can do that by installing a doggy ramp.
If your dog is blind, you should make sure that her bed and bowls are easily accessible. Try not to move the furniture around too much to avoid confusing your dog or bringing her to a new location that could cause tremendous stress.
Conclusion
The most important thing you can do for your dog is to make her feel loved and cared for. Do your best to spend time together, cuddle, and play. Such enjoyment will be one of the best treatments for your senior girl.
~~~~~
"7 Tips to Take Good Care of Your Senior Dog"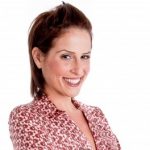 Guest Writer: Diana Smith is a full-time mom of two beautiful girls and a proud owner of German Shepherd Billy and grumpy apricot poodle Sam. In her free time, she enjoys exercising and preparing healthy meals for her family. Twitter https://twitter.com/DianaSmith82
*** Please Share ***
7 Tips to Take Good Care of Your Senior Dog #DogCare #PetBlogShare #SeniorCanine
Click To Tweet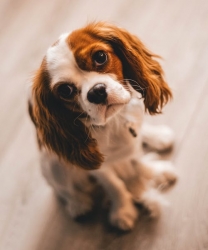 Latest posts by Diana Smith
(see all)