It's easy to bring you cool Capybara facts about what is considered to be the world's largest rodent, standing about 1.5 feet (50cm) tall at the shoulder, 4 feet (130 cm) in length, and weighing about 75-150 pounds (35-70 kg).  capybaras are closely related to other South American rodents such as Chinchillas and Guinea Pigs.
Semi-aquatic, they spend a lot of their time in the fresh water, even for procreation.  They inhabit southern Central America and northern South America in both savannas and rain forests near ponds, rivers, or lakes.
Capybara Fun Facts
The Capybara has short, sturdy legs with four hoof-like claws on their front feet and three on the rear.  The toes are webbed and help the Capybara with swimming.
A Capybara's eyes, ears and nostrils are all positioned on top of the head, giving them access to excellent sight, sound and smell while in the water. When threatened, the Capybara can lower itself into the water, leaving only these parts of it's body exposed to hide from potential predators.
What do Capybaras eat?
The Capybara's diet is highly fibrous and consists of grasses and aquatic plants, along with fruits and berries. They generally eat about 6-8 pounds (3-3.5 kg) a day. Capybaras also eat their own droppings – an activity called coprophagy, which allows them to ingest a higher percentage of proteins and other nutrients.
Capybaras are social animals and live in small family groups of about 10-20. A typical group includes one dominant male, several females, their offspring, and a few subordinate males.  The subordinate males act as sentinels, performing warning barks when a potential predator is near.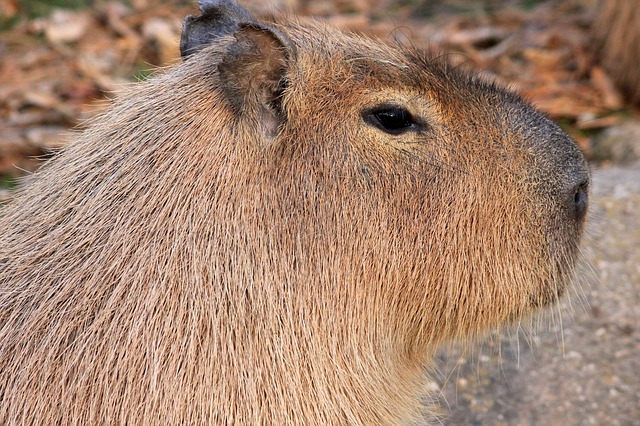 Usually, a group of capybaras has a ratio of one male to two females. Juvenile males are sometimes forced out of the group once they reach sexual maturity, leaving them to fend for themselves.  Being the dominant male has several advantages. Not only does he enjoy a position toward the center of the group, safer from predators, he also mates with all the females in the group.
The Capybara sleeps very little, preferring instead to doze while resting during the morning in thickets on the banks, or wallowing in the mud and water when cooling down in the heat of the midday sun. They begin to emerge onto land in the early evening when they graze on grasses and aquatic plants which the Capybara will continue to do throughout most of the night.
What does a Capybara Sound like?
When the Capybara senses danger, it alerts the others with a "bark", causing the herd to quickly hide in the water. The Capybara can hold its breath for up to five minutes under water, leaving only their eyes, ears and nostrils  exposed until the threat has passed.
Capybara communicate between one another using scent secreted by their glands, and sound.  They have a number of different vocalizations which includes whistles, barks, grunts and squeals.
See also:  Is Florida About to Be Swamped With Capybara?
More Interesting Capybara Facts
Capybaras mate in the water, usually during the rainy season in April and May, although breeding can occur all year round, depending on the conditions.  The female capybara will give birth to from 4 to 8 pups on land, following a 5-month gestation period.  The babies will join the rest of the group, where they are communally nursed by all the females. In this way, all the offspring in the group stay together.
Capybara young are very well developed at birth and not only have all their fur and can see, but are also able to run, swim and dive within hours of birth.  Although the babies begin to eat grass after about a week,  they will continue to suckle milk from their mother until they are around four months old.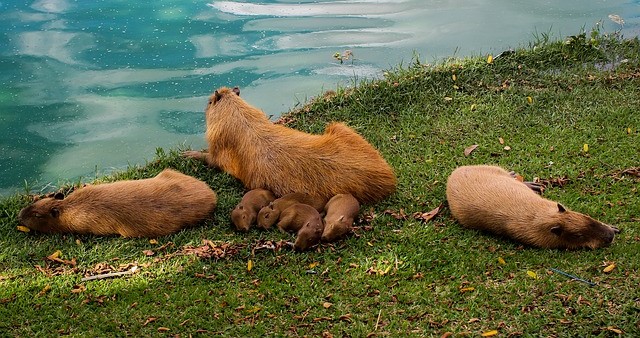 Like all other species of rodent, the Capybara's two front teeth grow continuously throughout their life, so they have to grind them down by gnawing and chewing their food.
Capybaras can live 8-10 years in the wild, and around 12 years in captivity.
Capybara Predators and Threats
Wildcats including Jaguars, Pumas and Ocelots are the primary predators of the Capybara along with Caimans and Eagles that can hunt the younger ones from the sky above. The Capybara is also one of the best sources of food for the world's heaviest snake, the Anaconda, along with other species of large snake.
The Capybara is also hunted by humans for both its meat and the hide.
Capybara Conservation Status
Although capybaras are currently considered by the IUCN Red List to be of least concern of becoming extinct, their populations have been largely affected by hunting in the past.  People eat capybara meat and produce leather from their skin. In the countries where capybara populations started to dwindle, hunting restrictions were enacted, and capybara numbers stabilized.  Habitat loss also affects Capybara populations through Central and South America.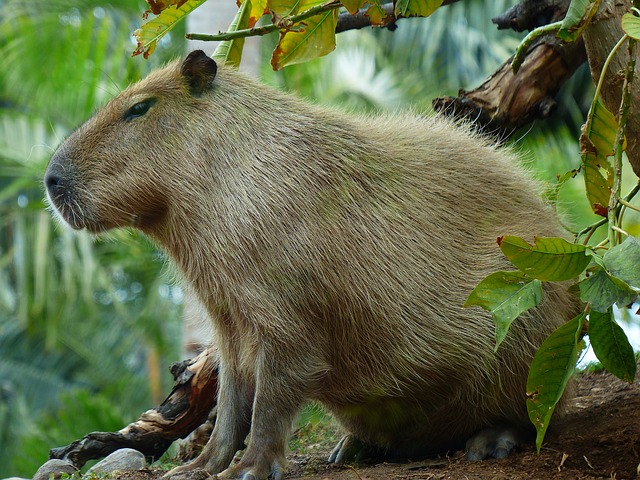 Sources for Cool Capybara Facts:  Animal Fact Guide, and Wikipedia
Video Source:  Animal Planet
C is for Cool Capybara Facts : A-Z Collection of Animals #wildlife, #exoticPets Click To Tweet
***
I hope you have enjoyed, "C is for Cool Capybara Facts"
You might also enjoy, "Rock Hyrax : Hyrax Closest Living Relative to the Elephant?"
*
A QUESTION FOR YOU:   Tell me what animals you would like to learn more about.
Do you have a story you'd like to share?
*
***Leave a comment below and remember to share. ***
*
It's just sexy!
*
As always, thank you for taking the time to visit
Animal Bliss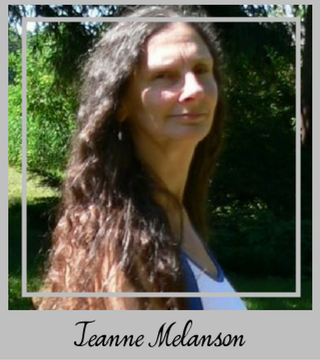 ♥ PEACE ♥
*
Save
Save
Latest posts by Jeanne Melanson
(see all)