Cruel Horse Racing Exposed in One Minute Video
WARNING: Graphic Images
Cruel horse racing was the undoing of Canadian Winner, the unfortunate horse who collapsed during the last race at Churchill Downs on the day of the Kentucky Derby earlier this month. Another horse then tripped over the fallen thoroughbred and had to be transported off the track. The fate of that horse, Appealing Alex, is unknown at this time.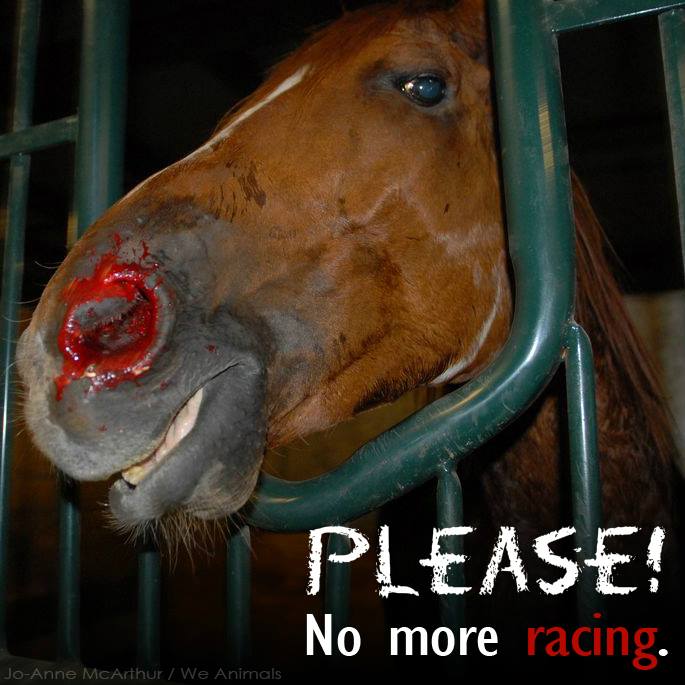 Did you realize that an average of 24 thoroughbred horses at tracks around the country sustain a catastrophic career- and life-ending injuries every single week as a result of cruel horse racing?  Watch this behind-the-scenes 60-second video and discover a culture of drugs, deception, and death.
WARNING:  this video is horrific and WILL make you cringe.
What You Can Do to Help End Cruel Horse Racing Now
The drugging of horses for races is killing them. Please contact your U.S. representative and senators and ask them to support the Horse-racing Integrity and Safety Act of 2013, Senate Bill 973 and House Bill 2012, which would increase oversight and penalties for overusing drugs in horse racing.
Born in Nova Scotia, I moved to the United States 20+ years ago.I am a dedicated lover of animals and fight for their rights and protection.I love people too, of course, and enjoy meeting folks from all walks of life.I enjoy philosophical discussion, laughing, and really odd ball stuff.I hope you enjoy my site.Leave me a comment to let me know you were here!Peace out.
Latest posts by Jeanne Melanson (see all)