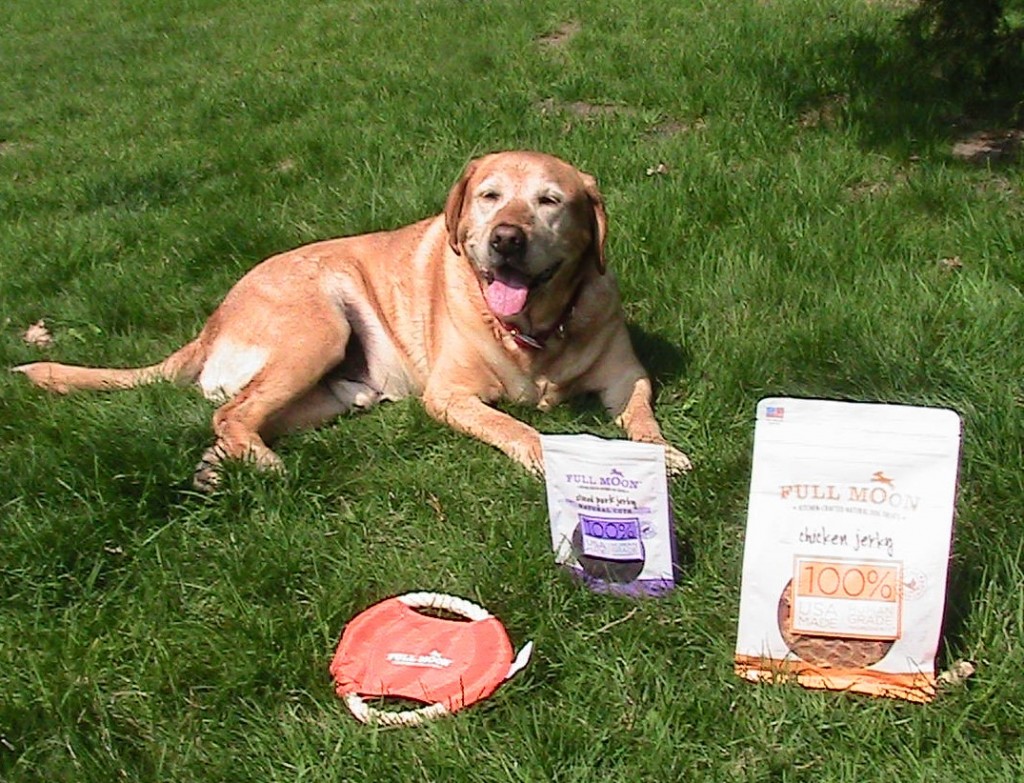 Disclosure: We received a couple of bags of Full Moon Kitchen-Crafted Natural Dog Treats for review. I am not being compensated in any other form for helping spread the word about the Full Moon Dog Treats. Full Moon Pet is not responsible for the content of this article and the opinions are both mine and Jake's (and Seeger's).
With so many recalls of dog food and treats lately, we're careful about what we give our pets here at home.  Some of you may know Jake, our 13-year-old rescue dog. He deserves only the best of everything, having led a difficult life up until now. He doesn't mind doing dog food and dog treat reviews either. My reviews depend on Jake and I leave it up to him to give a product a thumbs-up (or not).
About Full Moon Pet
Full Moon Pet is an American family-owned business, founded by Ryan Perdue in 2011.  This company makes simple food, using 100% natural homegrown ingredients, sourced right here in the United States.  All meat used is 100% Human Grade meat and all treats are USDA approved.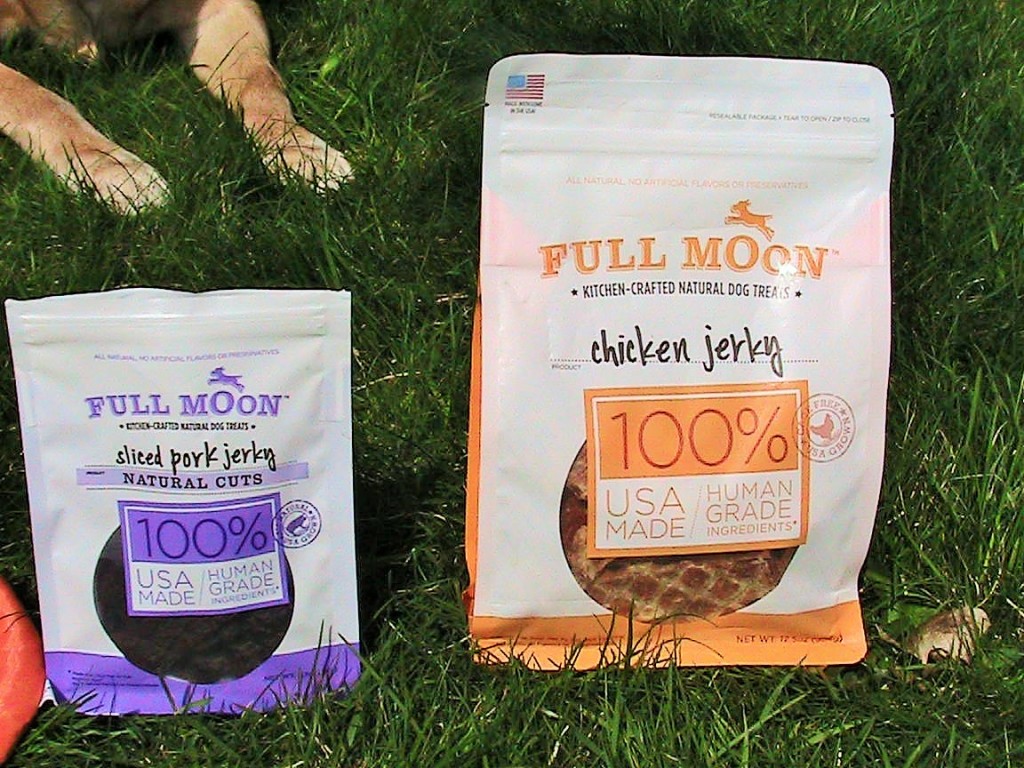 The Product
We received a bag of Chicken Jerky and a bag of Sliced Pork Jerky for this review.  The jerky strips look just like the type you might buy in the store for humans. The ingredients are straight-forward with nothing in it that you can't pronounce, no artificial flavors or preservatives, no animal by-products. The products are grain-free, contain no corn, wheat or soy.  The meat is 100% human-grade.
The Ingredients
Sliced Pork Jerky
Pork (USA grown)
Dried Cane Molasses
Sea Salt
Decaffeinated Green Tea Extract
Rosemary Extract
Chicken Jerky
Chicken (cage-free, USA grown PERDUE chicken)
Dried Cane Molasses
Vinegar
Rosemary Extract
They also offer a Turkey Jerky, as well as Gourmet Treats made with chicken, pork, and turkey.
The Taste Test – Our Full Moon Dog Treats Review
Since it was such a nice day, we thought we'd do our test outside, where Jake could relax. That's when Seeger showed up. He's the rambunctious neighbor dog and visits us quite often on his own. I swear he smells treats from down the road. When we invited him to join us, he gladly accepted. As you can see, he's very intent on doing a good job tasting the treats for us. Jake is a little more laid-back, being an older dog.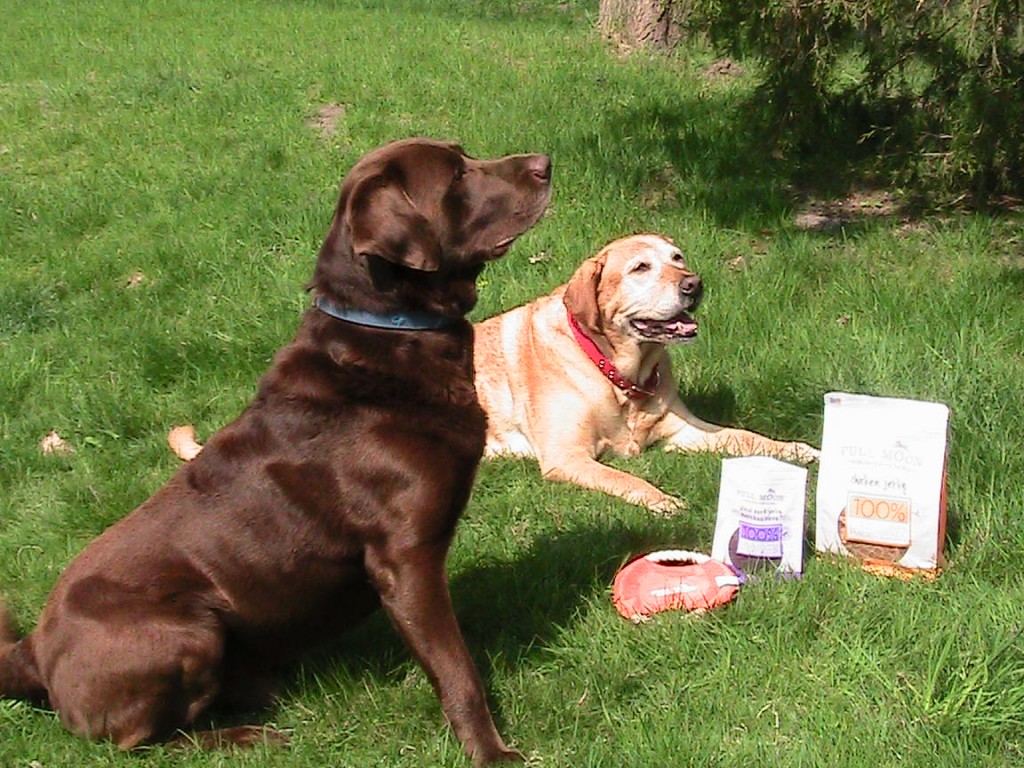 The Verdict

Jake and Seeger approved.
Both flavors were a huge hit!
Where to Buy Full Moon Natural Dog Treats
To purchase these treats and to find out more, visit the Full Moon Pet website, or buy on Amazon.  
LOOK for Full Moon Pet on Facebook, Twitter, and Pinterest.

Full Moon Natural Dog Treats Review Click To Tweet

Latest posts by Jeanne Melanson
(see all)