Henry Says, "Hello"
Written and Illustrated by S.L. Parker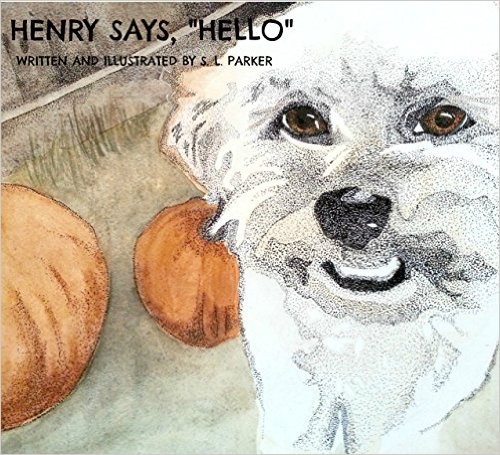 Henry Says, "Hello" is a unique, true-to-life children's book full of adult wisdom. It is a teaching tool for parents and teachers, designed to teach children how to safely and gently say "Hello" to dogs by reading the dog's body language and recognizing signs of imminent danger.
Not all dogs are ready to be approached due to issues of their own. They may have been abused or neglected by past owners, and they may not have been properly socialized. Children approaching such a dog may suffer disastrous results, such as biting, or worse.
Lessons learned from this book may well prevent future injury to children, as well as dogs being put to death as a result of a biting incident.
In this book, Henry is a real-life, sweet little dog, whose main purpose in this story is to teach children how to safely and gently say "Hello" to dogs.
Henry's "sister," Reese, is a rescue dog that has been adopted by Henry's loving home people after having been raised at a puppy-mill, in dire need of rehabilitation. Henry has played a very large part in helping Reese fit in to a kinder world and teaching her to be the happy, playful dog she is today.
In this story, Henry teaches children how to read a dog's body language along with proper ways to greet a dog, especially one that is unknown to them. The importance of these lessons are not only to keep the child safe, but also to allow a fearful or traumatized dog a smoother introduction into the world of children.
From Sarah.L. Parker:
For a successful partnership between your pet and your children, it is imperative to understand the types of actions that drive a dog to bite and to teach your children how to recognize and respect each and every type of dog and the signs they convey with their body motions.  With simple guidelines and precautions a rewarding relationship with dogs can develop that will last a lifetime.
♥
I read this book to my grandson, Landen, who is with us 5 days a week while his mother works.  Landen is only 15 months old, so while he's still too young to truly appreciate and understand the message of the book just yet, he does love all the illustrations (done by the author herself) of puppies and children, and is quick to lovingly kiss the nice pictures.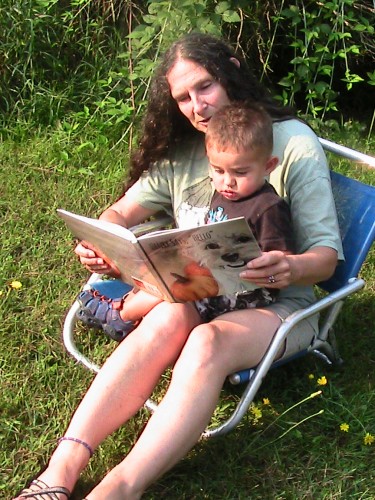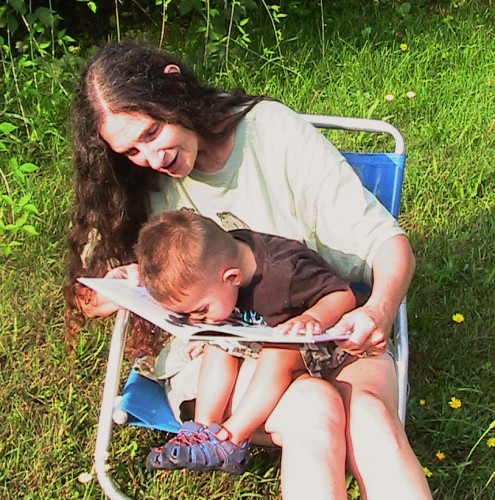 In our household, we have one dog, one cat, and one bearded dragon. Landen's mother also has cats and dog-sits on a regular basis, so Landen has already been learning since he was born how to act around other animals.
♥
MY REVIEW:
Henry Says, "Hello" is easy to read using rhyme, with plenty of beautiful illustrations of these real-life dogs and their friends.
At the back of the book is a list of 8 tips, encouraging parents to review these with their children on a regular basis. There are also questions asking the child reader to remember the signs of a fearful dog that they learned from this book in order to deepen the lessons learned.
Henry Says, "Hello" is sure to be a book that will enlighten your child and be a precious treasure that can be passed down for years to come.  I plan to read this book to Landen frequently as he grows up so that the valuable lessons within will be permanently ingrained.
This book is Landen approved!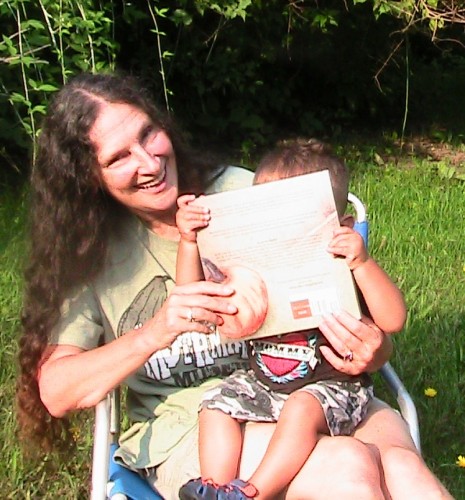 Henry Says, "Hello" by Sarah L. Parker, Review Click To Tweet
A Little About the Author:
Sarah Parker grew up on a farm and has had the pleasure of having animals for friends throughout her life. She currently lives in Ontario, Canada with her husband, John, and furry kids Henry, Reese, and Ricky the Rooster.
To learn more about Henry and his friends, please visit Sarah's website: www.herandherdogs.com
***

*** Proceeds from the sale of this book will go towards rescue efforts, medical research for animal-related illnesses and pet and learning programs.
~ OR ~
ENTER TO WIN
a FREE copy of Henry Says, "Hello"
NOTE: No purchase necessary. This giveaway is open to residents of the United States and will run through September 13th 2015, 11:59PM EST. The winner will be randomly selected via Rafflecopter. The winner will be contacted via Email and they will have 48 hours to respond before a new winner is chosen. Please check your email and be sure to add jeanne@animalbliss.com to your address book! Come back and enter daily! If you would like to have your products featured in a giveaway on ANIMAL BLISS, contact jeanne@animalbliss.com with your request.   As always, thank you for taking the time to visit my blog!  
Save
Latest posts by Jeanne Melanson
(see all)