Got Shredded Couch Syndrome?
Then get a Kitty Couch Scratcher
(… because no one loves a shredded couch.)
I received a "Kitty Couch Scratcher with Free Catnip" in order to write this review. I am not being compensated in any other form for helping spread the word about this product.  FelineBeMine.com is not responsible for the content of this article, and the opinions are mine (and Jessie Cat's) alone. This post may or may not contain an affiliate link.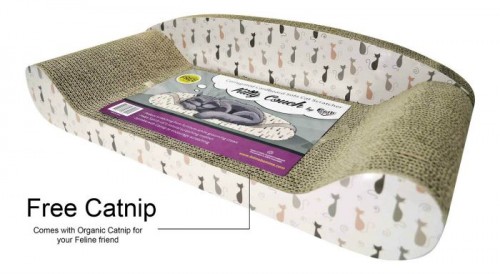 Why Do Kitty Cats Scratch?
Cats love to scratch. Why?  It's a natural and normal urge for felines, and it's actually necessary and healthy.  Some of the benefits of scratching:
Scratching is good for their muscles and circulation. It stretches their bodies and flexes their feet and claws.
Scratching helps cats shed the dead outer layer of their claws.
Scratching is a way to mark their territory, leaving a visual mark and a scent with the scent glands on their paws.

Got Shredded Couch Syndrome?
You don't have to tolerate ruined furniture just because you have a cat. I've had cats most of my life and can honestly say I've never had a piece of trashed furniture. Why?  Scratching posts.  You gotta have one.  Or two.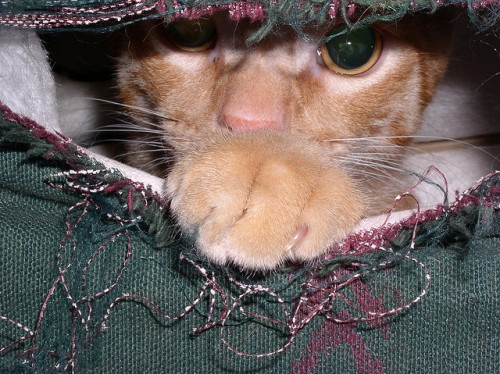 My Jessie Cat satisfies her natural urge to scratch without ruining my furniture because she uses the Kitty Couch Scratcher.  Not only does she use it to stretch her muscles and toes, but she also likes to take long naps on it, just like I like to nap on my couch. 😉
Kitty Couch Scratcher Review
The Kitty Couch Scratcher is made out of super dense, durable, corrugated cardboard, which means it will last much longer than those thinner scratchers and save you time and money too.
It has a stylish design that will easily go with any home decor.
Unlike stand-up scratching posts, it's both a scratcher and a lounger.
It's large enough to accommodate any size cat.
The Kitty Couch Scratcher comes with FREE CATNIP to entice your cat to use it more often!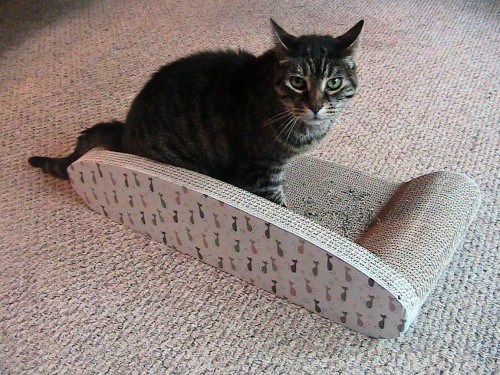 Enter our GIVEAWAY below to WIN a Kitty Couch Scratcher.
Can't wait?
The fine print: No purchase necessary. Giveaway is open to residents of the United States, except where prohibited by law. Giveaway will run from September 19-27, 2015 at 11:59pm ET. A single winner will be randomly selected by Rafflecopter (powered by Random.org) and notified via email. Winner will have 48 hours to claim their prize; failure to do so will result in forfeiture of the prize and a new winner will be randomly chosen. Please check your email and be sure to add jeanne@animalbliss.com to your address book! Enter daily!
If you would like to have your products featured in a giveaway event and increase your social media exposure, contact jeanne@animalbliss.com today to see how I can help YOUR company.
Born in Nova Scotia, I moved to the United States 20+ years ago.I am a dedicated lover of animals and fight for their rights and protection.I love people too, of course, and enjoy meeting folks from all walks of life.I enjoy philosophical discussion, laughing, and really odd ball stuff.I hope you enjoy my site.Leave me a comment to let me know you were here!Peace out.
Latest posts by Jeanne Melanson (see all)