Maine Coon Cats
Ludo, the Longest Cat in the World
Any cat lover knows that no cat breed is better than another because it does not matter what kind of cat they are, all are adorable and make us love them unconditionally. Sometimes cats are misunderstood as being unfriendly or not the most loyal, but that is simply not true. Cats are quite smart house pets and are very loyal to their owners. There are many cat breeds in which you will find some not friendly but loyal ones, and also some of the most loving cats as well. Maine Coon cats are famous for being very friendly and caring.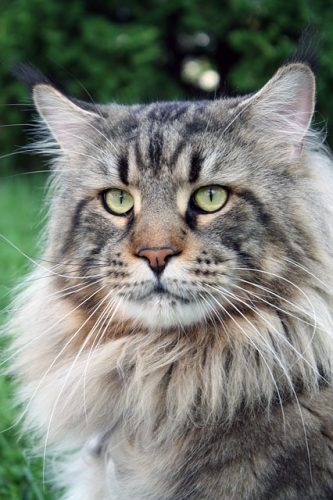 About Maine Coon Cats
Maine Coon cats are also one of the breeds that can grow up to be quite large. The 'little ones' are the friendliest out of all the other large cat breeds. They are famous for being very tall and long which means their maintenance requires a bit of an effort. But they are also less demanding, so you should have no worries about a high-maintenance cat that is also larger than life. Maine Coon females can be up to 10 to 15 lbs, and males can grow up to be 15 to 25 pounds. If you are ready to take on the challenge of taking care of a big cat, then the Maine Coon is your best option because they are the best domesticated cat breeds. They are also kid-friendly which means your children would love him/her.
Other [amazon_textlink asin='1465408517′ text='large cat breeds' template='ProductLink' store='animalbliss-blog-20′ marketplace='US' link_id='c687cb40-ef32-11e6-8bb0-036b2cf6c14b'] include the Savannah Cat, Ragdoll, Chausie, Ragamuffin, Siberian, Norwegian Forest Cat, and the American Bobtail. Maine Coon cats originated from Maine and went back as far as the 19th century. These cats are quite affectionate and very playful. They may not be very fond of strangers, but they are pet-friendly and kid-friendly. They tend to vocalize and are amenable to grooming and other such activities. The tendency is to be quite healthy, but a pet's health truly depends on how well taken care of they are.
If you love your pets, then there is no doubt that you will take their health seriously and make sure they are always in the best shape. Maine Coon cats are not that hard to take care of if you just take care of their eating habits and groom them properly. They adapt to their surroundings pretty quickly and will not cause a lot of problems adjusting to a new lifestyle or place.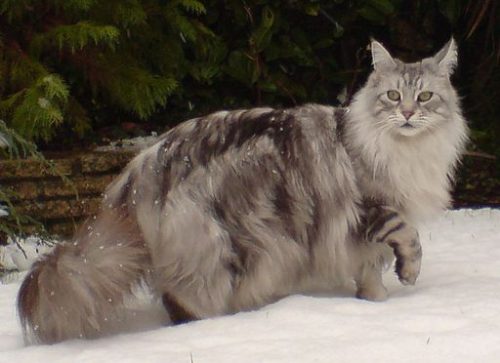 Longest Cats in the World
The longest domestic cat in the world was named Mymains Stewart Gilligan of the USA who was approximately 48.5 inches long from nose to tail. Sadly, the adorable feline, who was adorably called Stewie, passed away in 2013 because of cancer leaving behind heartbroken owners, Robin Hendrickson and Erik Brandsness. The loss of a pet may not seem as significant in the grand scheme of things to some, but it is a tragic loss that many find hard to recover. In many ways, our pets become more like our children in their lifetimes, and we cannot help but grow extremely attached to them. The unwavering loyalty and adorable characteristics make us love them unconditionally, and so losing someone so beloved can be a bit hard to swallow.
Ludo – New Title Holder
Stewie held the world record for being the longest domestic cat in the world, and after his death, the title passed to Ludo when the Guinness World Records Edition of 2017 honored Ludo with a place in its Book. Ludo is a Maine Coon hailing from Wakefield, South Yorkshire of the United Kingdom. He has reached adult size in his three years of age and is 46.6 inches long from his nose to tail. Ludo belongs to Gill Kelsey who has two other Maine Coon cats, but they are not as big as Ludo.
Ludo has been photographed for many magazines and newspapers worldwide, but it is safe to say that celebrity status has not caused him to change his friendly and affectionate ways. The cat owner describes him as,
"He likes lazing around, playing with his toys, and loves being stroked and cuddled" (Winter, 2016).
The story of how Gill Kelsey got him is quite entertaining and amusing. She said that after she had seen the character of Mr. Filch had a similar cat named Mrs. Norris in the world-famous Harry Potter movies; she was inspired to get a cat like that one.
After falling in love with the breed, she started researching and trying to find a Maine Coon that she wanted. The 29-year-old woman was ready to take on the task to care for a large cat and finally found Ludo when he was just a thirteen weeks old kitten. Ever since then Gill Kelsey has loved and cared for Ludo and took care of all of his needs. She took to the role so well that she got two more Maine Coon cats. She is a great pet owner, as witnessed with her caring for three of the biggest breeds of cats.
The world record was brought back to the UK after six years because of Ludo. When Kelsey took in Ludo as a kitten, she had no idea that he would grow up to be such a famous cat and as big as he is now. The owners had no idea of how his size was such a big deal until they saw some cats in newspapers of cats that were of similar size as Ludo but older than he was. They then realized that they might have a little celebrity in the house after that. Kelsey received a certificate for having the longest domesticated cat of the world.
The owner had this to say about the process of getting Ludo and the hesitations they had:
"We had first seen these big cats in a Harry Potter movie. When we looked up at what type they were, we thought it would not be possible to own one. Then we found out they were Maine Coons and decided to get our own." (Winter, 2016).
Owning such a cat is fun and fantastic, but it also has its downsides. The size of the cat may cause some difficulties such as less agility as other cats. Gill has stated that even though Ludo is a perfect house pet, he has some hard times because of his size. The Maine Coon breed tends to shed a lot because they have so much hair. Fortunately, Ludo loves to be groomed by his loving owner. He lies down and purrs the whole time.
Gill Kelsey is proud to have a cat with such good temperament even though he is famous. Kelsey has said that Ludo loves his celebrity status; being recognized on the streets and getting a few pets always cheers him up. He also likes to spend quality time with Gill such as lying beside her when she's reading a book especially if he is in it. He loves to play with his toys and is an excellent pet in general. Gill confessed to being a bit nervous about getting Ludo when she did because of the breed and the challenges it could bring. She also did not know how to take care of such a big cat, but she was devoted to the idea of getting a Maine Coon, so she prepared herself by doing a lot of research and learning about them.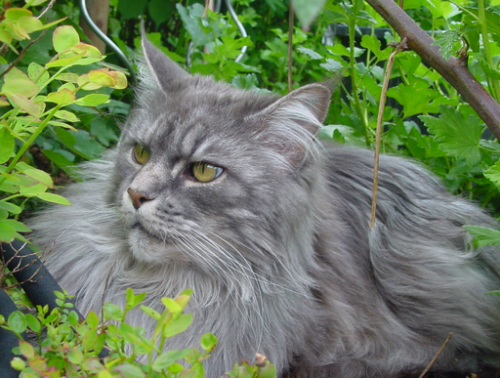 Thinking of Getting a Pet? Do Your Research First
The best thing to prepare yourself before you get a pet is to research about the type you want and how to care for them. You should never go in blind because it will be hard later on especially if you do not know much about the breed or type you got. It is always better to prepare yourself by learning as much as you can about the kind of pet you want. Whether you get a cat or not, make sure you know which breed you can take care of and prepare accordingly.
It may seem easy in the beginning, getting a pet, but it is not. Pets require a lot of attention and taking care of just as newborn babies. One should always be serious about getting a pet. If you regret getting one after taking it in, it not only means you are disturbing an animal's life, but it also means you are taking them away from the chance of being with a family that is ready to take them in. Having a pet should be taken seriously because they are living beings who also deserve love and attention just much as, if not more than, humans.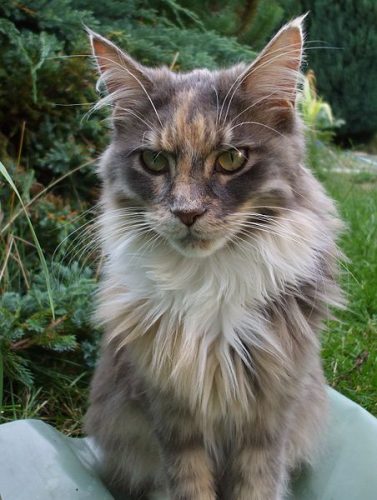 Origins of Maine Coon Cats
The origins of the Maine Coon breed is a mystery but there many guesses and assumptions that may make sense. It is a natural breed which means there have no connections to big cats like other breeds do. They hail from Maine, but it is not clear how they came to be in America. Some think they might have come along with some sea captain and then mated with local short-haired cats. Others believe they might be descendants of long-haired cats that Marie Antoinette had, that had been sent in preparation of the Queen's escape to America. Another theory is that they might have been brought to America by the Vikings way before Columbus set sail.
Even though Ludo is the longest cat alive at the moment, he still has not broken the record of the beloved Stewie who died in 2013. Ludo is currently 46.6 inches long while Stewie was 48.5 inches long. Maybe Ludo will grow more and be able to break that record as well, but as of now, he has reached his adulthood meaning he probably won't grow any more than he has.
Ludo is currently still living in his homeland Wakefield of South Yorkshire with his owner Gill Kelsey. That certainly has not stopped people and photographers taking pictures of the cat and wanting to meet him. People make trips to the UK especially just to meet Ludo and to see what he looks like up close. Sometimes people get shocked at how big he looks like in real life because the pictures do not seem real. They often wonder how Gill takes care of such a giant cat. But even though it may take a bit more effort, it is not that different than having any other big pet.
Ludo is the world's longest Maine Coon as of right now and will remain so until some other larger cat comes along. Right now he is happy being the one with the title though and enjoys the attention it brings him. Cats are nothing if not attention-lovers, and that is why we love them. If you are a cat lover, then you will love Maine Coon cats and especially Ludo. Cats can come off as mean or unloving, but cats like Ludo are proving that stereotype wrong. It shows the world how loving and nice cats can be. Us cat lovers are justified in loving them because they are not only adorable but also pretty entertaining.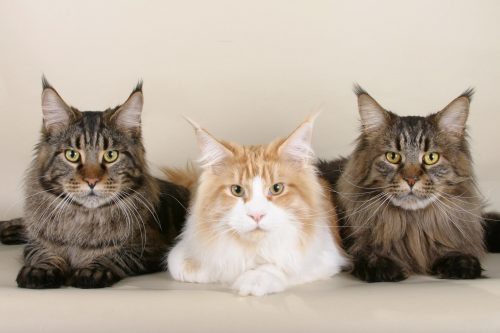 Maine Coon Cats Popularity
Even though Maine Coon is one of the most popular cat breeds today, it was not so around the 1900s. The introduction of the exotic Persian and Siamese cats put the Maine Coon cats in the background. The creation of the Maine Coon Breeders and Fanciers Association in 1968 brought these cats back in the spotlight. Now the official state cat of Maine is indeed the Maine Coon.
Maine Coon cats tend to be friendlier than other cats and have a very laid-back disposition. They get along nicely with other cats or cat-friendly pets. They are playful and will love to play with other pets you may have. Introduce them slowly, so they are not overwhelmed with the idea of another sharing their space and attention. They are also perfect for families with children as they are very docile and love getting attention from kids. Make sure you teach your kids how to be respectful and play nice with the cat otherwise even a Maine Coon cat may not get along with your child.
~~~~~~~~~~~~~~~~~~~~~~~~~~~~~~
"Maine Coon Cats: Meet Ludo, the Longest Cat in the World"
Written by: Sanwal Memon
Find Sanwal Memon on Facebook
Visit his website: Maine Coon Admirer
~~~~~~~~~~~~~~~~~~~~~~~~~~~~~~
References:
[amazon_link asins='153329772X,1608932508′ template='ProductGrid' store='animalbliss-blog-20′ marketplace='US' link_id='042ff0a9-ef33-11e6-afbd-db14bb72416e']

Maine Coon Cats: Meet Ludo, the Longest Cat in the World Click To Tweet
~
MY QUESTION FOR YOU TODAY:
Do you have a Maine Coon cat?
Latest posts by Jeanne Melanson
(see all)