Oscar the Hospice Cat
This is the true story about a cat named Oscar (born 2005).  Some called Oscar the hospice cat.  Some called him a therapy cat.  All called him a phenomenon.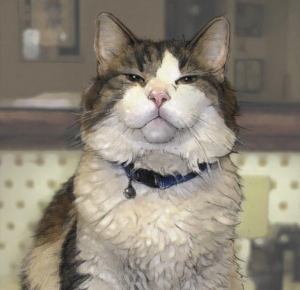 Oscar was a beautiful boy, a black and white tabby.  He was adopted as a kitten from an animal shelter and was one of six cats that lived at the Steere House Nursing & Rehabilitation Center on the Rhode Island Hospital grounds in downtown Providence.  Oscar lived on the 3rd floor where the people with dementia resided until the ends of their lives.
"Oscar the hospice cat" seemed to have an uncanny ability to know when patients were a few hours away from death.  Oscar would go on his rounds, sniff and observe patients, then curl up to sleep with certain ones. The patients he would sleep with often died within several hours of his arrival. After they had passed away, Oscar would quietly leave them.
This became so commonplace and happened so frequently that the doctors and nursing home staff took note and began to take Oscar's peculiar behavior as a sign of impending death and subsequently notify the patients' families.  On occasions where there was no family to call, Oscar provided companionship to those who would have otherwise died alone.
Watch this short video by Dr. David Dosa, who 'worked' closely with Oscar.
Most of the time the patient's family has no issue with Oscar being present at the time of death. On those occasions when he was removed from the room at the family's request, he was known to pace back and forth in front of the door and meow in protest.
Oscar became well known for his ability to predict death and was featured in an article in the New England Journal of Medicine by Dr. David Dosa, a geriatrician and assistant professor at Brown University.  Explanations for this ability include the lack of movement in such patients, or that Oscar could smell ketones, the biochemicals released by dying cells.  A quote from that article:
Oscar doesn't make too many mistakes. He seems to understand when patients are about to die.  The cat might be picking up on specific odors surrounding death.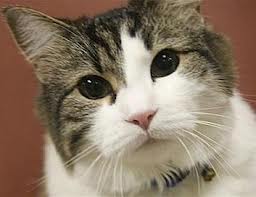 It is a well known fact that certain chemicals are released when someone is dying.  Oscar the hospice cat may have smelled and sensed those.
You might have noticed that I've been writing about Oscar in the past tense.  All the information I could find about this amazing cat was relatively older.  However, in trying to find out if Oscar is still alive, I managed to find Dr. Dosa's website that features Oscar. There Dr. Dosa says:
These days, Oscar continues to patrol the halls of Steere House's third floor dementia unit. Although he has at times been caught sleeping on the job, Oscar continues to hold vigils for departing patients–mostly to the delight of family members struggling to deal with the death of their loved ones. He continues to be mentioned routinely in obituaries and during funeral services.
Dr. Dosa wrote a book about Oscar in 2010 called:  Making Rounds With Oscar: The Extraordinary Gift of an Ordinary Cat
(This is a link to Amazon, if you'd like to order the book.)  The book was published in 20 countries.  (You can also buy the book directly on Dr. Dosa's site.)
As of 2010, Oscar the hospice cat had accurately predicted approximately 50 patients' deaths.
********
Oscar the #Hospice #Cat, Could This Cat Really Predict Death? Click To Tweet
***************
I hope you have enjoyed reading about "Oscar the Hospice Cat"
You might also like: Stray Cat and Lynx meet for first time. Then what happens?  Oh my!
♥♥♥♥♥
MY QUESTION FOR YOU TODAY: Are there any animals you know of that you would like to see featured here on my blog? Is there any creature that you would like to learn more about? Or, do you have a story you would like to submit about a pet you have? I would love to hear from you in the comment section below, or please email me directly at jeanne@animalbliss.com
*************************
*** Please leave a comment below and remember to share. ***
It's just sexy!
As always, thank you for taking the time to visit my blog!

♥ PEACE ♥
Latest posts by Jeanne Melanson
(see all)