Rare and Beautiful Zonkey – It's Here at Last
It has finally arrived.  The rare and beautiful Zonkey we've been waiting for.  What is a Zonkey, you ask?  It's a cross between a zebra and a donkey, which is considered extremely rare because zebra and donkeychromosomes were not thought to be compatible.
The unusual cross-breed made its debut at the Reynosa Zoo in Tamaulipas, Mexico on April 21st.  The animal is named, "KHUMBA."  (Have you seen the animated Disney film called, "Khumba"?  It's about a young zebra that is missing his stripes and trying to fit in to his world.  It's very cute.)
There's a romantic story behind this too.  Khumba's mother, a zebra named Rayas, and his father, a blue-eyed albino donkey named Ignacio, used to visit each every afternoon. Eventually, Rayas became pregnant. The rest is indeed history!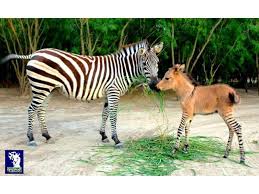 Though rare, Khumba is not the first Zonkey.  Ippo, a zonkey born in Italy, became a huge sensation — and tourist attraction — when he was born in Florence last year.  Ippo was spawned after his dad, a zebra, jumped over a fence into an enclosure housing donkeys.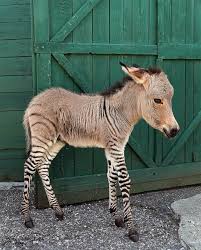 The rare and beautiful zonkey mixed breeds can also be found China, Japan, and the United States.
Latest posts by Jeanne Melanson
(see all)