Why can't we all get along?
I ask myself that question a lot whenever I read the news or hear a story about the worst aspects of humankind.  Then I come across photos like the ones I'm about to share with you and I ask it again, "Why can't we all get along?"
Animals have natural instincts that generally make them either prey or predator, which is what makes me ever more fascinated at some unusual animal friendships that I have witnessed.  Here are just a few marvelous examples.
Unlikely Animal Friends
Rabbit and Fawn
Isn't this sweet?  A real life version of Bambi and Thumper!  This doe was found by a woman one day, shivering on the side of a road next to its dead mother.  She brought the fawn home, named it Bambi, and nursed it back to health. She then started to introduce the fawn to her other animals, one of which was Ben, the rabbit.  The fawn took an instant likely to the rabbit and they became inseparable.  Aww.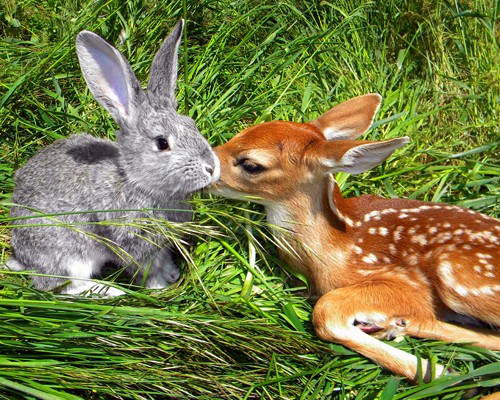 Tiger and Piglets
You've no doubt heard the expression, "wolf in sheep's clothing?"  How about "piglets in tiger's clothing?"  This image comes from the Sriracha Tiger Zoo in Thailand.  It is famous for its unique attractions, but its most famous exhibit is its coupling of pigs and tigers. This Bengal tiger is nursing and raising six piglets as her own, but animal experts say the tiger-skin coats are unnecessary and just part of the show.  In another part of the zoo, the tiger's real cubs are being nursed by a pig. The zoo uses pig milk suckled directly from the sow to help the tigers grow faster. Although this setup isn't harmful to the animals, Animal Welfare International has investigated the zoo and accused it of animal abuse and illegally breeding tigers.  Okay, not such a happy ending, perhaps, but, wow, this sure looks like it fits into the category of unusual animal friendships to me!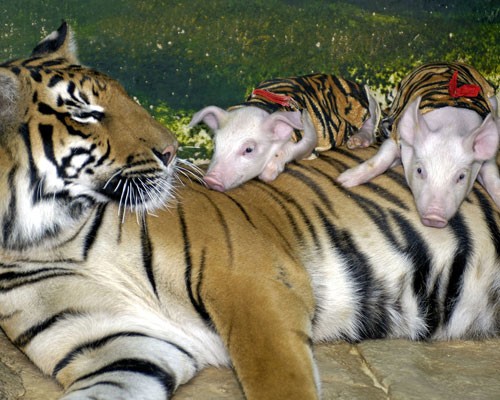 Hippopotamus and Tortoise
A tsunami swept a family of hippos in Africa out to sea in 2004, leaving a baby hippopotamus stranded on a reef.  The baby hippo was caught (by a man named Owen) and then was released into an animal sanctuary.  Frightened and confused, the hippo (named Owen) ran to a 130-year-old tortoise (named Mzee) and cowered behind him.  The two unusual animal friends became inseparable. Until the hippo was old enough to be introduced to members of his own species, he and the turtle spent their days together, feeding, cuddling and napping.  How many "aww"s can I get for that one?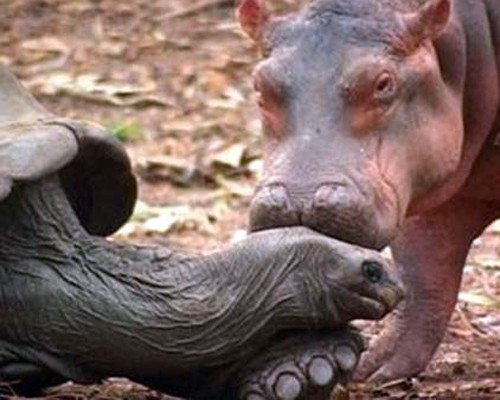 Tabby Cat and Dolphin
Last but not least in my unusual animal friendships, I leave you with a short video of a cat and dolphin.  The cat's name is Arthur.  The dolphins are named Thunder and Shiloh.  The video was taken at an Islamorada, Fla., marine park.  I just ♥ this video.  Enjoy.
*
4 Unusual Animal Friendships, Why Can't We All Just Get Along? Click To Tweet
Latest posts by Jeanne Melanson
(see all)