Housekeeping Tips for Pet Owners
Guest Writer: Paisley Hansen
Having pets requires certain responsibilities and also incurs greater housekeeping efforts. You can simplify your housekeeping by keeping a number of products on hand and following a regular schedule that will minimize the additional work created by pets, so you can spend more time having fun with them and less time cleaning up after them.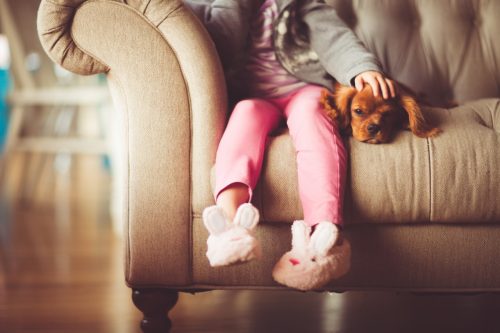 1 – Get Rid of Carpeting
Many people solve the problem of carpet maintenance and pets by removing the carpeting altogether. This action can make cleanup much easier and also takes care of the problem of lingering odors and allergens held in carpet fibers.
2 – Vacuum Frequently
Your pet can bring in a significant amount of dust, dirt and allergens from the outdoors. These particles can settle in carpet fibers, making your home a problem for anyone with allergies. Regular vacuuming will remove these contaminants from your home environment and will help your carpeting last longer.
3 – Groom Your Pet Regularly
Make sure pet grooming sessions are a part of your regular schedule. Keeping coats smooth and clean can also help to cut down on shedding and accumulations on carpeting and furniture. Of course, your pet's coat will determine how frequently you need to groom. Long haired cats and dogs should get a daily brushing. Short haired animals can be brushed every few days.
4 – Clean Up the Feeding Station
Your pet's feeding area can collect debris, spills and sour odors. Place a rubber food mat under the food and water bowls. Clean the mats regularly to ensure they don't accumulate food debris. Wash the bowls daily. Pick up spills and splatter as soon as they occur to avoid the growth of bacteria and odors.
5 – Treat Accidents Immediately
Anyone who has ever owned a pet knows that accidents are inevitable. Cats produce hairballs, and dogs may not understand that traffic held you up after work. These mishaps should be cleaned up immediately, using natural enzyme products that help to remove stains and odors. Keep a sufficient amount of these products on hand. In a pinch, a vinegar and water solution can help to remove odors.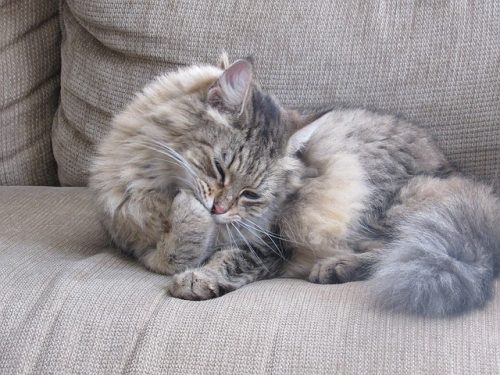 6 – Clean Litter Boxes Daily
Litter boxes are an unpleasant fact of life if you love cats. However, new types of litter boxes and litter make it easier to manage this pet-related chore. You should scoop or change the litter daily to ensure that your home does not begin to harbor foul litter box odors.
7 – Change Your Air Filter Frequently
Changing the air filter of your HVAC system can help to improve the air in your home. Your pet can bring in a significant amount of dirt, dust and allergens on the feet and coats. You can help remove these contaminants from your indoor living space by ensuring your air filter is working at full efficiently. Check the air filter size, and keep several on hand to change as needed.
8 – Stick to A Flea Treatment Schedule
If you have ever had an outbreak of fleas on your pet, you understand that your home is affected, as well as the animal in question. Fleas can breed in carpets, upholstery and draperies, and the process of eliminating them can be tiresome and expensive. You can prevent these problems from occurring by paying close attention to your pet's flea treatment schedule, making sure they are provided on time and in the right amount. This measure can save you a great deal of trouble and expense in pest control treatments.
9 – Use Throws To Cover Pet's Favorite Napping Spots
You can save yourself the trouble of cleaning up furry messes on your sofa, favorite armchairs and bedspreads by using a throw to cover up the spots where your pet likes to take naps. You can then toss the throw cover into the washer for easy cleanup.
10 – Keep Mats and Cleaning Cloths at Doorways
Place rugs or absorbent mats at front and rear doorways to catch dirt and allergens that are carried in on shoes and paws from the outdoors. This measure will help to keep your floors and rugs cleaner, so you can shampoo and vacuum less frequently.
Taking care of these ten items can help to keep your home clean and fresh for the human inhabitants, while you enjoy the fun and company of your furry companions.
===============================
"10 Housekeeping Tips for Pet Owners" by Paisley Hansen

10 Housekeeping Tips for Pet Owners Click To Tweet

A QUESTION FOR YOU: Do you have any tips or ideas to add to this post?

*** Leave your comment below. ***
It's just sexy!

As always, thank you for taking the time to visit my blog!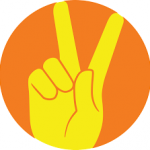 ♥ PEACE ♥

*
Disclosure: Animal Bliss is a PetSmart affiliate and will earn a (very small) commission from purchases made through links on this website.
(Coffee money – thank you!)
😀
Save
Save

Latest posts by Paisley Hansen
(see all)