Do Capuchin Monkeys Make Good Pets?
The first thing you must do if you're thinking of having Capuchin monkeys as pets is to check the laws for exotic pets in your State.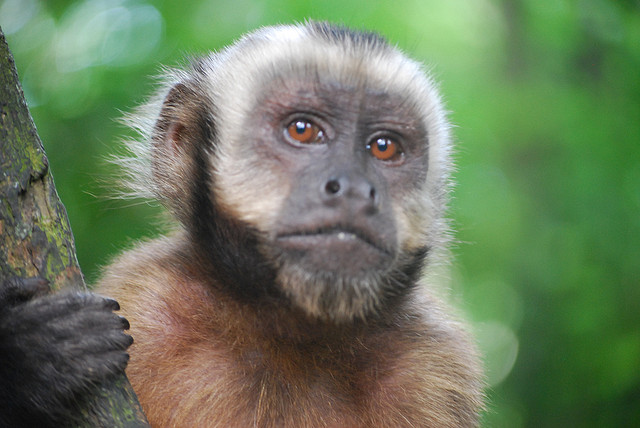 It is extremely important to know that capuchin monkeys, like other primates, can transmit certain diseases to humans. After rabies, Hepatitis is the most common. Capuchins can also be infected with more common ailments quite easily from humans since their immune systems are not as strong as ours.
Monkeys are messy, and most capuchin owners use diapers for their monkey's entire life.  Since they can live for as long as 35-40 years in captivity, that's a lot of diapers!  They may also need to be bottle-fed for their entire lives.  Capuchins are mostly kept on leashes both inside and outside of the home.  Capuchin owners treat their monkeys like babies and commonly dress them up.
Capuchins can grow to weigh up to 4 lbs but the average weight is 2 pounds.  They grow twelve to twenty-two inches in height and their tails are also usually the same length as the body.
These monkeys can become quite troublesome and aggressive when they reach sexual maturity, which can be difficult for the owner to handle.
Related: Animal Defenders International Expose Brutal Monkey Farm [GRAPHIC]
Capuchin Monkeys as Babies
Capuchin monkeys sold as exotic pets are taken from their mothers at an extremely young age. Since wild baby Capuchins stay with their mother for the first few years, there is a strong possibility that this practice causes permanent emotional and psychological damage to both the mother and the baby.
Another controversial practice which has lead to stricter laws for owning exotic pets is that some owners are urged to have all four of the monkey's canine teeth (large, pointy teeth) removed to prevent serious bite injuries down the road since bites are inevitable.  Few veterinarians will perform this procedure.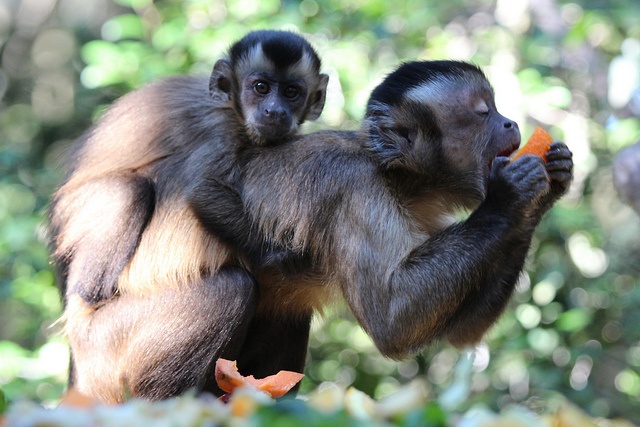 Capuchin Monkeys Diet
Capuchins in the wild will eat bugs, fruit, small birds, nuts, and flowers. Mimicking their natural diet in captivity is difficult and many pet capuchins develop diabetes due to improper nutrition, despite many owners knowing better.
Capuchin Monkeys as Service Animals
Many capuchins used to be sold as service animals but that practice has dwindled due to the Americans with Disabilities Act that was passed in 2010 that no longer recognizes primates as service animals. The American Veterinary Medical Association's statement regarding the discouragement of primates as service animals has also made it difficult to find an exotic vet that treats Capuchin monkeys.
In the past, capuchins were trained for the purpose of helping quadriplegics around the house. They were trained to open bottles, microwave food and even wash the face of the patient.
You may also recognize the capuchin monkey from the days of the organ grinders.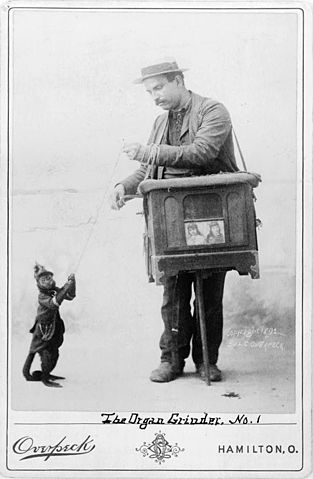 Capuchin Monkeys in the Wild
Capuchin monkeys' name comes the Franciscan Capuchin, whose cowl is similar to the coloration of the monkeys. They belong to the Cebinae family and Cebus genus. The range of capuchin monkeys includes Central America, South America, and as far south as northern Argentina.  They are also known as sapajou.
In the wild, Capuchins live only for fifteen to twenty-five years. They stay awake during the day and sleep at night except for the midday nap they take. During the day, they spend most of the time looking for food and at night, they sleep on the branches of the trees.
Capuchins are social animals and live in a group of eight to forty males, females and their children. The area where the whole group lives together is marked with the smell of urine and intruders are not welcomed. A strong male controls the whole group and mates with the rest of the females in the group to produce offspring. Male and female capuchins smell each other to know whether the other is sexually mature or not. A female capuchin monkey has the capability of reproducing after every two years. Their gestation period lasts from five to six months.
The offspring clings onto the chest of the mother until they grow bigger, at which point they shift clinging to their mother's back. Mothers keep a close eye on them until are three months old. Male capuchins have no participation in the upbringing of their offspring.
Capuchin monkeys are considered to be the most intelligent of all present species of monkeys and have been known to use various tools to assist them in their daily life. They drink the juice of palm nut fruits from the tip and then let them dry. After they dry, they will collect them and break them with the help of a big boulder collected from the rivers. They have the ability to walk on their feet with food and tools in their hands. They are clever enough to find food on the ground as well as on trees.
Unlike other monkeys, they are omnivorous. Along with eating food like seeds, nuts, fruits, flowers they also feed on eggs of birds, small birds, insects, spiders, reptiles, bats and even small mammals. Some of them who live near water also feed on shellfish and crabs, which they crack open with the help of stones.
 Do Capuchin Monkeys Make Good Pets?
If you are considering getting a capuchin monkey as a pet, I would urge you to consider other options.  Think of the 40 years of care and diaper-changing before giving in to one of those cute, little faces.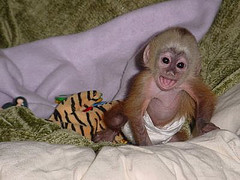 Again, check with your State's laws regarding owning a primate as an exotic pet.
~~~~~
UPDATE:
July 23/2016
One of the comments below comes from Joey, who lives in South Africa.  He says:
I'm in South Africa and a monkey parent. There are not many people who can live with monkeys. They are destructive, and sometimes aggressive and messy. I've been living with monkeys for about 40 years. If you can take responsibility for a proper diet, stimulation and medical care, if you are prepared to have a bite or a scratch at times and you still want one, then maybe you will be one of the few people who can enjoy them. I could never imagine my life without my monkeys. Here [in South Africa], there are a lot of breeders of  Tufted Capuchins and they sell to anyone who wants a monkey. After a few months they realize this nice little baby has turned into a busy, messy and destructive youngster. Most of the time these poor babies have to be re-homed. I wish everyone considering to keep a monkey as a pet should first get some experience before buying one.
Thank you, Joey!
Sources:  Wikipedia and About.com
Capuchin Monkeys, Do These Primates Make Good Pets Click To Tweet
MY QUESTION FOR YOU:
Are there any particular animals that you would like to learn more about? 
*** Leave your comment below. ***
(It's just sexy!)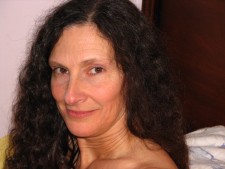 *
DISCLOSURE: Animal Bliss is a participant in the Amazon Services LLC Associates Program, an affiliate advertising program designed to provide a means for us to earn fees by linking to Amazon.com and affiliated sites.
(In other words, we'll get a very small (teeny tiny) commission from purchases made through links on this website.)
So, go on … Don't be shy!
Buy Something BIG and Expensive!
Thank you!
😀
Products from Amazon.com
‹
›
😀
Born in Nova Scotia, I moved to the United States 20+ years ago.I am a dedicated lover of animals and fight for their rights and protection.I love people too, of course, and enjoy meeting folks from all walks of life.I enjoy philosophical discussion, laughing, and really odd ball stuff.I hope you enjoy my site.Leave me a comment to let me know you were here!Peace out.
Latest posts by Jeanne Melanson (see all)