Himalayan Tahr
Can You Spot the Tahrs in This Video?
(Betcha can't … wait or it!  Wait for it …)
The Himalayan tahr (Hemitragus jemlahicus) or common tahr is a large ungulate related to the wild goat and the only extant member of the genus Hemitragus.   The Himalayan tahr is native to the Himalayas in southern Tibet, northern India, and Nepal.  The Himalayan tahr has been introduced as an alien species to New Zealand, parts of South America, South Africa, and to the southwestern United States.
Okay, now that you know what to look for … can you see them?  Still betcha can't …
About The Himalayan Tahr
The Himalayan tahr is a close relative of the wild goat and sheep. They have specially adapted to life on the rugged mountain slopes of the Himalayas.  Their coats are a thick, reddish wool with thick undercoats.  They shed some of their coats thin towards the end of winter and becomes lighter in color.
The hooves are also well adapted, with a unique ability to grasp both smooth and rough surfaces that are typical of the mountainous regions. Their hooves have flexible, rubbery cores that allow them to grip smooth rocks, and hard, sharp keratin rims enabling them to lodge their hooves into small footholds, making them excellent climbers.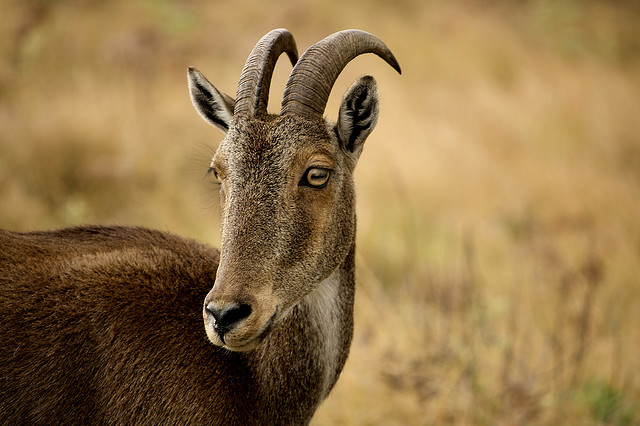 Tahrs can mainly be found on slopes ranging from 2,500 to 5,000 meters, although during the winter months, with snow covering vegetation at higher elevations, they can be found on lower-altitude slopes.
The Himalayan tahr has a small head, small pointed ears, large eyes, and horns. Both the males and the females have horns, reaching a maximum size of 18 inches (46 cm), though the females' horns are smaller in size.  The horns of Himalayan tahrs curve backwards and slightly inwards towards the body, preventing injury during mating season when headbutting is a common mating ritual among males.
Females have a gestation period of 180–242 days, usually giving birth to only one kid.
Young Himalayan tahrs stand soon after birth.  They look very similar to the adults in shape but their coat is uniformly brown and their legs black.
Adult males are easily distinguished by their pronounced ruff and mane.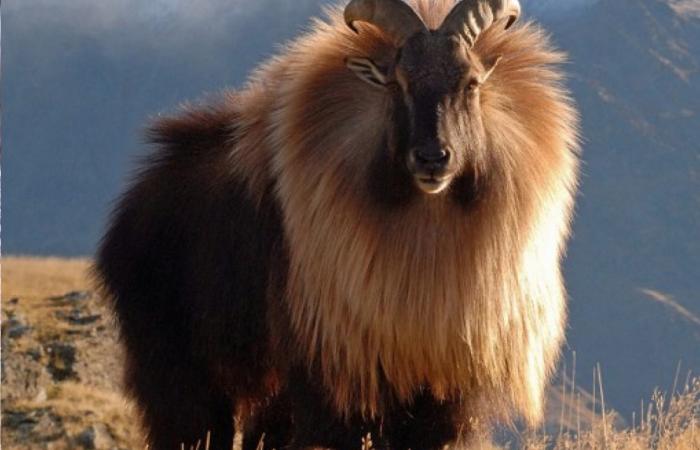 The average male tahr usually weighs around 160 lbs (73 kg) with females averaging 80 lbs (36 kg) and is shorter in height than in length.
The lifespan of a Himalayan tahr typically ranges around 14 or 15 years, with females living longer than males. The oldest known Himalayan tahr lived to 22 years old in captivity.
The Himalayan tahr is herbivorous and they spend most of their time grazing on grasses and browsing on leaves and some fruits.  As much as 75% of the tahr diet consists of natural grasses.  The tahr has a complex digestive system with a multi-chambered stomach allowing them to repeatedly regurgitate its food, chew it, and obtain nutrients from otherwise indigestible plant tissues.
The Himalayan tahr is preyed upon by Himalayan snow leopards.
In 1930, the tahr is considered to be endangered in the Himalayas by the World Conservation Union.
Himalayan Tahr | Can You Spot the Tahrs in This Video?
********
Himalayan Tahr | Can You Spot the Tahrs in This Video? #wildlife #RETWEET Click To Tweet
***************
You might also like: Sloths Being Cute, They Just Can't HelpThemselves
♥♥♥♥♥
MY QUESTION FOR YOU TODAY: Are there any animals you know of that you would like to see featured here on my blog? Is there any creature that you would like to learn more about? Or, do you have a story you would like to submit about a pet you have? I would love to hear from you in the comment section below, or please email me directly at jeanne@animalbliss.com
*************************
*** Please leave a comment below and remember to share. ***
It's just sexy!
As always, thank you for taking the time to visit my blog!

♥ PEACE ♥
Latest posts by Jeanne Melanson
(see all)