Are the toys your dog plays with getting filthy? It is time to start learning how to wash different types of dog toys as you also ensure you keep your pets in a clean environment.
The main point of contact between the toys and the dog is the mouth and feet. If your pets play in the garden, you can imagine how dirty the toys can get. When it comes to cleaning, avoid using products that contain harmful ingredients, chemicals, dyes, and perfumes. Use the approved and non-toxic methods to maintain and clean toys.
How to Wash Dog Toys
Cleaning your pet's toys should be regular. for example, monthly, regardless of the material it is made of. Washing the toys eliminate disease-causing organisms that may transmit various illnesses. It is good practice for dog owners to study the instructions on tags explaining washing instructions. If your dog's toys do not have such a guide, I will share some general guidelines to help you learn how to wash different types of dog toys.
Cleaning Hard Toys
For cleansing hard plastic or other tough dog toys, use warm soapy water and rinse them in freshwater. If you are dealing with surfaces that need scrubbing use a small toothbrush that can get into crevices. Use one part of vinegar and two parts water to soak the toys for about fifteen minutes before thoroughly cleaning. Make sure that the toy is dry before putting it back into the toy bin.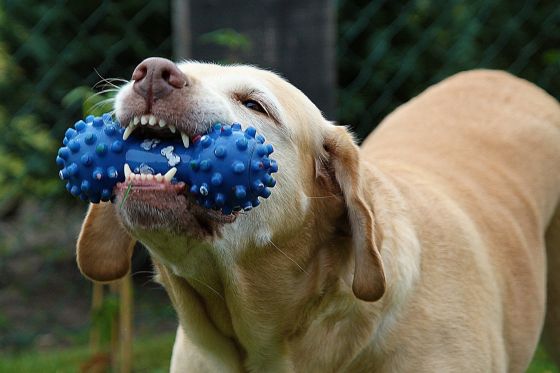 Cleaning Rubber Toys
Toys that have a dishwasher safe label on them means they have to be put on the top shelf for thorough cleaning. Run the toys without detergent because the hot water and pressure are capable of removing all germs. Avoid using the same treatment on plastic toys without the dishwasher safe label because too much heat may break the plastic down.
Cleaning Soft Toys
When it is your cleaning day take all the soft toys along with other machine washable beddings and use the sanitize cycle. When dealing with delicate toys, use cold water. You may add baking soda, vinegar, and natural detergent with no fragrance.
Some of the best cheap toys may not withstand the cycle. You can add them to a laundry bag. For the hard toys that can withstand constant chewing, you can air them in the dryer, which also kills germs that escaped the cleaning cycle.
Cleaning Rope Toys
The porous nature of fibers on ropes traps moisture and the dog's saliva, which means such toys require a special form of cleaning.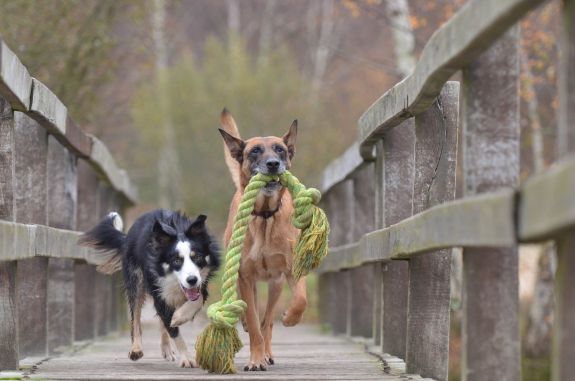 You have to be aggressive when cleaning rope toys. Organisms find an opportunity to grow at any point along the rope. Eliminate all metallic and plastic pieces from the rope. Put it in water for about two minutes and then put it in the microwave for a minute. The microwave reduces the bacteria almost entirely, thus eliminating germs present on the rope toy.
Rope toys can also withstand the heat in the dryer due to their durability and when subjected to pulling and chewing.
Cleaning Plush Toys
Plush toys carry the highest number of microbes than any other toy category. Therefore, they have to undergo cleaning more regularly than others, including the best cheap toys. The best way to clean stuffed toys is to use the washing machine.
Depending on the material used for the toy, decide on the best cycle to clean. Use cold water instead of hot to preserve the stuffing material or fillings. Use gentle wash when unsure of the wash cycle to use, and consider using the mesh bag to protect them from a massive beating from the machine.
DIY Toy Cleaner
If the methods above do not work for you, soak the toys in a sink or bathtub. Mix equal parts of water and vinegar. Scrub the overly dirty toys using a brush as you sprinkle baking soda. Some pet owners prefer to soak all toys in the solution and rinsing. For a quick cleaning process, mix water and vinegar in a spray bottle and wipe the toys with a piece of cloth.
Related:
10 DIY Dog Bed Ideas to Create Sweet Doggy Dreams
How to Otherwise Care for Your Dog's Toys
Some dogs are serious chewers, some are not. Sorting and inspect your pet's toys when necessary. Toys are given to dogs for chewing and tossing around. The best option is to study your dog and see if it needs indestructible toys that can withstand such forms of abuse.
Do not leave toys out in the garden, especially when it rains or snows. Wet toys are a breeding ground for mildews and molds. Leaving toys in the sun too much can make them brittle. They will begin to lose their color as they leach harmful chemicals to the environment.
If in doubt, discard questionable toys.
Why Caring for Dogs Toys Keeps Them in Good Shape
Other than regular washing and disinfecting, handling dog toys with care increases their lifespan and makes it safe for your pet. Make sure to bring all the toys indoors when your pet leaves them outside.
Spraying the toys between washings with a mixture of water and vinegar leaves them fresh.
A toy having any loose strings or loose stuffing should be thrown away because they are a choking hazard.
Conclusion
When looking for new dog toys, look for ones made in the United States. The best toys are those made from 100% natural rubber, cotton, and eco-friendly materials. Avoid ones that have a strong chemical scent. The best toys are locally or regionally manufactured by individuals or small companies found at independent stores.
Choose toys that are easy to clean because some cannot survive long after frequent cleaning. Identify toys that need the simplest yet thorough cleaning in the dishwasher or a mixture of soap and water. Toss any toy that is heavily chewed and does not show any sign of cleanliness after a thorough wash.
~~~~~
*** Please Share ***
How to Wash Different Types of Dog Toys Click To Tweet

MY QUESTION FOR YOU:
Do you think we have left out any additional tips on how to wash different types of dog toys?
*** Leave your comment below. ***
DISCLOSURE: Animal Bliss is a participant in the Amazon Services LLC Associates Program, an affiliate advertising program designed to provide a means for us to earn fees by linking to Amazon.com and affiliated sites.
(In other words, we'll get a very small (teeny tiny) commission from purchases made through links on this website.)
Latest posts by Jeanne Melanson
(see all)