What to Do In a Pet Emergency
When you have a pet, that animal becomes a part of the family. You have to feed them, make sure they have plenty of water, and that they have plenty of exercise and love. As with your children or yourself, when your pet is sick or injured, you might be concerned about what to do. Sometimes, the only thing there is to do is to keep your pet comfortable or give medications. Would you know what to do in a pet emergency? Here are a few tips to bear in mind.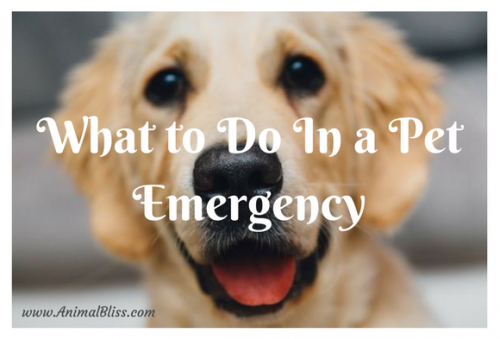 Don't Wait
Even if your pet is only showing minor symptoms of being ill or injured, you don't need to wait to see if she or he will get better. Most of the time, waiting will only mean more medications and forms of treatment for your pet later on. As soon as you see that something is wrong, you should seek help as it could save your pet's life.
Know Your Vet
Most cities have at least one veterinarian's office, with larger cities having two or three. If you're lucky there may even be a clinic with an emergency department. As soon as you bring a new pet home, it is wise to start taking her to the vet right away. The vet will be able to determine if there are any health concerns and keep your pet vaccinated. When there is an emergency, the vet will know what to do or refer you to another office. Most vets have emergency hours after closing.
Related: 7 Essentials to Keep in Your First Aid Kit for Your Pets
Don't Medicate
Medications for pets are not the same as they are for people. Don't give your pet medicines meant for humans because they could make the problem worse. The only time it might be safe for you to give your pet medication is if it's for the same condition that has been treated in the past, but always get your vet's advice first.
Stay Calm
The best thing you can do in an emergency situation is to stay calm. Don't let children see that you're worried or fearful. When you take your pet to the vet, try to keep your composure. Take a friend with you if needed.
Pets can warm your heart. They deserve your love and attention, and when there is an emergency it is your responsibility to help. Find out where a local vet is in the town, and make sure you have basic supplies at home until you can get to a medical office. Consider keeping supplies in your car as well in case of an emergency.
~~~~~~
Doggy Dilemmas: Would You Know What to Do In a Pet Emergency? #PetHealth Click To Tweet

MY QUESTION FOR YOU:
Would you know what to do in a pet emergency?
*** Leave your comment below. ***

Latest posts by Kara Masterson
(see all)