Shirley, my Bearded Dragon, has been asleep for two months so far, and I miss her so.  She is going through a natural process called brumation.  People have asked me about bearded dragon brumation symptoms, so I'm going to share with you what I know. I will also advise you on what to do if you think your beardie is going through this process.
An Introduction to Brumation in Bearded Dragons
Are you new to having Bearded Dragons? You probably fret every time they do something that seems unusual. Suddenly he's not eating like he usually does.  Or he's lazy and lethargic.  Oh no!  Is he sick?  If you have a dragon in your care, you probably worry like crazy sometimes, am I right?
If it's fall or winter, chances are these are simply bearded dragon brumation symptoms, and he's getting ready to hunker down for a long sleep.
To get a deeper understanding of your dragon, I recommend you do a lot of reading about bearded dragons. Do a search on Facebook, too, to find specific Bearded Dragon groups and meet other dragon owners and ask questions.
Related: Bearded Dragon FAQ: How to Keep Your Pet Lizard Healthy
What is brumation?
Brumation is the equivalent of a bear's winter hibernation, but the dragon's body doesn't shut down as completely as the bear's and only becomes dormant.
In the wild, bearded dragons brumate as a reaction to cooler temperatures, light changes, and subsequent lack of food and water in fall and winter.  Wild bearded dragons stay hydrated by lapping morning and evening dew from leaves and plants in their environment.  With the change in weather, this is no longer possible, and their food sources disappear, so they survive by becoming dormant.
In captivity, where we should be keeping the dragon's tank temperatures nice and toasty, and supplying them with the food they need, they don't have a valid reason to brumate, but it is a natural instinct for them, so they may anyway.  Some do, and some don't.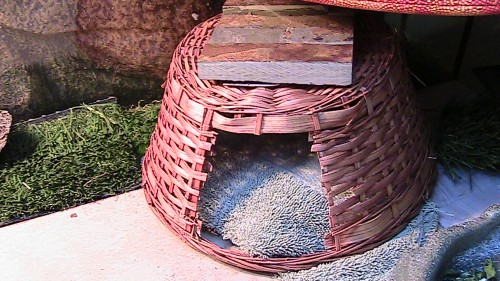 What are the Bearded Dragon Brumation Symptoms?
Less active, lethargic, lazy
Sleeping earlier than usual, or sleeping during the day
Eat less or stop eating altogether
Doesn't poop
Hide under something, or dig under his substrate
How Long Does Brumation Last?
It depends on the dragon and its conditions.  He may sleep for days, weeks, or even months at a time.  He may even wake up on occasion to have a little snack or stretch his legs and then go back to sleep.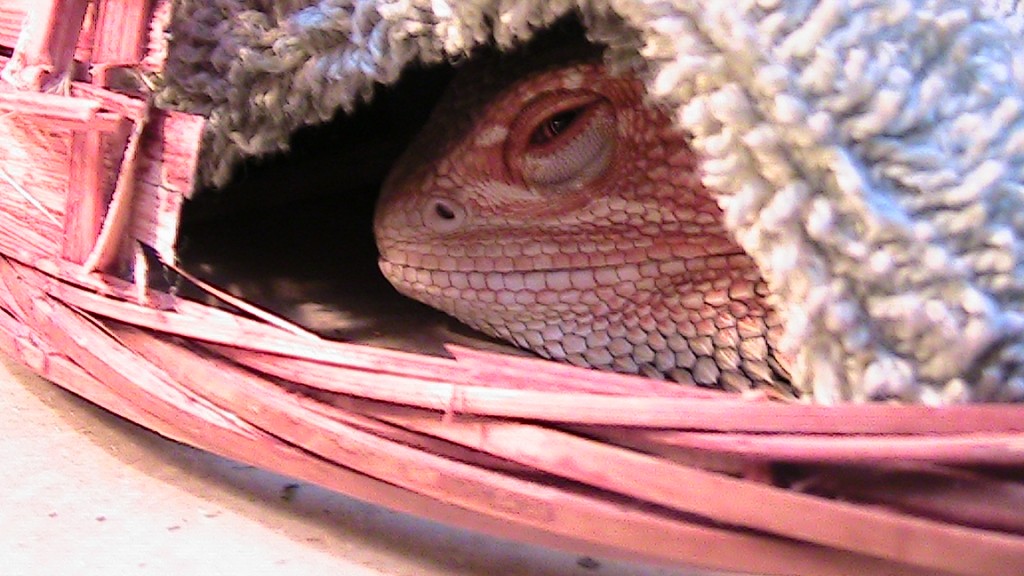 What Should I Do?
If you think your dragon has bearded dragon brumation symptoms, take steps to ensure that your animal is not sick first.
Is he impacted?
Does he have parasites?
Is he stressed?
Does he have the proper temperatures and UVB lighting?
If your dragon has not pooped in a while, you want to make sure that he does.  You can try soaking him in warm water and massage his belly to get things moving.  This soaking is necessary to do anyway if he is getting ready to go into brumation because it hydrates him in preparation for his long sleep.
When he does poop, get a fecal sample and get it checked for parasites.  A bearded dragon who brumates with feces inside him can run the risk of a nasty infection from the feces just sitting inside him all winter.
During your dragon's brumation, it is wise to keep their heat and lights on as usual in his basking spot in case he does wake up for a snack or a stretch.  If he eats anything at all, it's necessary to have the light and heat because his metabolism needs it to digest properly before going back to sleep.  Continue to keep the other end of his tank cooler.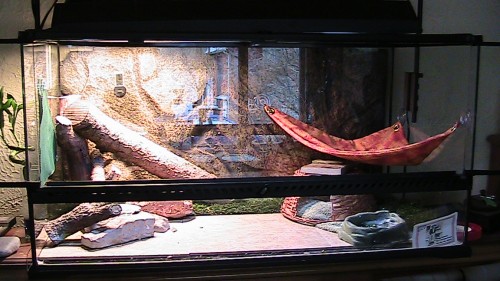 In the wild, dragons will sometimes bury themselves in the soil to keep from freezing, and their bodies will draw moisture from the ground, through their vent, during their winter sleep to ensure that they remain adequately hydrated enough to survive until spring.
In captivity, it may be necessary for you to soak your dragon from time to time to keep him from dehydrating.  You'll know he is dehydrated if you pinch the skin on his back and it doesn't 'snap' back into place.  Soaking is easy to do in the tub or some container, just enough water to cover his back, for 10 or 15 minutes.  (If your dragon doesn't wake up during the soak, or is very sleepy, make sure you hold his head above water to avoid water aspiration in the lungs.)
Also, watch for weight loss.  Weigh your dragon before brumation.  If he appears to be losing weight, there may be something else going one that needs to be addressed.  A healthy, brumating dragon should not lose more than a few grams of weight.
Can I Stop Brumation From Happening?
You could, by handling your dragon, but why would you want to?  It's a natural process for him.  His body wants this sleep, so let him be. Please don't deprive him of his natural instincts.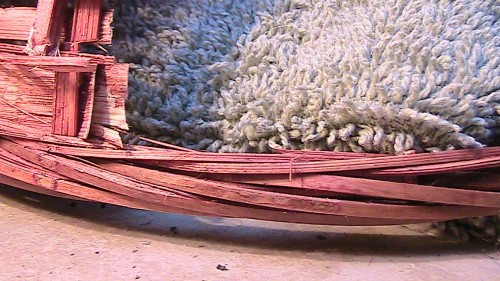 Nighty-nite.  Zzzzz
SOURCES:  Beautiful Dragons.com and The Bearded Dragon.org
***
Bearded Dragon Brumation Symptoms, What should I do? #reptiles #BeardedDragons Click To Tweet

MY QUESTION FOR YOU:
Do you have a particular Bearded Dragon topic you would like to learn more about?
*** Leave your comment below. ***
Latest posts by Jeanne Melanson
(see all)